Are you ready for your next sexcapade? If you're keen on discovering new things to try in the BDSM community, you must dedicate a whole closet to your BDSM outfit alone. Props are crucial to BDSM play, so you must equip yourself with the best attire and accessories to create an unforgettable experience with your beau. Dressing to the nines is necessary whenever you attempt something fresh to uncover new pleasures.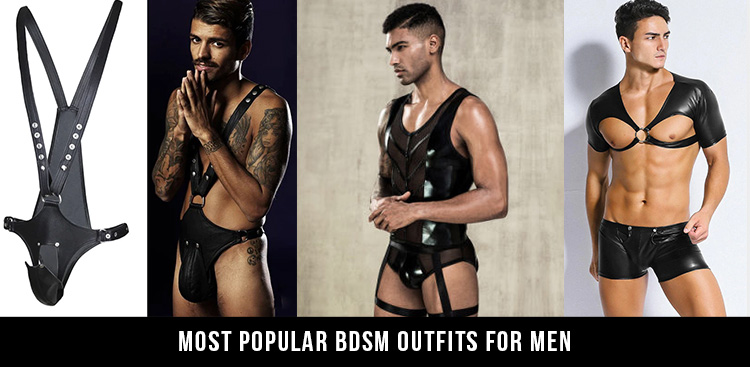 Continue below to see the categories and fetish clothing you should get:
Best BDSM Outfit for Doms
The great thing about being dominant is you can wear whatever you want. Since you dictate and lead how the play goes, your sub will happily follow your orders and wait for his reward. But if you're after a specific type of play, or are searching for the next thing you can cross out in your BDSM To Try checklist, then you're in for a treat.
Check out these libido-inducing styles and other accessories you should snag right now:
1. 

Sexy Lingerie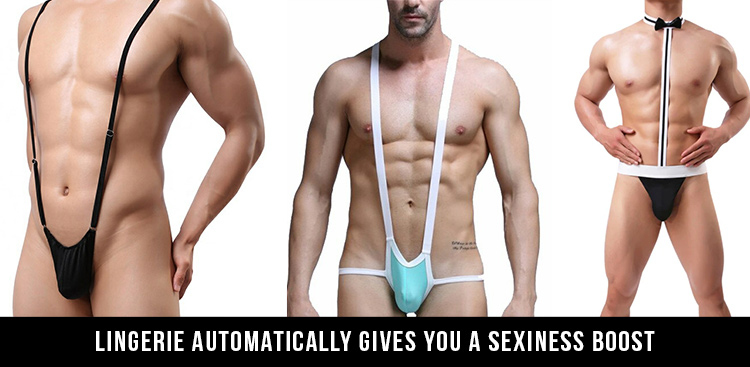 Who said only subs could try sexy lingerie? Lingerie automatically gives you a sexiness boost. Not to mention the designs and assortment you can choose from.
A great play to do when donning lingerie is when you command your sub not to touch you. Ask him to hold back while you sit there looking pretty and mouth-watering.
2. 

Black Panther

 and Other Superhero Fits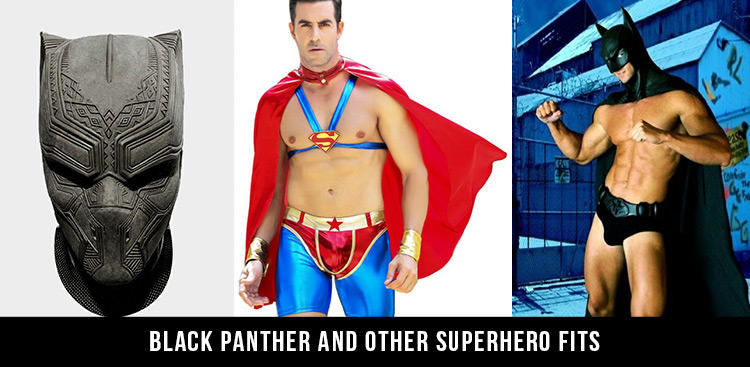 Who wouldn't want to be ordered around by the Black Panther? Complete your outfit with a pressed suit and tie to look like the highest bidder in an auction. Your sub will feel like a million bucks — and you'll make them work for it to make it worth your while.
If you're looking for another superhero, see how you can dress up as Batman.
3. 

Gas Mask and Harness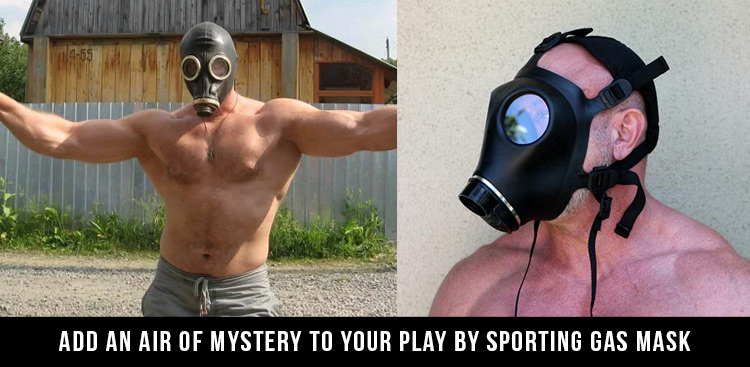 Add an air of mystery to your play by sporting an elaborate gas mask. Pair it with a body harness that fits snugly over your torso and thighs. Through this, your sub can focus on serving your body.
4. 

Latex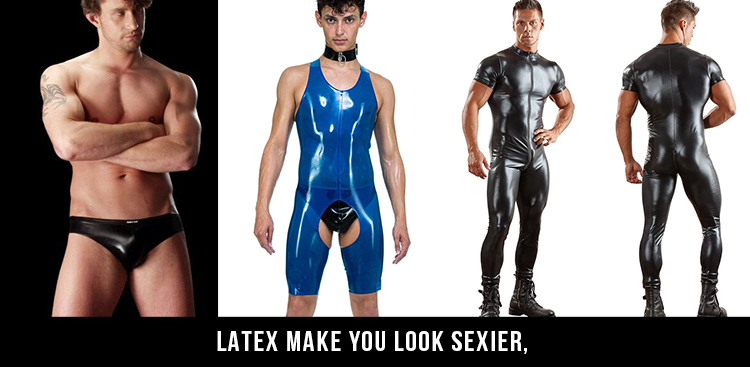 Bondage latex, no matter what piece they are — gloves, briefs, etc. — doesn't only make you look sexier, they also make your skin more sensitive to pressure and touches.
Here's a great tip: Since latex is natural rubber, it requires more care and can be more expensive. If you're on a steep budget and are just trying out your options, try PVC first. Latex PVC is artificial and isn't so fragile to tearing. However, it doesn't fit as tightly as natural rubber and can't stretch.
5. 

Leather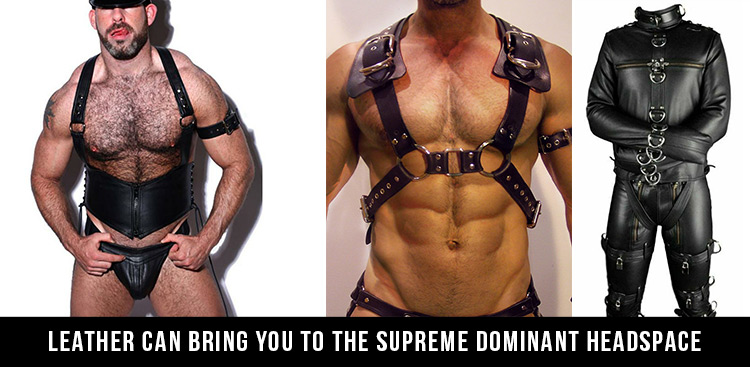 Leather whips, leather pants, leather, everything! This material is so prevalent in the BDSM world that you can wrap yourself in leather from head to toe, and for a good reason. Leather is a premium material that can bring you to the supreme dominant headspace.
If you want to be a little bit restrained and give your sub a reward, an excellent pick is the leather straitjacket that you can choose to bind yourself with or not.
6. 

Just Jeans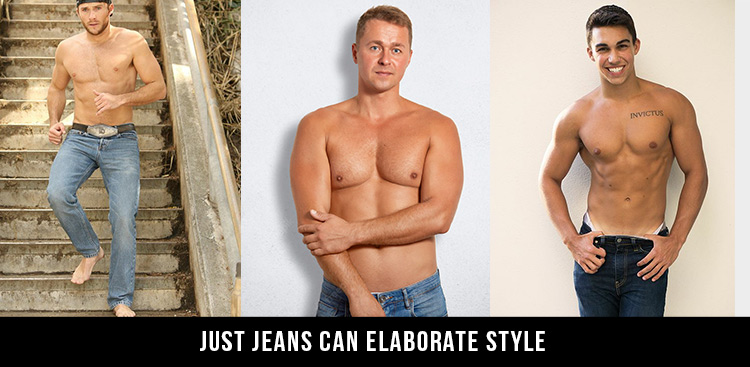 You don't have to go for an elaborate style when you can just come as you are — minus everything on your upper body.
7. 

Comfy Silk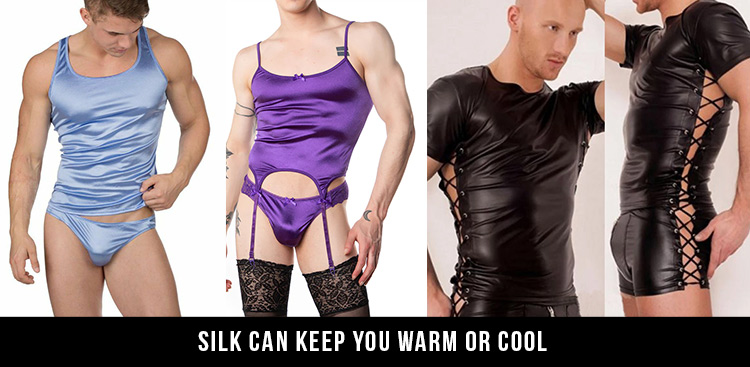 Silk can keep you warm or cool if you're planning edge play or any play that requires patience and an extended period of involvement. It's also best if you're planning to hit as many clubs as you can in one night out. 
Think of all those Playboy Mansion parties, and you'll get what we're talking about! You don't have to choose between being comfortable or seductive when you can have both.
8. 

Muscle Suits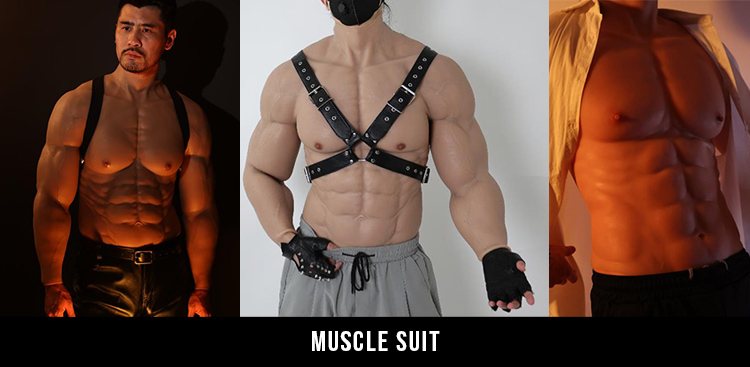 Are you shy about wearing anything listed above because you're conscious of your body size or type? We'll tell you a secret: All those insecurities will fly away with muscle suits!
Fulfill your and your partner's fantasy without the hard labor of visiting the gym daily and following a strict diet. Aside from being comfortable and safe, muscle suits come in different varieties tailored to customers' requests.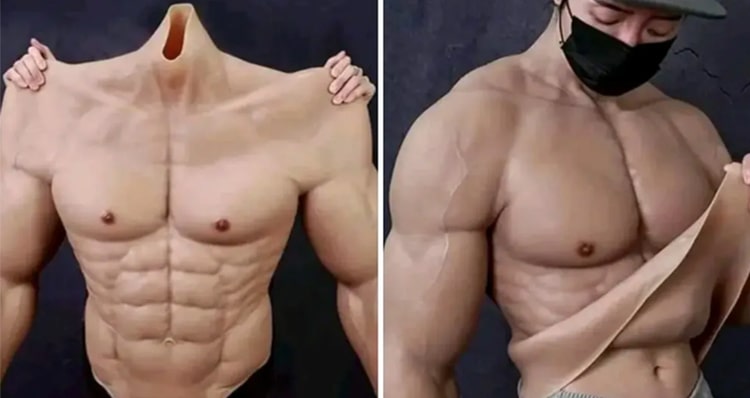 Check out Smitizen's Muscle Suits collection and include it in your next order!
Best Fetish Outfit for Subs
After discussing with your dom about what entertainment you want to include during your sexy time, it's time to pick the best fetish outfit to match it.
See what outfit you need to put on to drive him extra crazy:
1. 

Nothing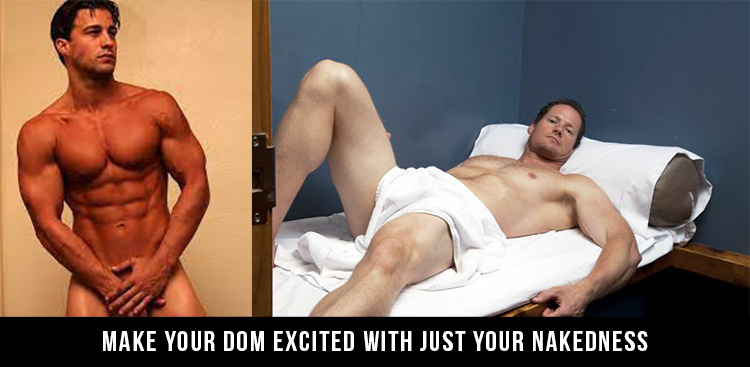 What's hotter than getting your dom excited with just your nakedness? Please give him a BDSM massage and excite him with oil and maybe a blindfold.
2. 

Apron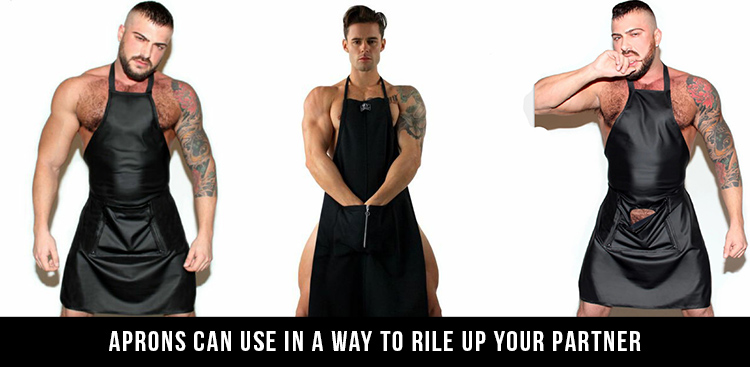 Aprons are innocent kitchen products outside of play, but you can use them as an easy (and accessible!) way to rile up your partner. No one can say no to a sub making breakfast with an apron — and nothing else.
To ensure your suggestive message comes across clearly, put on a french maid apron. Announce to your dom that although you have no intention to clean, you have all the intent to serve him.
3. 

One-piece Swimsuit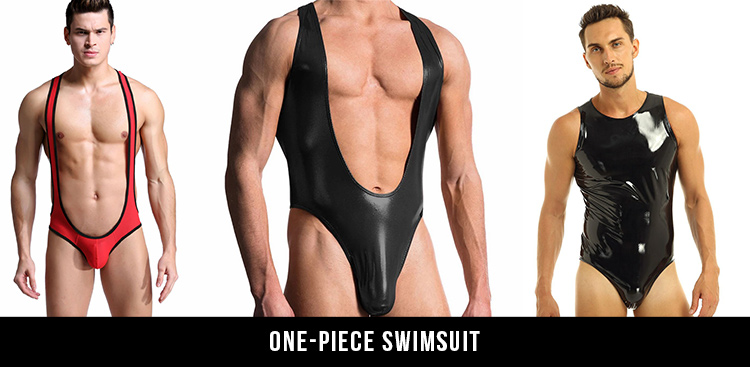 There's a certain, alluring charm to one-piece swimsuits. They let you show off your shape and curves, hugging you in the right places. At the same time, unlike latex, they are comfortable, affordable, and won't make anyone suspicious.
4. 

Boyshorts and Crop Top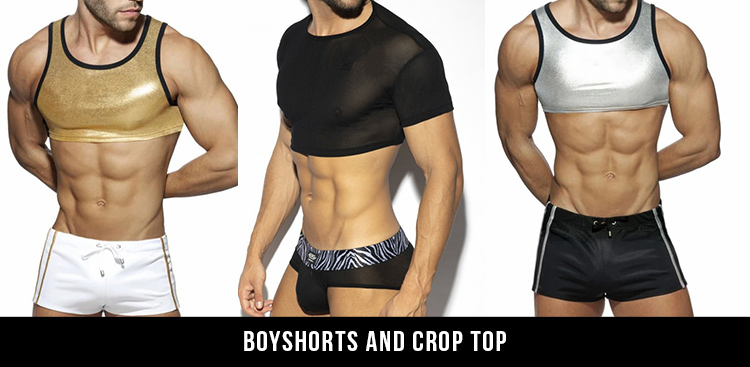 Showing enough but not enough skin is the name of the game. Do some stretches here and there, and flaunt what's under these skimpy garments. All you need to do is walk by your beau, and he'll surely want to get his hands on you in no time.
5. 

Dress and Laces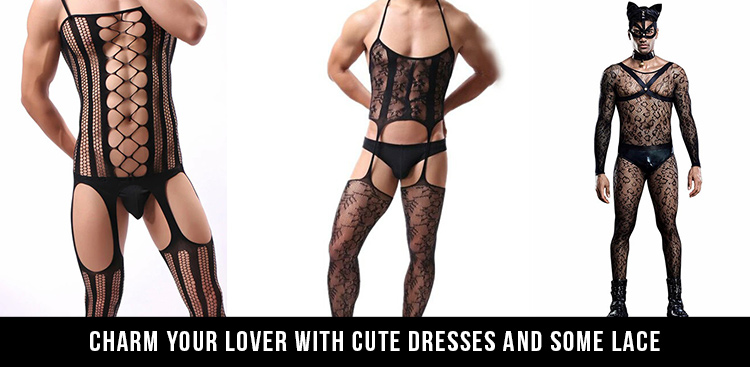 Charm your lover with cute dresses and some lace. You can seduce him with a crossdress ensemble or skirt play. The fabrics will add a "scratching" feeling and make your joint more satisfying.
6. 

Capes and Crowns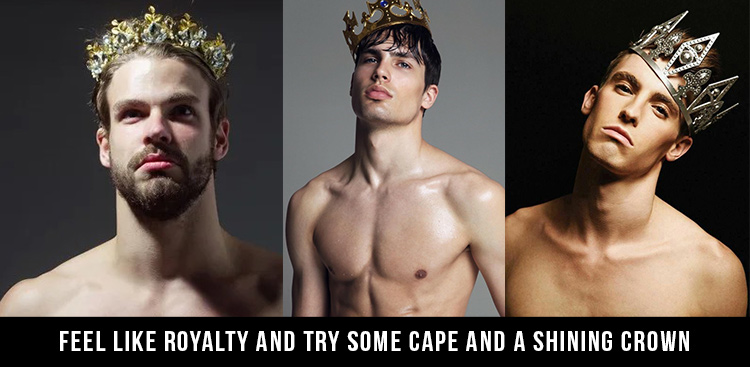 Feel like royalty and try some pink or purple cape and a shining crown. Do a roleplay of a royal and a knight. It can also be anyone below the blue bloodline. After bossing your knight around:
Let him turn the tide around.

Let yourself be manhandled.

Get messed up in the best way possible.
On the other hand, you can strut inside your room or dungeon with just a cape and crown on.
7. 

Mesh and Nets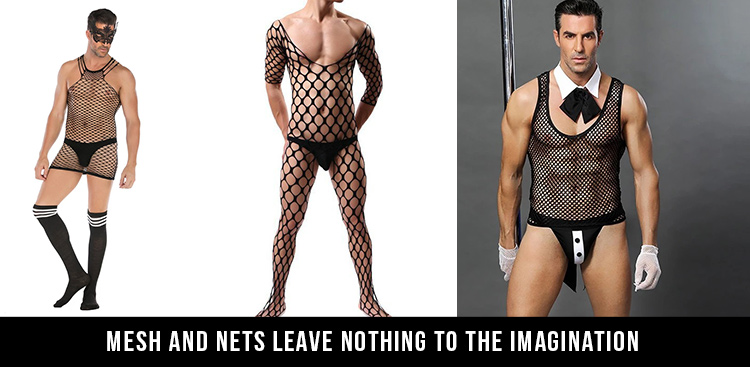 Mesh and nets are comfortable and leave nothing to the imagination if you wear them as is. If you want to improve your shape, try sporting a steel-boned corset and some high stockings.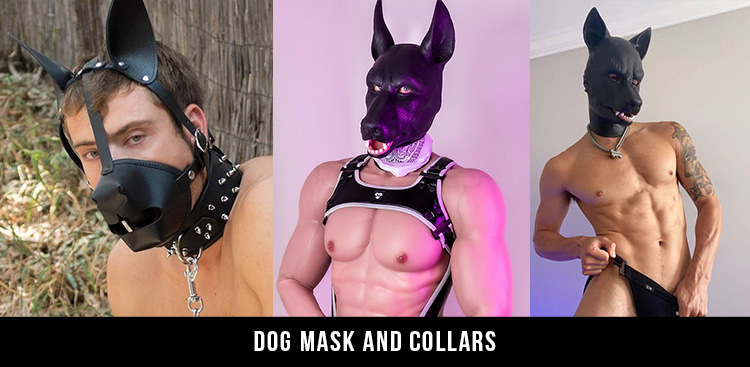 Pet play is a regular part of the BDSM spectrum. One of these kinks is puppy play. Get all the pets and adoration you deserve by being a pup. Embody the good boy you are with a dog mask, a collar, and a chain, so your owner never loses track of you.
How To Choose the Best Fits for Your BDSM Outfit Collection
There's endless fetish wear for your perusal. However, not everything will be pertinent to your wardrobe choices. 
To help you stock on what clothes matter for your lifestyle, see our tips below:
1. 

Follow BDSM Clothing Accounts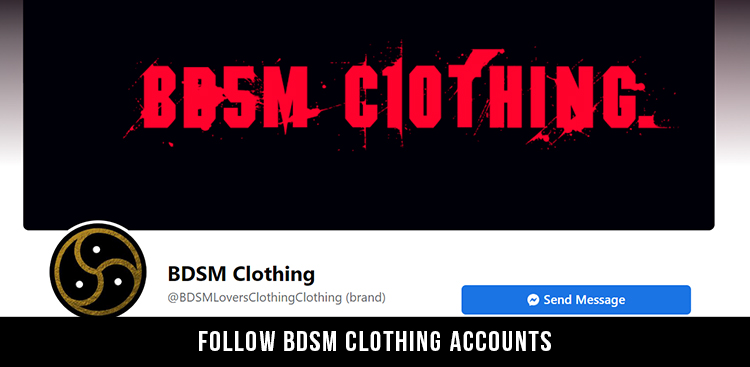 To get the proper attire, you must do thorough research first. Your search should be powered by what you're comfortable trying on. You also need to be aware of how your skin reacts with the clothes' materials.
To get an idea of the best brands available at your disposal, subscribe to mediums that'll help you get a great purchase. Social networking sites are the most versatile when providing information relevant to your exploration.
Make an account on any social media channel you want — Instagram, YouTube, Twitter, etc. These accounts will help you sort out what you may be into or not until you curate a collection of your own. They also announce any sales or wrong practices a particular site or business is accused of to warn others.
2. 

Invest in the Right Type of Clothing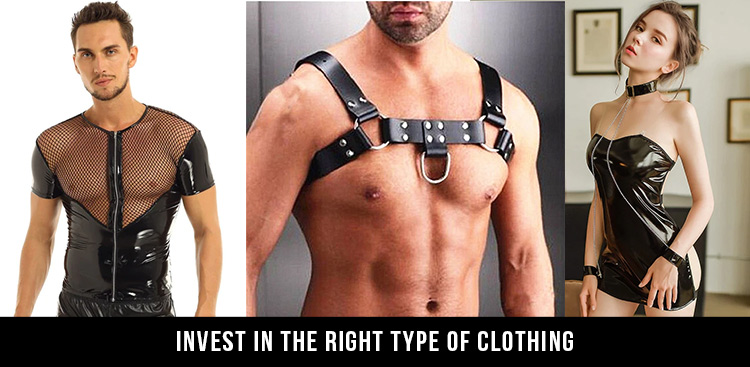 It's best to splurge and pick high-quality ones for fetish ensembles. Why?
Because you don't use fetish wear as your daily attire, you don't need to worry about fast wear and tear. Plus, you want to be the most comfortable in your space to focus on the play and the pleasure you can get from it.
However, remember to be vigilant when selecting your garbs and accessories. Some brands hike up a fit's price, even using subpar materials.
3. 

Join a Club and Connect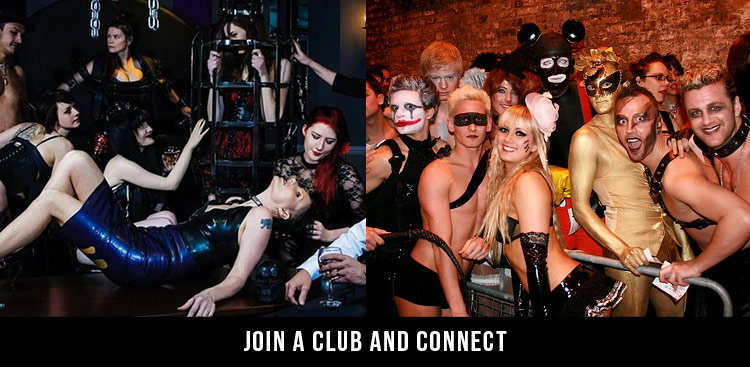 When you pick an online site or real-life assembly, you'll find valuable information. The members of these groups often share their experiences and will give you great advice when you post a query about anything.
Create an account with a pseudo name to keep your personal information private. With a private account, you're free to plunge into whatever topic you're interested in.
What BDSM clothes did you decide to buy? Have fun, try these kinky fashions, and let your carnal desires take over!