Upgraded Black Muscle Suit with Spider Tattoo
Our upgraded black muscle suit with a spider tattoo is ideal for changing your appearance into a buff black guy with ginormous muscles. The suit is black with a beautiful spider tattoo covering your chest and abdominal muscles, making you appear tough, edgy, and artistic. 

With this costume, you can get ripped abs, brawny arms, broad shoulders, and enhanced chest muscles to rival The Rock. The upgraded muscle suit's darker skin tone makes your muscles more prominent, giving you a visually appealing tone-up that enhances your appearance. The spider tattoo on the front of the muscle suit gives you a tough guy effect, making you appear super masculine, menacing, and powerful, which can help draw people's attention to your fantastic physique. 
Artistic and creative design 
Unlike traditional muscle suit costumes, this product has an excellent artistic creation to make your muscles more visually appealing. The muscle suit contains a beautifully designed spider tattoo running from the chest to your ripped abdominal muscles. The spider tattoo gives you an edgy bad guy look that is super attractive and manly.
Prominent and more defined muscles
The upgraded black muscle suit has cut muscle groups. Every muscle group is prominently cut from the chest, arms, shoulders, and stomach to give you muscles synonymous with bodybuilders. The muscle suit's black skin tone makes your muscles appear more prominent, giving the impression that you have a unique, buff body. 
Skin-friendly material 
This product is made from 100% medical-grade silicone material that is safe even after contact with your skin for extended periods. Silicone is heat and water-resistant, meaning you can wear your muscle suit indoors or outdoors without worrying about over-sweating or freezing based on the whims of the weather. Additionally, the silicone-made muscle suit includes realistic-looking blood vessels, skin texture, a perfect belly line, and a sexy collarbone, making your tone-up appear natural.
Instant muscle gain 
The muscle suit provides a fast, safe, and easy method to increase your body size. Whether you want to gain muscles to boost your self-esteem, appear more attractive, or look manlier, our muscle suit is the ideal product to help you achieve your dreams. The costume is highly elastic and stretches to accommodate your edges, making it easy to put on or take off.
Ideal for people
This product is ideal if you want to gain a buff black guy's physique instantly. The upgraded black muscle suit is comfortable for an individual that weighs between 60kg and 90 kg (132.28lb-198.42lb). The costume is relatively light-9923g, meaning you can wear it for an extended period without feeling the weight. You can wear our muscle suit for cosplay, role-play, gallivant on Halloween, instant muscle gain, or pair it with our black mask to become someone else.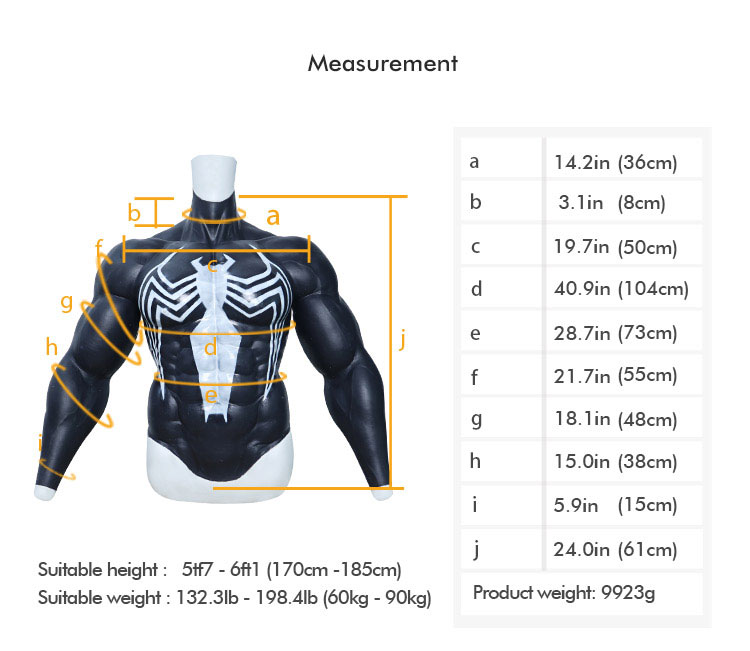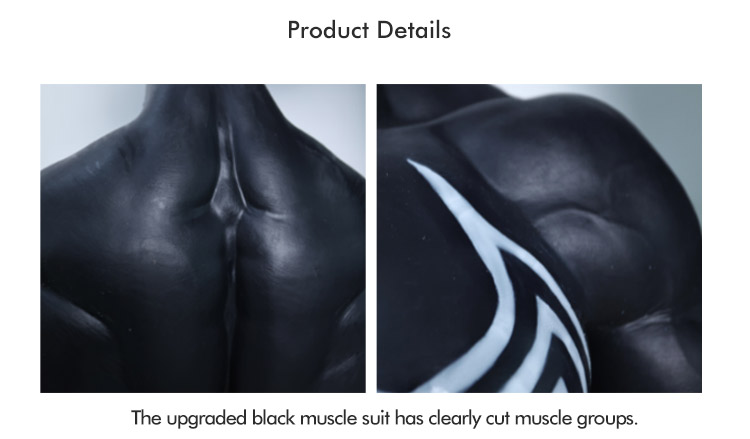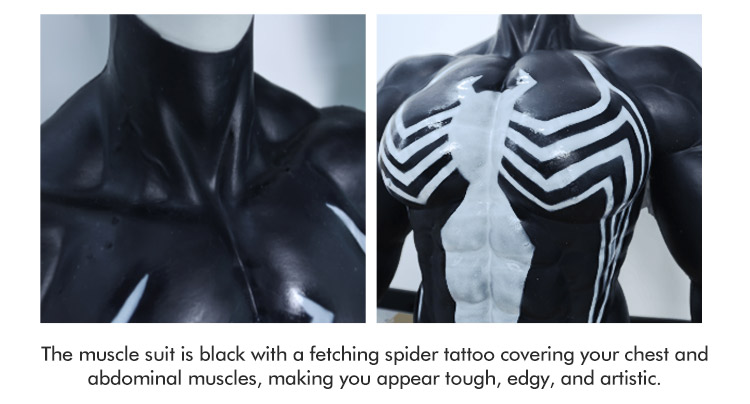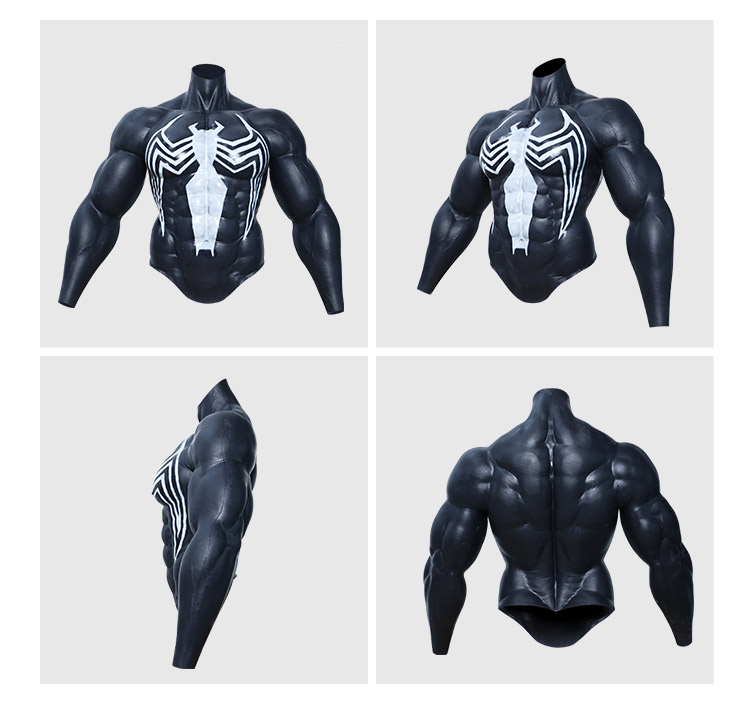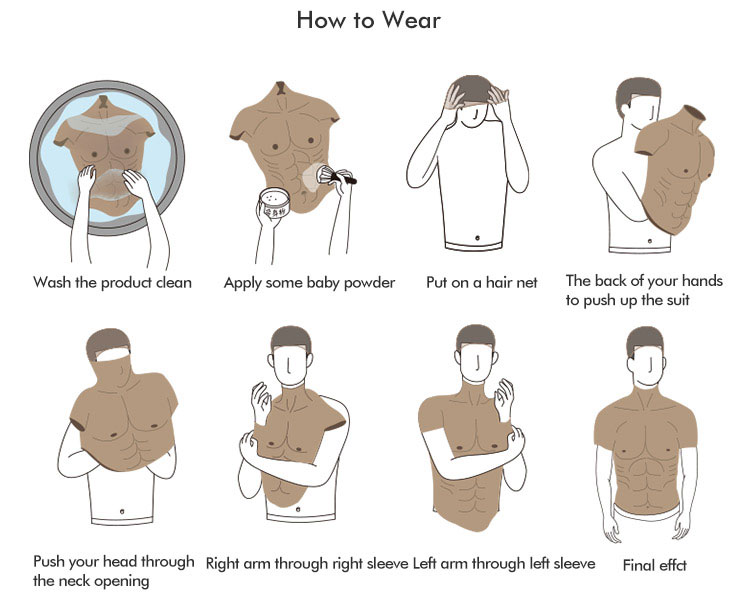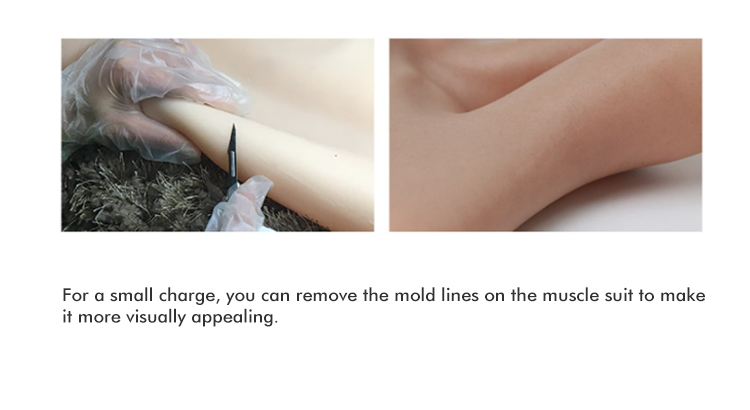 Additional information
| | |
| --- | --- |
| Weight | 6.7 kg |
| Add-On | |