Realistic Muscle Suit Without Arms
The muscle suit instantly transforms your upper body by giving you well-defined abdominal muscles, enlarged pecs, realistic ribs, and a perfect collarbone. It is ideal for quick and easy body transformation.

The sleeveless upper body muscle suit is realistic because the abs and pectoral muscles are presented simultaneously, making your torso look muscular and fit around the neck, rib, and abdominal areas.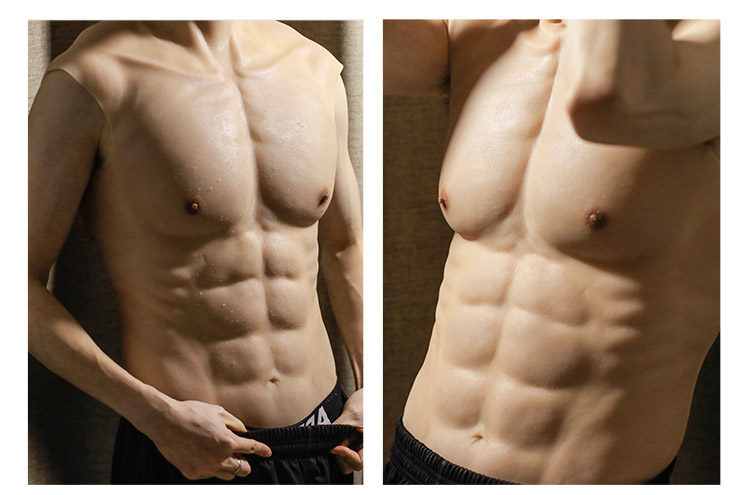 It gives you drool-worthy realistic abs, broad shoulders, a perfect belly line, realistic ribs, and chiseled collarbone without the torture of hitting the gym or dieting.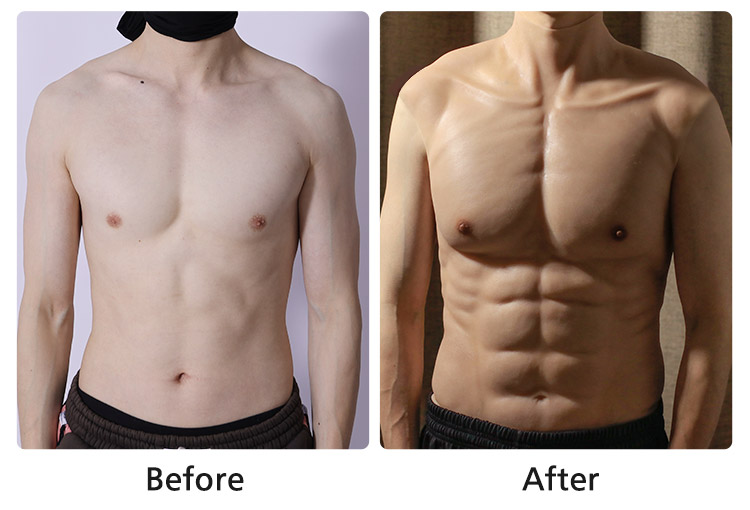 The muscle suit has realistic blood vessels and comes in caucasian, natural, tan, and dark tones to help you choose a costume color similar to your natural skin.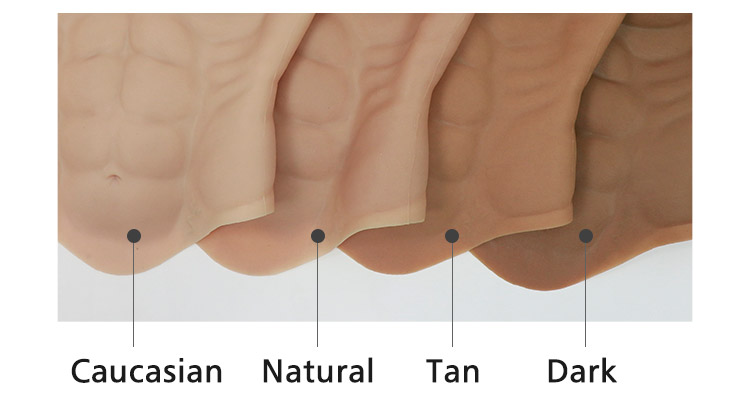 Our muscle suit is comfortable because it's made from a highly elastic material. The elasticity feature enables you to easily wear or take off your muscle suit without tearing the fabric or ripping the seams when you stretch. The muscle suit is also heat and water-resistant, making it comfortable to wear for indoor and outdoor activities.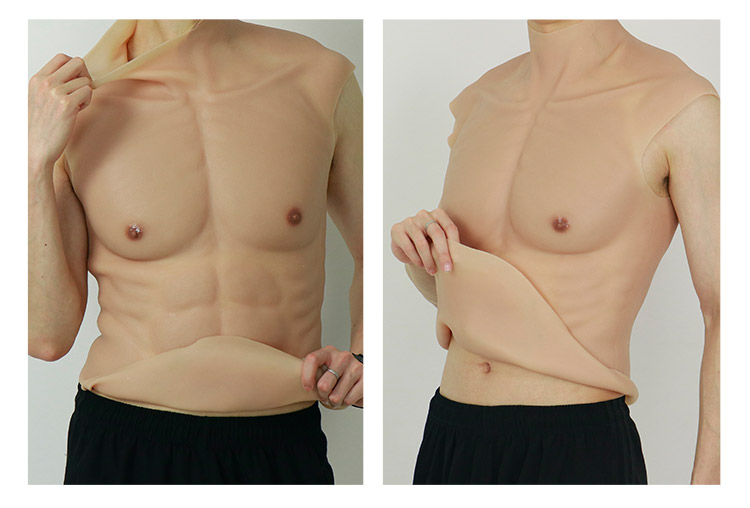 While there are several methods you can use to gain muscles instantly, using a muscle suit is the safest, fastest, and most realistic way to tone up. Compared to tone-up methods such as cosmetic surgery, a muscle suit is safer because it doesn't alter your body's physiology. The product is also a more convenient tone-up method than makeup because it's considerably easier and faster to wear and take off.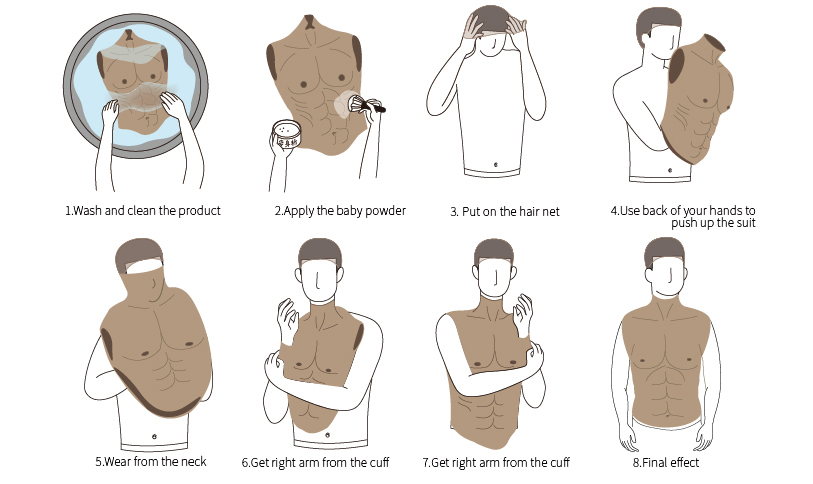 This muscle suit is right for you if you are standing between 5ft3 and 5ft9 (160cm-180cn) and weighing between 123 lb and 209. 4 lb (55-95 kg). The sleeveless muscle suit increases your muscle mass and size the moment you put it on. Since this muscle suit is light, you can carry it with you and wear it when the mood strikes you or when it's convenient.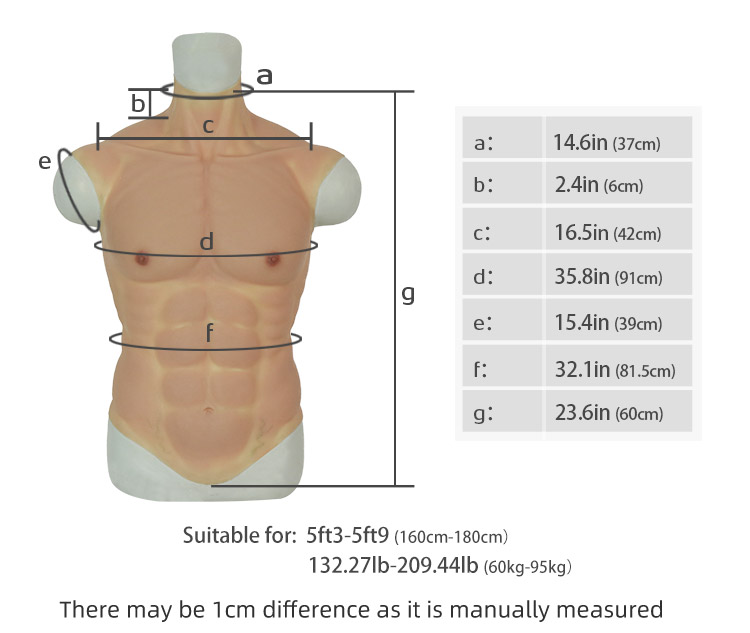 With this product, you can get a toned-up physique to impress people at the beach, costume party, or shine at a photo shoot. Whether you want a cool outfit for daily wear or special occasions, our muscle suit can completely transform your appearance quickly and safely.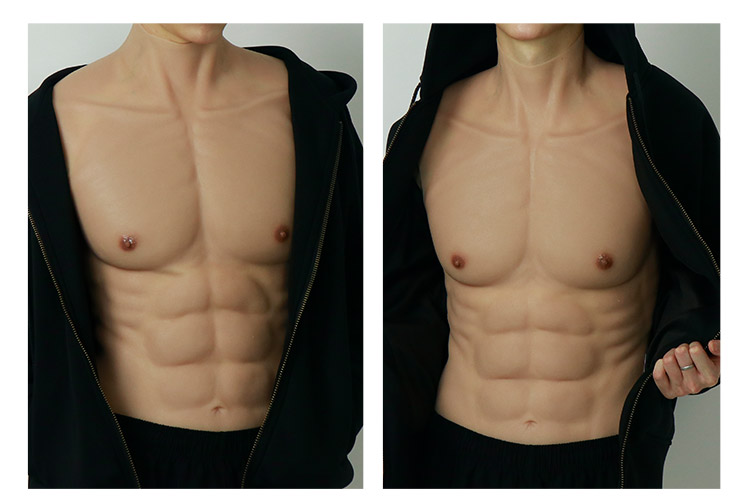 All products have seams on the sides of them that are created during the molding process. Don't worry; we will offer you refinement services from skilled artisans, removing the mold line that your muscle suit carries from the factory at a reasonable price. The process takes just 15 days. You can get a fully authentic muscle suit to dazzle people on any occasion with your impressive abs, realistic ribs, enhanced pectoral muscles, and a perfect collarbone.

Additional information
| | |
| --- | --- |
| Weight | 2.1 kg |
| Muscle-Color | |
| Muscle-Chest-Hair | |
| Add-On | |