Want to look like a superhero? Or maybe you want to look ripped with bulging biceps and a beautiful chest.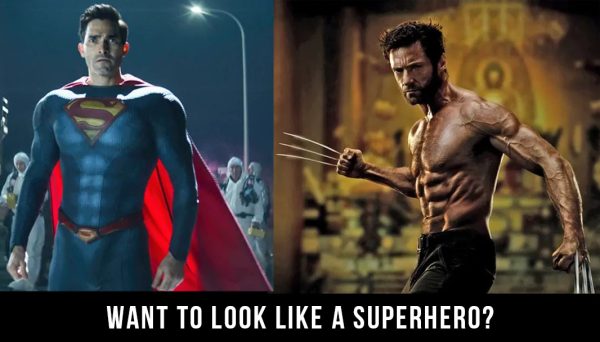 If you answered yes to any of these questions, then you might want to stay and continue reading this blog post.
Make your wish come true with muscle suits

.
So how do you get your dream body without breaking a sweat?
We introduce the muscle suit – a very realistic and fast way to create fake muscles.
You can have that ripped body that you've always been dreaming of in no time at all. All you have to do is follow a few simple steps.
Even better, we'll also give you some tips on making your fake muscles look even more realistic by wearing them properly.
Sounds good?
There's more! To continue reading on.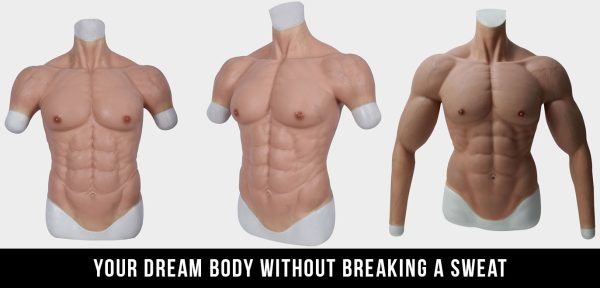 What is a muscle suit, and what does it look like?
If you have a really good imagination, think of muscle suits like a bodysuit that you wear to give you instant muscles.
But unlike bodysuits that are usually made of cotton, nylon, or latex, muscle suits use silicone to make them fit snugly to the skin. Silicone, especially high-grade ones, can easily look like real skin making your muscle suit look more realistic and natural when worn.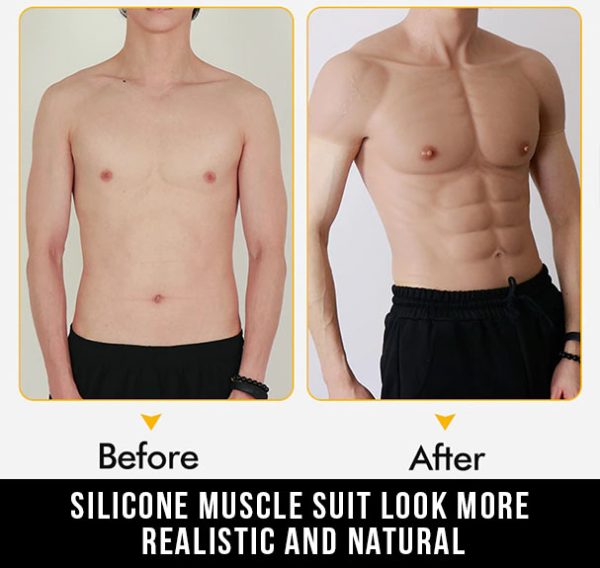 What's excellent with muscle suits is that they can give you prominent muscle shapes. You can get defined muscles like eight-pack abs, defined pecs or the pectoral muscles of the chest, broad or ripped shoulders, and even muscled legs.
What types of muscle suits are available out there?
There are several types of muscle suits available out there. It all depends on the kind of muscle suit you need and your purpose for using a muscle suit.
As you have read earlier, you can get a muscle suit to give you defined abs, broad shoulders, ripped chest muscles, or thickly muscled legs.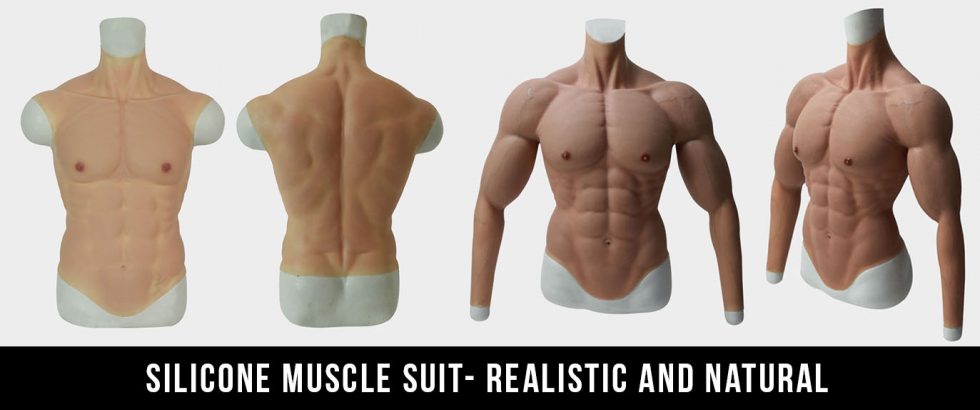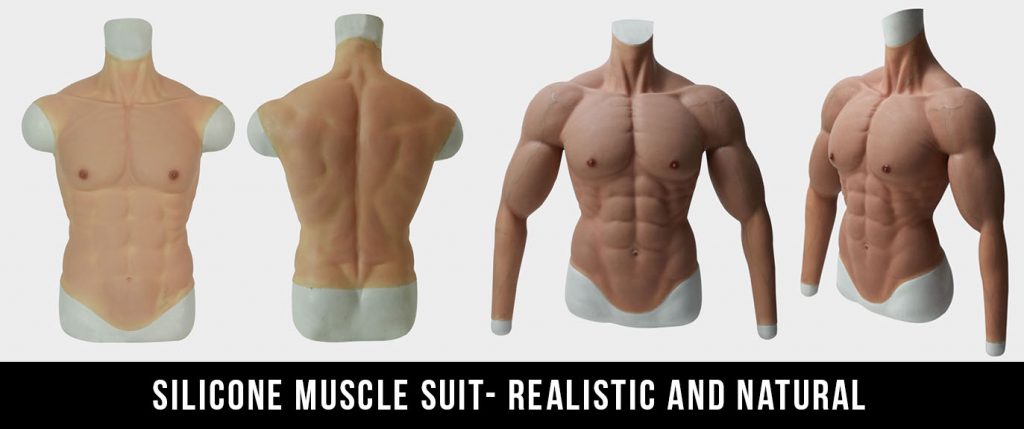 If you're interested in knowing more, below are the different types of muscle suits, depending on what you need them.
First on the list is the muscle suit without arms.
Compared to any other types of muscle suit on this list, the muscle suit without arms is the easiest to put on and take off.
It's also the perfect choice for those just trying out muscle suits for the first time. The muscle suit without arms is the best muscle suit that you can wear in the summer. It's also the best choice for wear if you live in a tropical place since it offers the most comfort.
You get a perfect belly line and eight-pack abs with this muscle suit. You can also choose to get one with chest hairs – or not.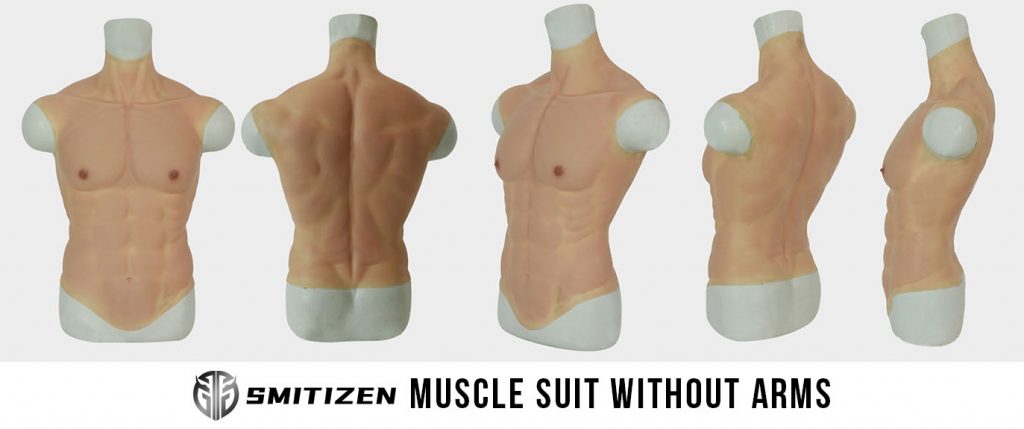 Next on the list is the short sleeve muscle suit.
It looks very similar to the muscle suit without an arm. Only this time, you get a short sleeve that best fits the top of your forearms just fine.
This type of muscle suit is the perfect choice for everyday wear. It also doesn't look over the top, even if you're new to wearing muscle suits. Wearing the short-sleeved muscle suit is also unnoticeable under a tee but is defined just enough to make you look hot and ripped underneath.
The best part? This short-sleeve muscle suit contains more defined biceps and muscles. It's an upgrade from the muscle vest if you want some honest opinion.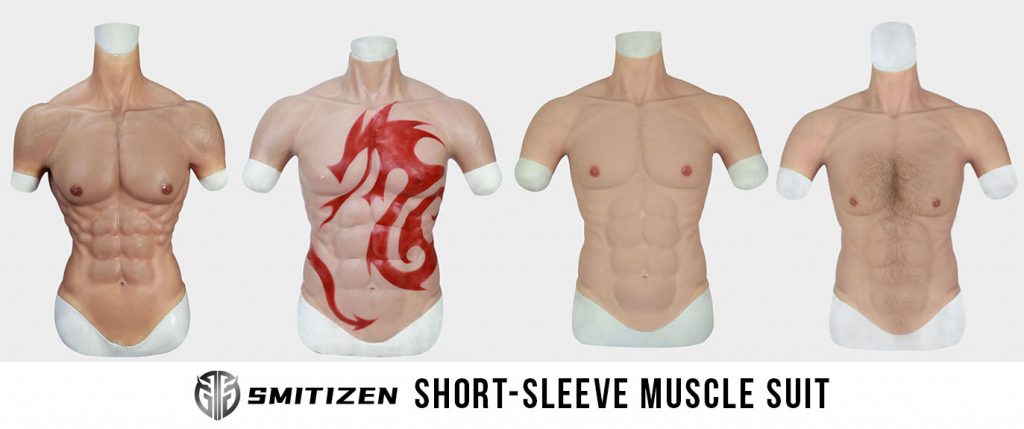 Up next is the long-sleeved muscled suit.
The long-sleeved muscle suit will be your best choice if you're going for a total muscled look with your upper body.
This muscled suit is highly stretchable, fitting you like a second skin. You can extend its size to six times the original one! With this feature, you don't have to worry about getting the size wrong, or it is too small for you.
Even better is that you can wear a tank top with this muscle suit or a tight shirt to make the muscular look even better.

 Last but not least is the full muscle bodysuit.
This is the best muscle suit of choice if you want a perfectly toned body.
Are you planning to join a body competition? Or maybe you want to do some model work where being ripped is a requirement?
If you said yes, getting the full muscle bodysuit is perfect!
On the other hand, there doesn't need to be an occasion for you to get the full-body muscle suit. You can get it if you want to feel sexy and more confident about yourself.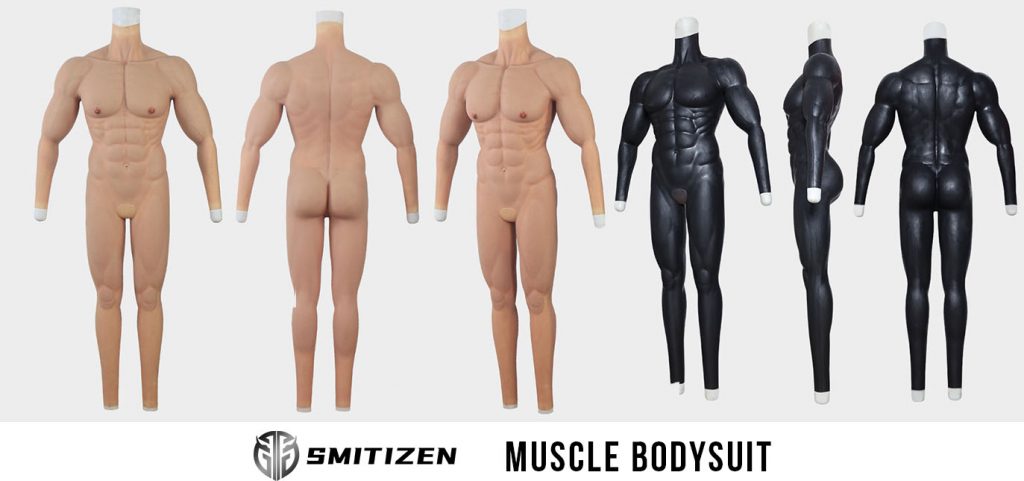 As a leader in providing the best muscle suits in the market, Smitizen's suits are made of better and high-quality silicone material.
They also feature the honeycomb design that allows for better skin breathability than other muscle suits that feel tight and uncomfortable when worn for long.
And last but not least, Smitizen's your best choice for getting realistic muscles and instantly looking in great shape – even if you haven't gone to the gym in months!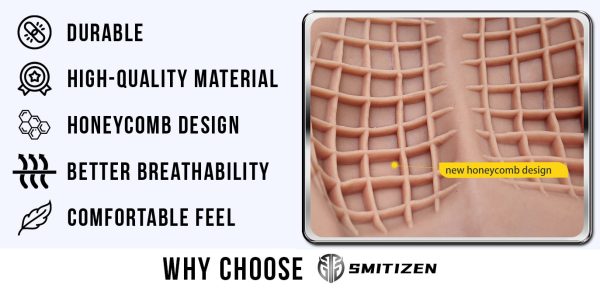 The honeycomb upgrade: what is it?
Smitizen has the newest honeycomb upgrade to go with its muscle suits. This means that you get a muscle suit that is even more convenient to wear and is more breathable than regular muscle suits.
With the honeycomb structure, you reduce the friction caused by the silicone rubbing into your skin. The result? You feel a lot better wearing a muscle suit, whether or not it's a first for you.
The honeycomb structure also ensures excellent air circulation between the muscle suits and your skin. Sticky feeling? Not a problem. Uncomfortable since it's your first time? Citizen makes wearing the muscle suit a breeze – even for the first time.
You benefit from a muscle suit that gives you that perfect upper body that is drool-worthy and offers better muscle definition than just the normal muscle suit.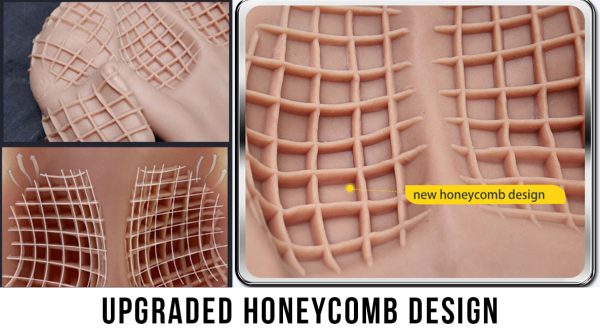 How to put on a muscle suit?
Now that you have an idea of the different types of muscle suits, you may be curious about how to properly wear and put on a muscle suit.
You're probably thinking that it's as simple as wearing your t-shirt. It's somehow like it but with a little more extra.
So how do you put on a muscle suit properly?
Just follow these simple steps:
Wash and clean your muscle suit.

Apply baby powder inside and outside for easy wear. Water lube works, too.

Put on a hair net.

Use the back of your hands to open up the neck hole and step into the muscle suit one leg at a time.

Drag up the suit to your upper body and properly adjust its position when you're done.

Lastly, put your arm in the armholes. If there are any, then tidy up the suit.
Then that's it!
Quite easy, right?
If you follow the instructions to a T, wearing your muscle suit shouldn't be too difficult for you.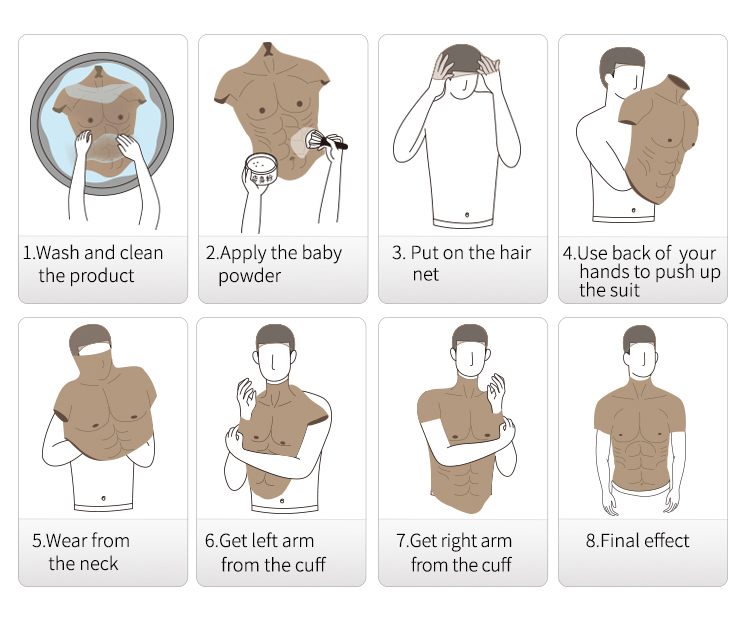 How to make your fake muscles look more realistic?
At this point, you've chosen your muscle suit. You also have a good idea of how to wear them.
The next thing you may want to know is how to make them more realistic.
While muscle suits are made of silicone that looks a lot like human skin, you still need to secure it to make it more realistic.
How?
Use a wrist seam.
As an accessory, a wrist seam might not be a lot.
But it does the job of hiding that fine edge of your muscle suit and your hand – which sports the real skin.
Even if a muscle suit looks realistic, it will still look different from your natural skin tone. This is why using a wrist seam to cover the skin differences between your hands and your muscle suit would be the best solution to make it even more realistic.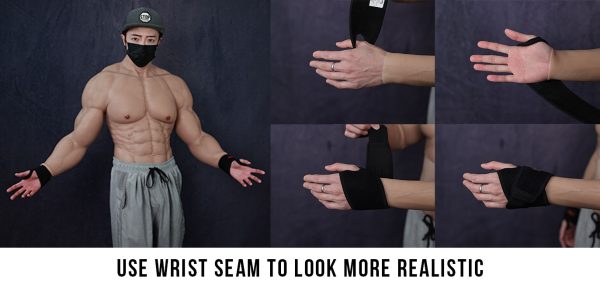 Conclusion
Overall, there are different types of muscle suits that you can wear to look ripped – or realize your dream of looking like a superhero. Whether it's a full muscle suit, one with short or long sleeves, or without any arms, there will always be a suit that will fit what you need for every occasion.
So what are you waiting for? Get your muscle suit now and enjoy the feel of having muscles without hitting the gym to sweat it out.