Realistic Muscle Body Suit with Zipper – Regular Size
The muscle suit is made from silicone that imitates your natural skin, making it ideal when you want a realistic muscle tone. This upgraded one is considerably easier to wear and take off because it comes with a back zipper.

The short-sleeved muscle suit is ideal for transforming your upper body.
The muscle suit has defined muscle groups, a realistic belly button, perfectly aligned belly lines, and realistic-looking veins. Depending on your preference, you can get chest hair or select a smooth muscle suit. The products come in various colors ranging from Caucasian to dark color tones, enabling you to choose a closer color to your ideal skin tone.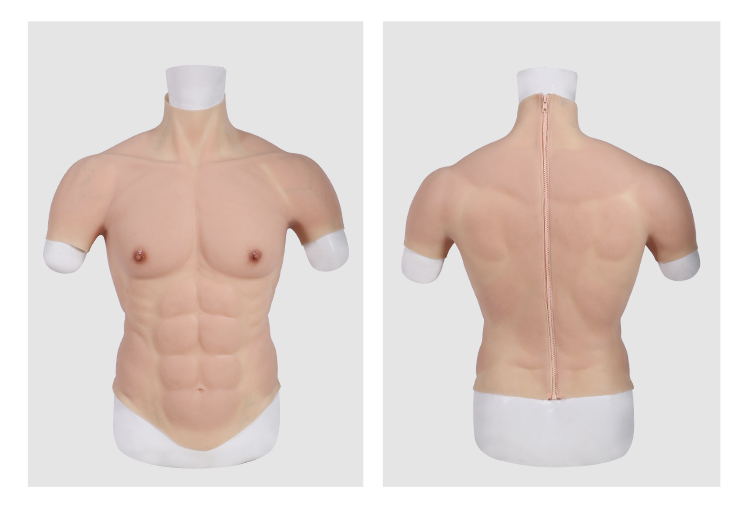 Ease of use
This product has one of the best muscle suit designs. The muscle suit is easy to wear and take off because the product is made with an elastic material. You can bend and stretch as much as possible without worrying that the suit will burst at the seams or tear. The back has a zipper, not like the previous muscle suit from the neck set in, directly like wearing clothes set in, pull the zipper on. The ease of use ensures that you can wear the muscle suit in the privacy of your home without having to call someone to help you put it on or take it off.

Instant transformation
If you don't like your appearance, changing your appearance is as easy as breathing. With our product, you can increase your body mass quickly without changing your diet, using steroids, or hitting the gym.
When you squeeze your body into a muscle suit, you can gain fake abs, pecs, broad shoulders, and a chiseled collarbone. With this product, you don't just gain muscles, but you gain the skin tone you desire.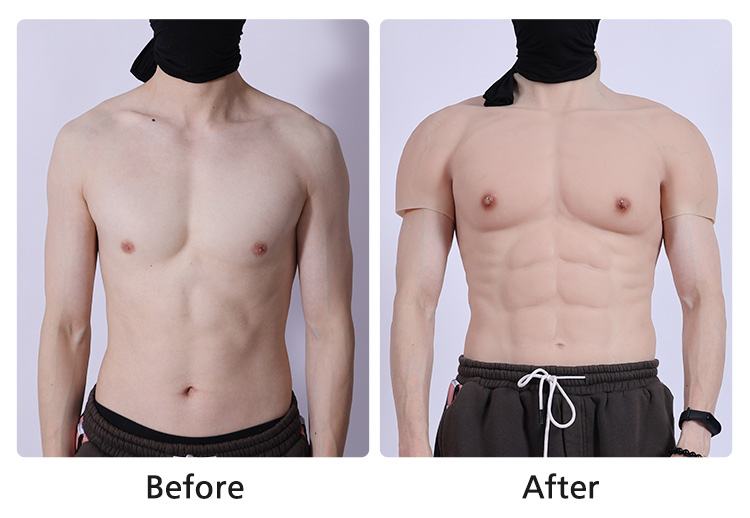 Suitable for people
The muscle suit is ideal for Halloween, Cosplay, role-play, or making you a party darling. Whether you are thin or fall on the chubby side of the bodyweight spectrum, our muscle suit can give you a new look by giving you a toned body.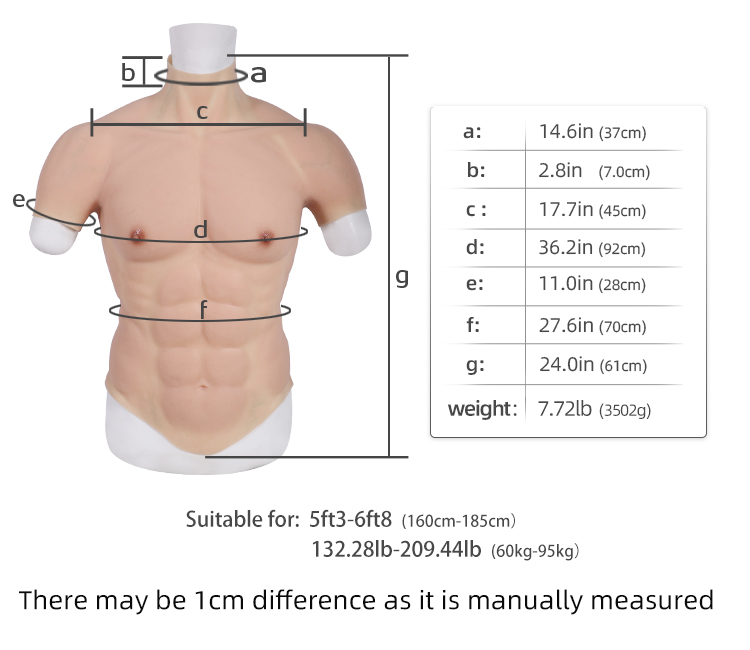 Our short-sleeved upper body muscle suit is made from pure medical-grade silicone. The qualities that make silicone material ideal for a muscle suit include:
Skin-friendly and comfortable
A muscle suit made with silicone is skin-friendly. Its interior minimizes friction, which reduces skin sweating, making it comfortable to wear for extended periods without worrying that your skin may react negatively.

Highly elastic
A silicone-made muscle suit is ideal for people of all sizes and shapes because it's highly elastic. Whether you are thin or fat, you can squeeze into the muscle suit and gain instant muscles without the hassle of exercising for months in the gym.

Tightly wrapped around the body
Muscle suits are designed to function like a second skin, which means they can stretch to cover all your curves and edges tightly to ensure that the suit looks as natural as possible.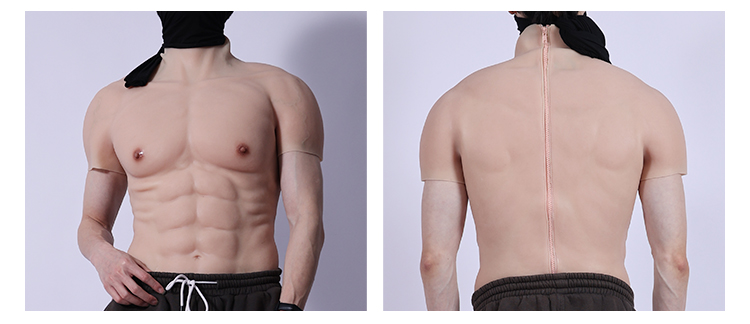 How to wear a muscle suit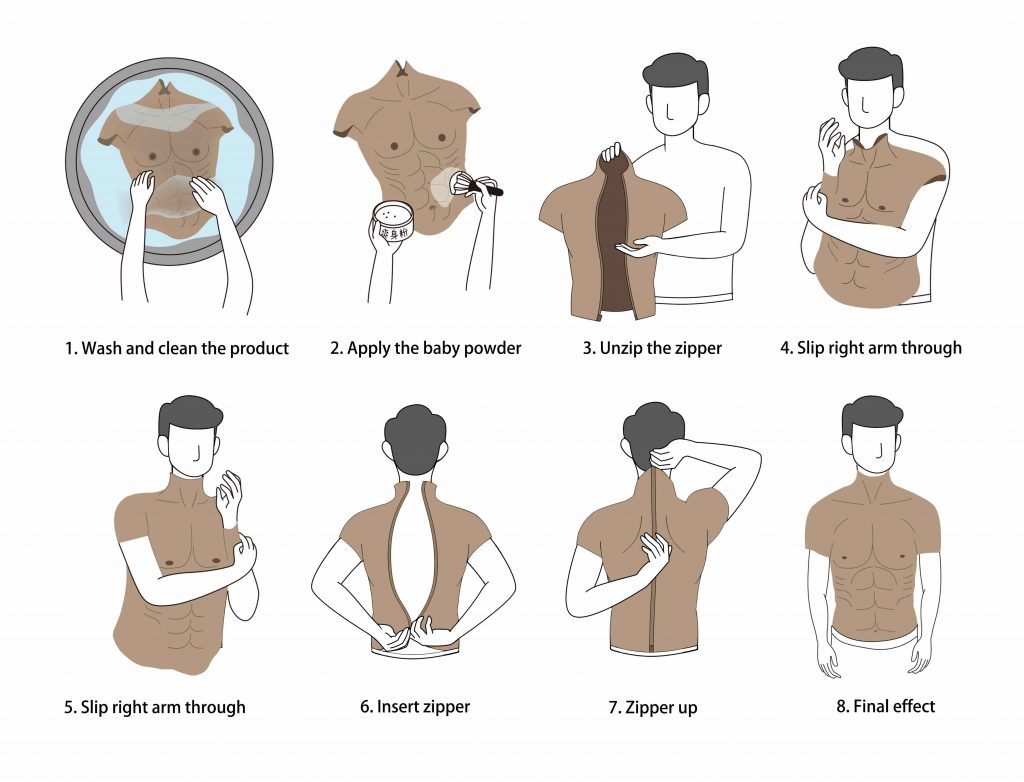 Once you have selected the items you wish to purchase, select a payment method from the several options available at our sites, enter your details, and confirm your address. We will send your costumes as quickly as possible. We appreciate any feedback from our customers, so do so once you have received your order.
Additional information
| | |
| --- | --- |
| Weight | 3 kg |
| Muscle-Color | Caucasian, Natural, Tan, Dark |
| Chest Hair | Chest Hair, No Chest Hair |
| Add-On | Careful Crafting Service, None |