Men are sensual, hot, erotic, and beautiful to look at and deserve all the fabulous fetish clothing they can get their hands on to enhance their appearance. Because of the ridiculous belief that a man's appeal is in his wallet or social standing and not his looks, men's fetish wear is often treated as an afterthought compared to women's fetish clothing.
If you are a man with a fetish for clothes, finding hot, provocative, and stylish wear can be challenging, especially if you are new to the fetish world. This article will discuss different fetish clothes, their significance, and where to shop for fabulous fetish clothes.
Why should you get fetish clothing for men?
Are you aroused by the touch, smell, or sight of specific garments or clothes?
Don't worry. What you are feeling is normal. Your obsession with clothes may be a sign you are a member of the BDSM (bondage and discipline, domination and submission) community, or you simply love how clothes make you feel.
Some reasons you may be drawn to fetish clothing include:
Fetish clothes make you feel masculine and powerful.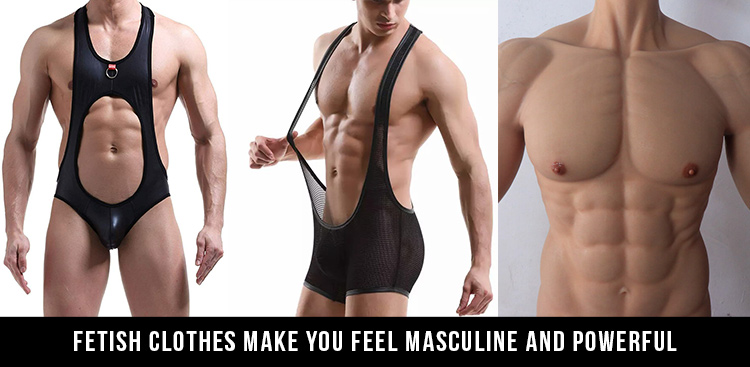 Fetish clothes can make you feel powerful and manly by enhancing your appearance. Depending on your preference, you can wear clothes that make you look more toned, more prominent, or leaner, giving you a masculine look that increases your self-confidence.
Help you spice up your sex life.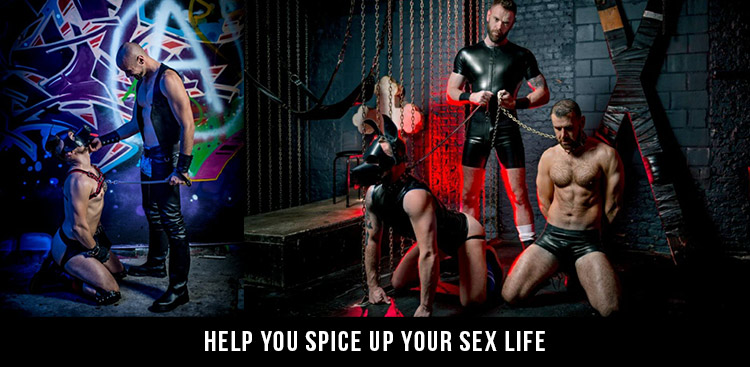 While some men use clothes to spice up their sex lives on special occasions, some men can't get sexually excited without stimulation from the clothes' touch, sight, or smell. A clothes fetish means you can only have a fulfilling sexual relationship using clothes as a sexual stimulator.
Useful when setting a scene for a role play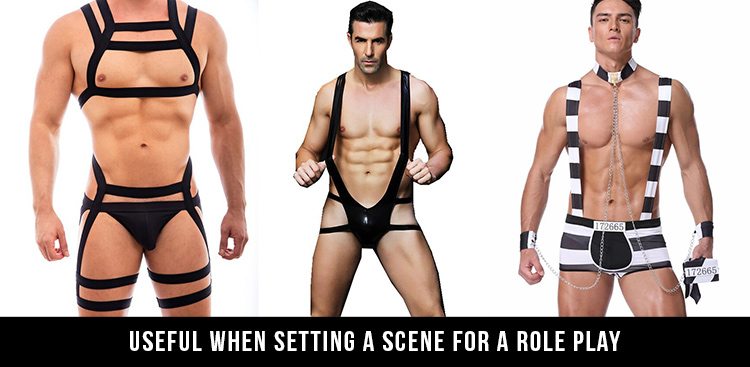 What you wear in a scene can help you and your partner achieve mutual satisfaction in scene play.
For instance, if you can only get sexually excited by the touch or smell of furs, wearing a furry costume can help you achieve sexual satisfaction. Fetish clothes allow you to get in a headspace, surrender to the roleplay, and enjoy yourself.
Fashion statement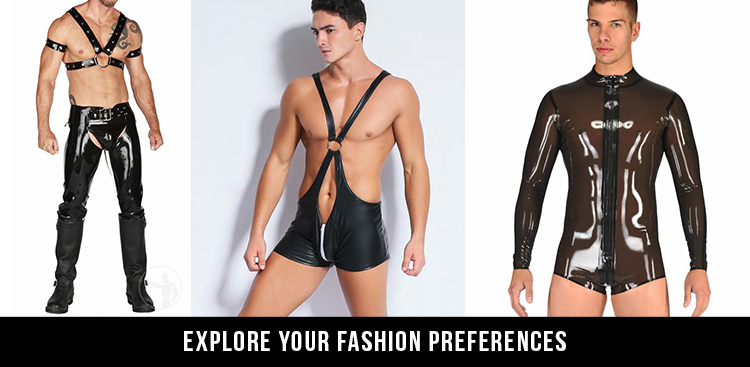 Is there a rule that says you have to be a member of the BDSM community to wear fetish clothes? Not! You can wear fetish clothing to attend a party, attract attention, or as a fashion statement. From wearing something innocuous like a leather jacket, or latex catsuit to a chest harness, fetish clothing can be an excellent way to explore your fashion preferences.
The list of hottest fetish clothing for men
Shopping for fetish clothing can be difficult, especially for men, because the topic has been taboo for generations. Fashion that caters to men's sensual and seductive exploits is often rare and on the down low. Fortunately, in the last few decades, fetish clothing has become popular in the mainstream industry, making it easily accessible for people.
Here is a comprehensive list of fetish clothes for men you can shop for:
If you are looking for a thong-styled harness to spice up your sex life, you can't go wrong with a vegan leather harness. The leather body harness is designed for comfort, style, and functionality.
The harness has an adjustable front pouch to fit your crown jewels, and the back is shaped to make your butt look curved. The vegan leather harness is made with leather, so it's friendly to your skin and comfortable to wear.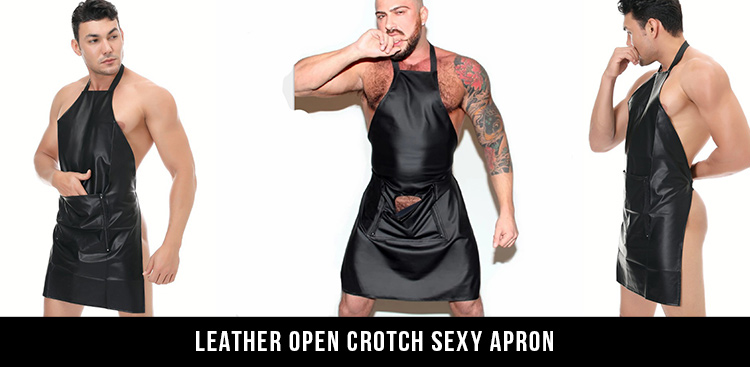 Do you have a fetish for your kitchen apron and want something unique to help you bring that fantasy to life? Consider adding a leather open crotch apron to your fetish collection. The leather apron for men is smooth and stylish and contains a front pocket, which you can open to show off your goodies.
You can wear the sexy apron to spice up a sex scene, BDSM-themed party, or costume event. You can also wear the leather crotch house and strut to seduce your partner.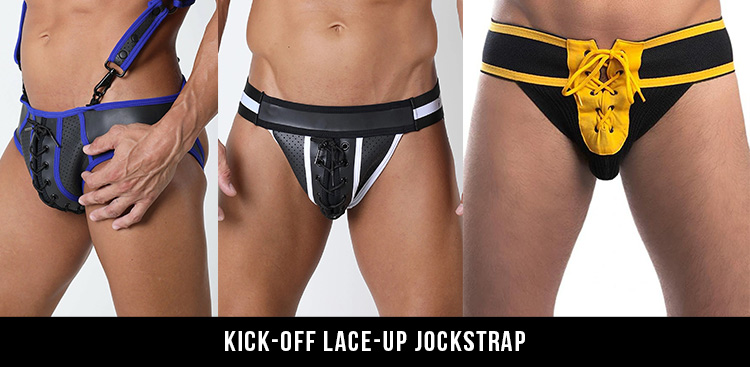 If you have a jockstrap fetish, you will love the kick-off lace-up jockstrap that is perfect for any special, sexy occasion. The kick-off jockstrap contains cute lace running from the front of your groin to the back. The jockstrap is made from a mixture of neoprene and spandex, so it's appealing to look at and comfortable to wear.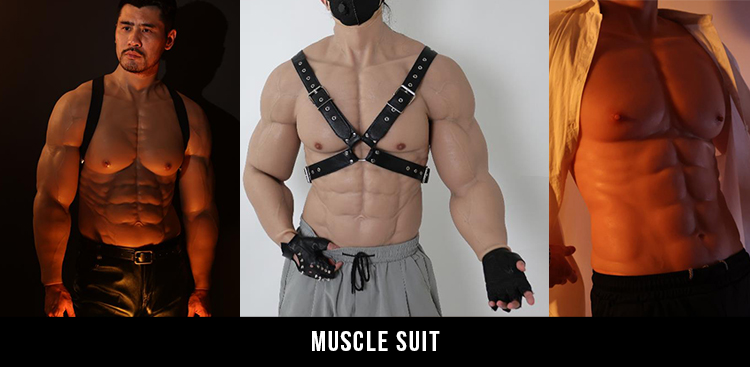 Muscles can improve your relationship because they give you the confidence to show off your body. Muscles are amazing to touch, feel, hold or squeeze. But, what do you do if you or your partner (or both) have a muscle fetish but don't have impressive muscles? Have a boring sex life? Certainly not! That's where a muscle suit costume comes in.
A muscle suit is perfect for helping you achieve your dream body quickly and safely. A muscle suit gives you instant and shredded muscles around your abdomen, chest, arms, legs, and clear-cut back muscles. The costume is made from silicone material, so it's skin-friendly and clings to your body like a second skin, so it's comfortable to wear.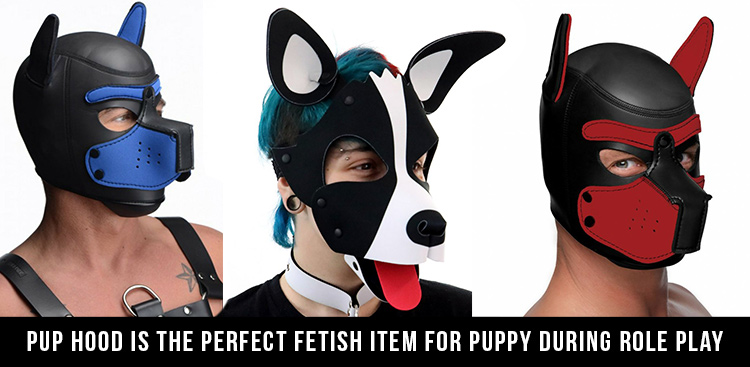 A pup hood is the perfect fetish item to help you transform into a cute puppy during role play. If you are into pet play, wearing a pup hood can help you quickly get into puppy space, allowing you to have fun as your four-legged alter-ego canine. You can wear a full-head puppyhood that covers your entire face and head, leaving your nose, mouth, and eyes exposed or a half-head puppyhood that covers your face partially. If it's your first time getting a pup hood, shop for one with bendable ears and an adjustable nozzle to allow you to be comfortable to enjoy your pup play experience.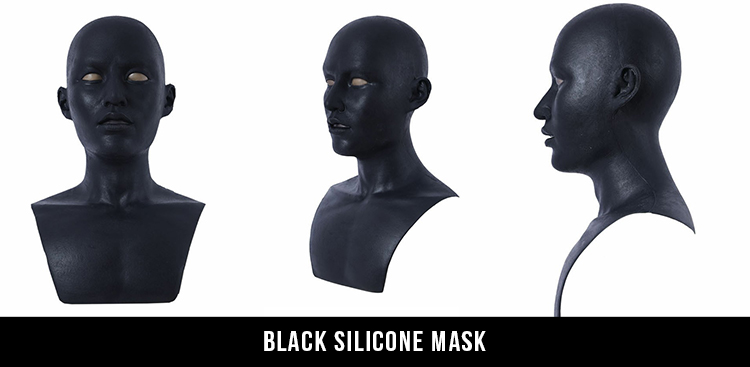 A silicone mask allows you to become someone else by changing your age, gender, or race. If you have a black male fetish, you can shop for a silicone black man mask that allows you to instantly transition into a black man. The black silicone mask is made from medical-grade silicone material, which is skin-friendly, so it's comfortable to wear for long periods. The mask contains realistic-looking features that give you a believable black man appearance.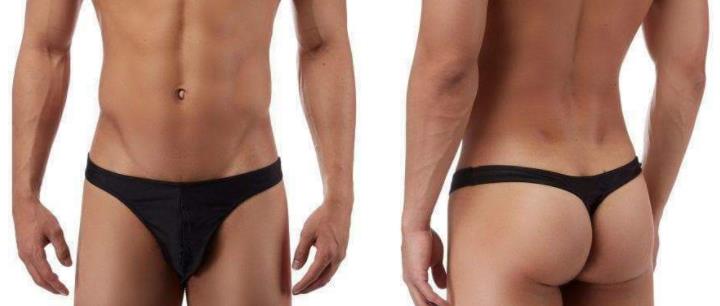 With this creative fetish wear, your partner can access your manhood with a snap. The pull tab thong is tight, making your butt look round, has enough room for your crown jewels, and has a convenient opening at the front that allows you to set your cock free when you are stiff and want to play.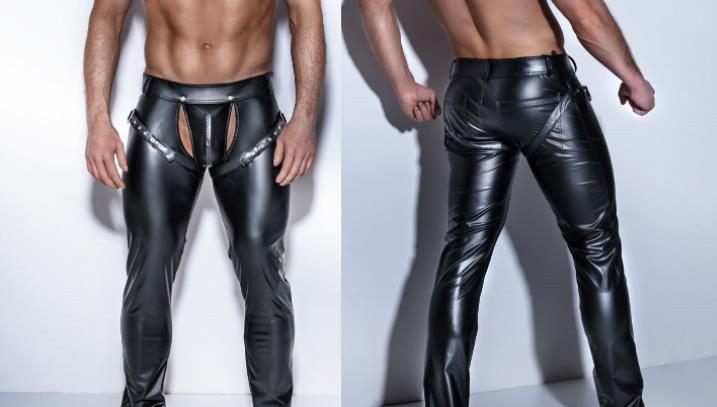 A pair of leggings on a woman's body looks great, but it's downright exotic on a man. Fetish clothes for men are great because they can make you look super stylish, help you break fashion gender barriers, and help you achieve sexual gratification. For instance, wearing leggings or stockings, considered feminine, can help you fulfill your fetishes while allowing you to wear styles that make you feel comfortable.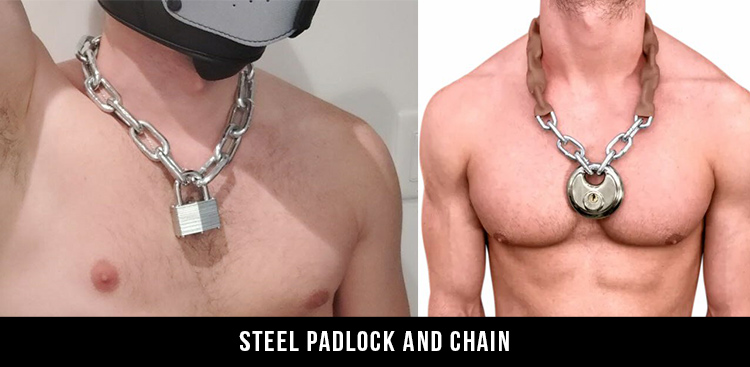 If you are looking for an item that screams you are into fetish clothing, you can't go wrong with a chain locked with a padlock. You can shop for a stainless steel chain that you can seal around your neck with a padlock, which is perfect for someone interested in exploring BDSM.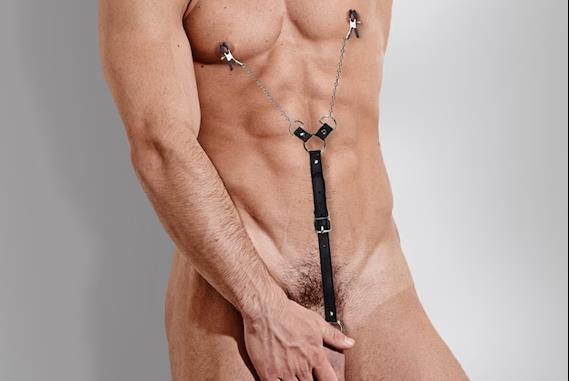 If you haven't experienced the pain and pleasure you can derive from a cock rings and nipple clamps, you are missing out on a fantastic experience. A cock ring can help you increase your sex appeal, especially when you have an impressive hard erection. The pressure from the cock ring and pain from the nipple clamps can double your pleasure, enhancing your sexual experience.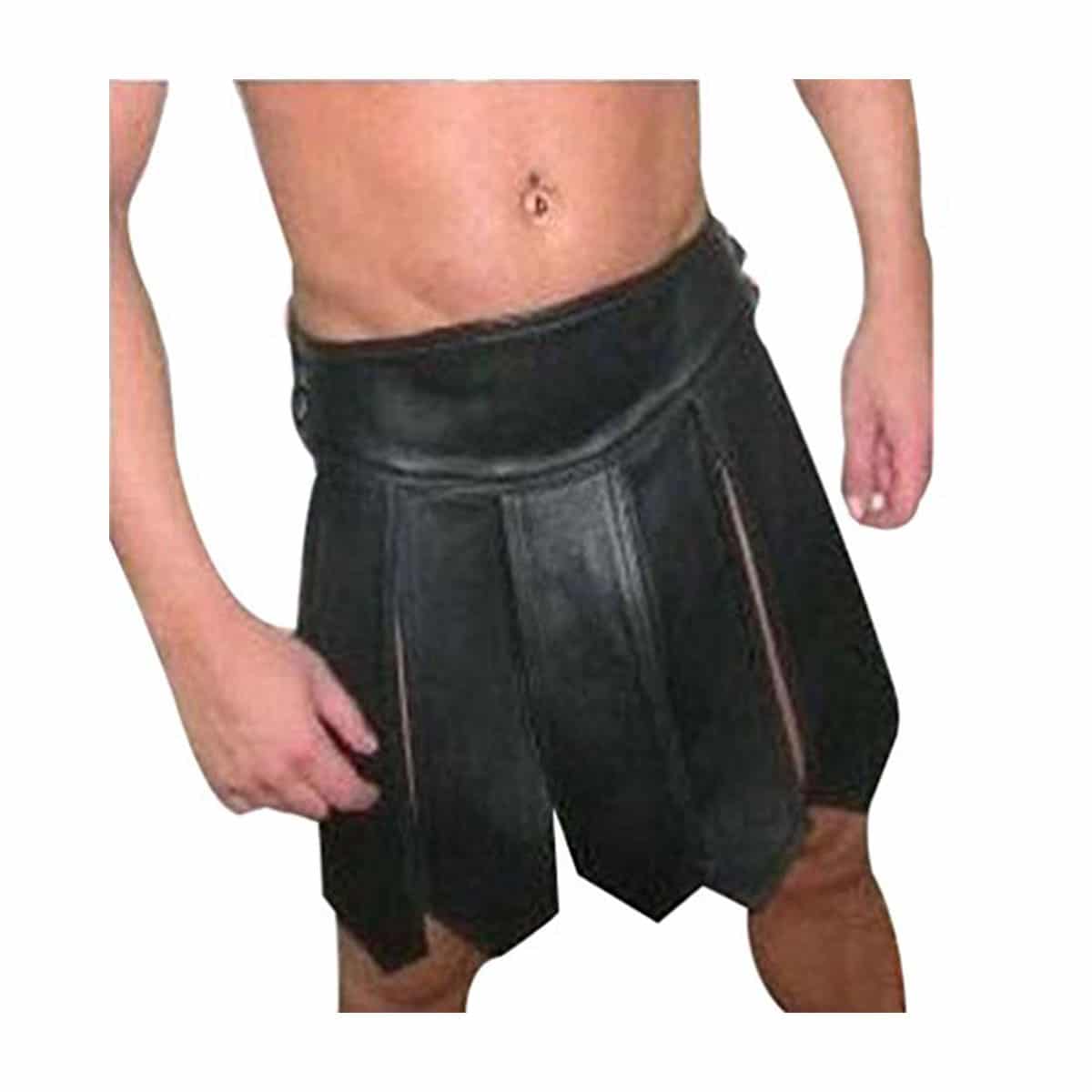 A Scottish leather kilt might get your sexual juices flowing if you have a fetish for traditionally feminine clothes. You can wear a leather kilt around the house to look seductive, which increases your sex appeal, or to attend an event.
Where to buy fetish clothing for men?
If you are looking for high-quality fetish clothing, check out the following sites:
If you are looking for a site that can help you fulfill all your darkest and deepest fantasies, you can't go wrong with Darkroomcollection. Whether your interests lean towards steel, leather, o rubber fetish, Darkroomcollection has got you covered.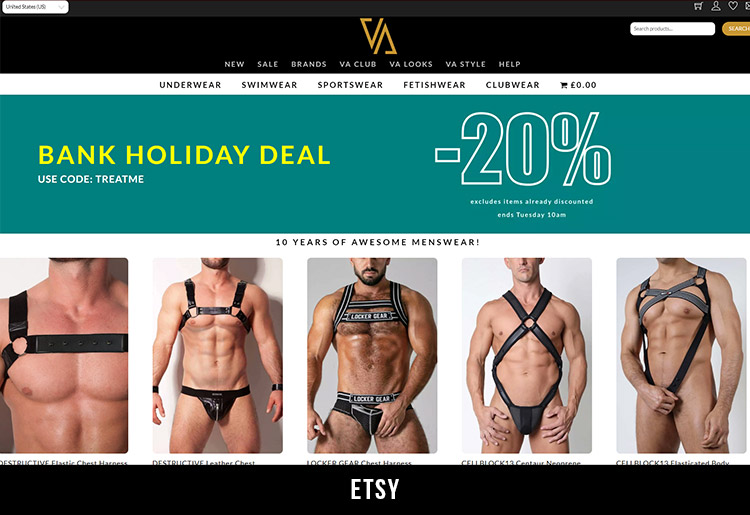 The Vocla site has an impressive collection of sexy fetish clothes for men that are perfect for your bedroom and club wear needs. Vocla also has great discounts for first-time buyers, so it's ideal for beginners.
The Forfunstore is a dream destination for any man with a fetish they want to explore. Whether you are looking for unique animal hoods, gorgeous pet suits, steel fetish gear, latex suits, or cool pet shoes, Forfunstore has a fantastic catalog to make all your dreams come true.
Dailyjocks boasts a comprehensive collection of sensual men's clothing that makes you feel and look good. From cute bikini briefs, and strap harnesses, to gorgeous male thongs, Dailyjocks has it all.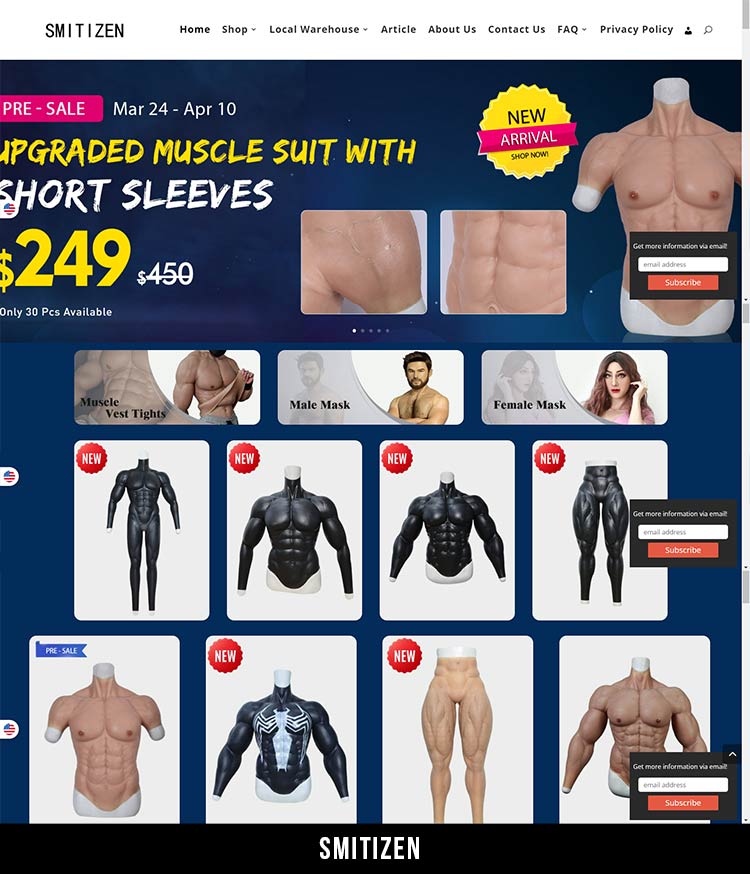 Smitizen is the go-to site for fetish wear, such as masks, gloves, and muscle suits. Smitizen boasts a wide assortment of high-quality fetish items and accessories that cater to people of all ages, genders, and races.
Conclusion
Fetish wears for men has gained popularity in the last few decades, allowing men to access items that help bring their fantasies to life effortlessly. You can now shop for latex rubber, harness, or kick-off jockstraps in various sites from the comfort of your home and get them within a couple of weeks to spice up your sex life.