Did you ever dream of having a rope tied tightly around your body or tying someone up during sex but didn't try because people might think it was weird? Don't be afraid to explore your interests because you're not alone. Many people do rope play for sexual pleasure. A 2017 survey of 600,000 respondents shows that 64% of male and 51% of female respondents like to be tied, tie their partners, or do both.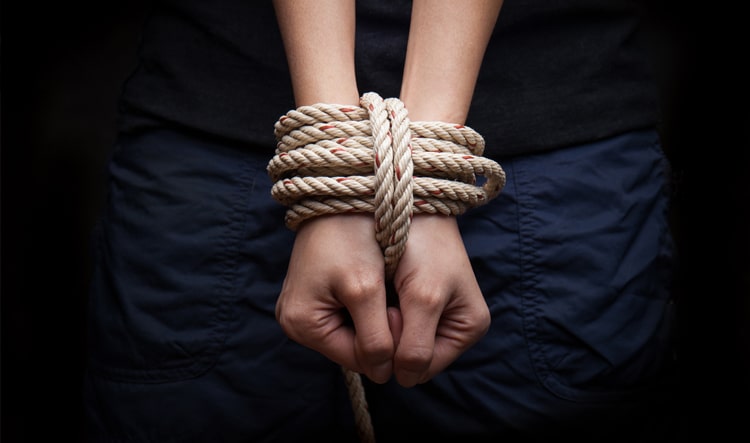 BDSM couples add rope bondage to their bucket list for its intense stimulation during sex. Googling rope bondage videos to watch can show what it is, but it can be hard to understand as a beginner. Join us as we tackle all the essential things about bondage that every newbie should know.
What Is Rope Bondage?
Before we discuss bondage in-depth, it's essential to know that shibari, kinbaku, and fesselspiele all refer to erotic bondage. It's a BDSM activity involving a participant, usually the doms, using various styles of bondage ropes to wrap or bind the wrists, arms, legs, ankles, and other parts of their partner's body. People use strings to restrict, suspend, or prevent the partaker from making any movement for foreplay or sex.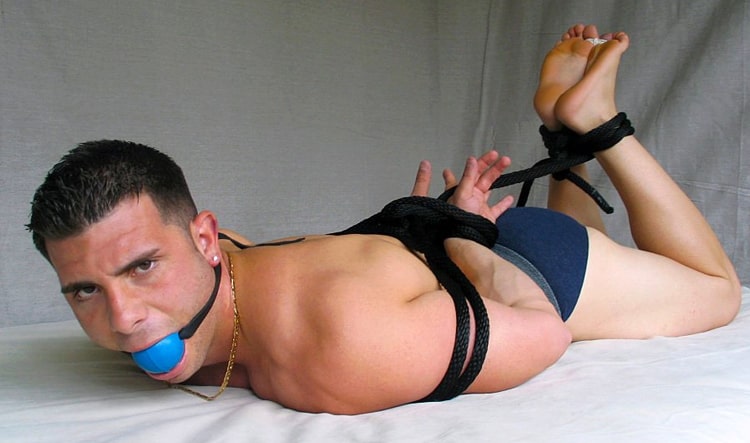 Japanese Rope Bondage
Shibari which eventually turns into kinbaku is a method of binding tightly and beautifully. This Japanese rope bondage is derived from a martial art called hojojutsu. It's a form of torture, securing and restraining criminals or enemies with a rope. Then, these people would be shown in public wrapped in ropes before their imprisonment or execution.
It didn't become part of Japanese BDSM until the 1600s to mid-1800s. Eroticization occurred when an artist named Seito Ito created the earliest illustrations of erotic bondage in Japanese art. This is why he was called the "Father of Kinbaku." Since then, more Japanese have used hojujutsu to enjoy the pleasure and emotional humiliation of physical restraint.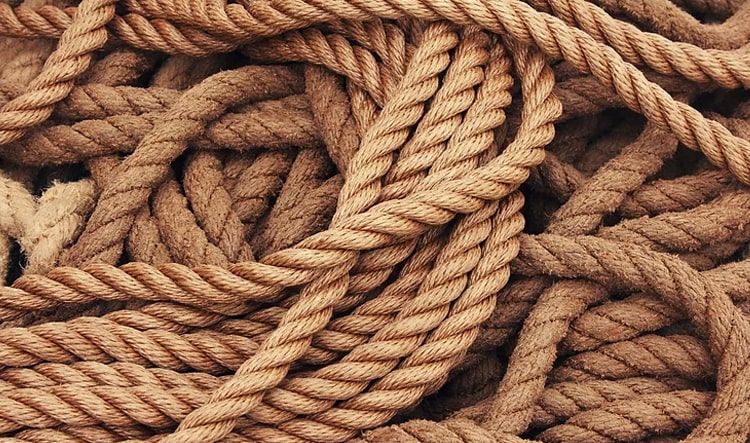 This Japanese bondage is more concerned with the artistry and aesthetic process of tying, so practitioners focus on friction and wrapping rather than making knots. Natural fiber ropes such as jute and hemp are commonly used in shibari because they do not stretch. Most people use fundamental building blocks like "overhand on a bite," "lark's head," and "square knot" and repeat tying patterns to make more complex shibari ties.
Western Rope Bondage
Unlike Japanese bondage, Western bondage focuses more on achieving restraint. Many believe that rope bondage began in the West in the early days of Hollywood, where BDSM was becoming more widespread and openly documented. But it also said that kinbaku was brought to the West during World War II and soon featured in fetish magazines and photographs, leading to the development of Western rope bondage.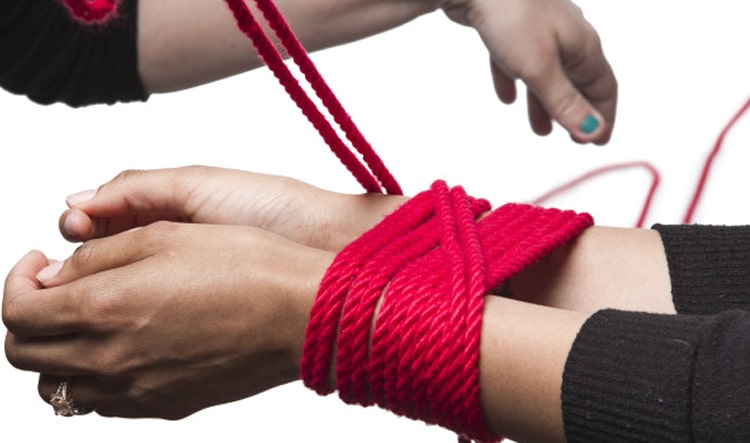 Its also known as fusion because western rope artists use, experiment, and combine traditional Japanese rope bondage's style, techniques, and building blocks with their new ideas to create new ties. Other than being more focused on restricting a person from moving, there is also no set limit to this style of bondage. Sometimes a person who practices this bondage uses colored, synthetic, nylon, and cotton ropes.
Bondage for Beginners: How to Choose Rope?
Before you do complex rope play positions, learn to do the single-column tie first. It's the beginning of different bondage styles. Single column ties are where you'll bound a wrist, arm, neck, torso, leg, ankle, and other columns of the human body to a bed or other object. It's one of the best techniques in many harnesses, leg ties, and positions like a spread eagle, but you can do double-column links for tighter knots.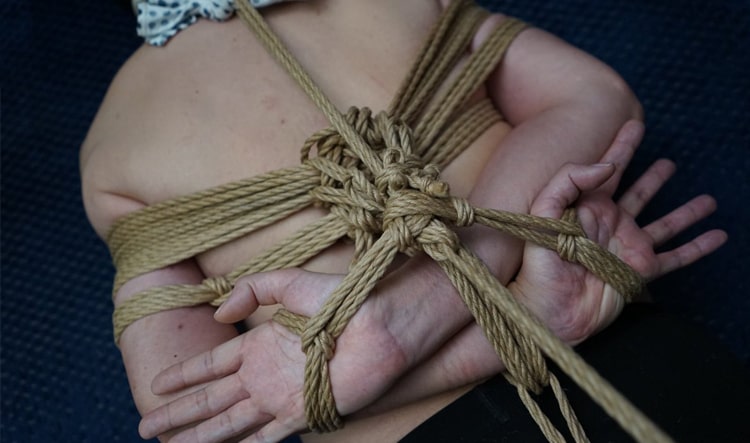 Here are the things to consider when choosing the best rope for bondage:
Price and Place to Buy Ropes
The most common reason people want to practice BDSM but never do is the price of the tools and equipment needed. If you're seriously considering rope slavery, you must consider where to buy your ropes. If you buy from a legal sex shop, it will cost you a lot, but ropes are also available at any local hardware, where they are cheaper and often more potent than what you buy from sex shops or online.
Diameter and Length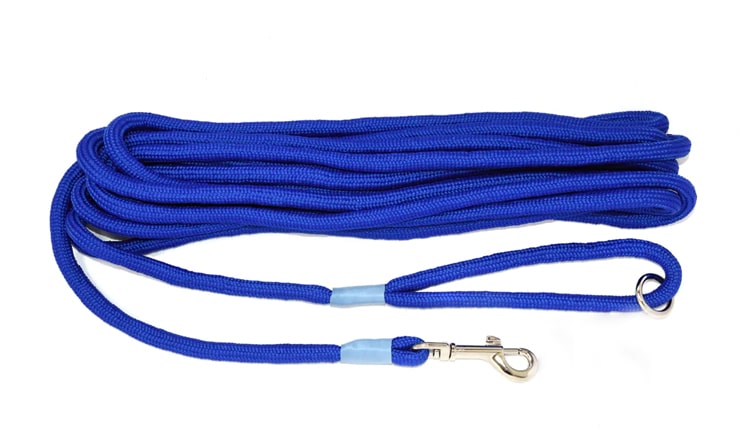 Rope playing is a consensual activity, so even if the other person allows you to hurt them, it doesn't mean you won't think about their safety. The diameter of the rope is critical, and anything smaller than 5mm can cause skin burns, blood circulation issues, scars, and bruises. You also need to consider the person's size to ensure that the length of the rope is enough to bind them.
Grip and Knotting Characteristics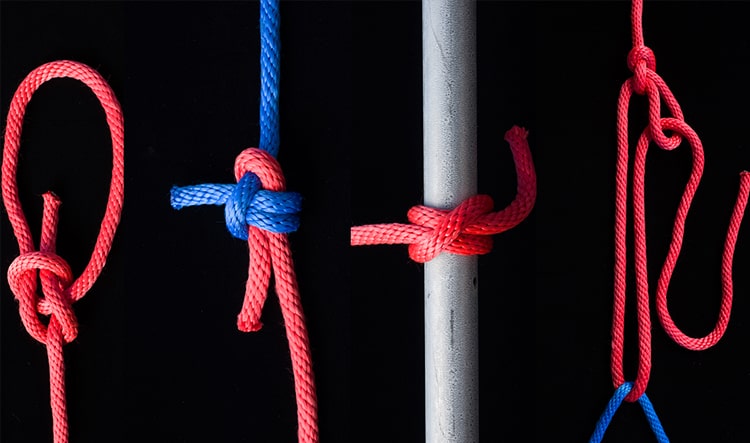 It comes down to the rope braid and teeth, which dramatically affects friction and how loose or tight your knots are. Choosing high-braided ropes is excellent for handling tangles but can be challenging to remove. If that happens, the only option you have is to cut it off, but it's not safe. The rope can also be wasted, which can lead to higher costs.
Maintenance
Ropes and anything used in BDSM needs to be appropriately maintained. There are bondage ropes that do not require much maintenance but are often expensive. But if you don't want to spend a fortune, cleaning, trimming, fixing loose ends, and proper storage are some everyday things to maintain the quality of your bondage ropes.
Knowledge in Knotting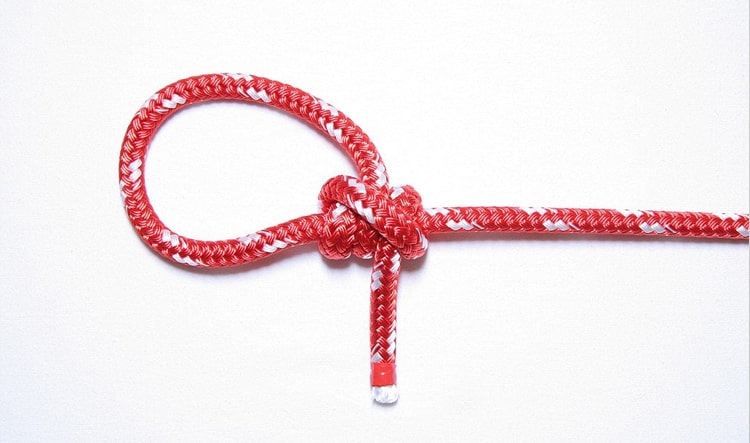 Have you ever tried knots in tents and boats? If yes, then you have some knowledge of making basic knots. As a beginner, playing around with different ropes as you practice to know which ones you like best and have the most accessible control is best. Watch tutorial videos before you tie someone up for safety purposes.
Rope Types
A person can use different types of bondage ropes in this BDSM practice. To help you narrow down the list, you need to think about the strength of the bondage rope. If you're not going to suspend someone, you may not need a solid rope.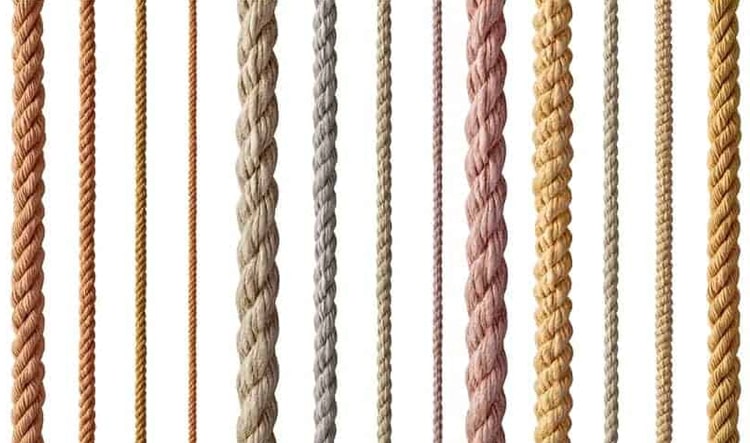 Consider how the bondage rope feels on the body, how it looks, and whether you and your partner have allergic reactions to a particular material. If you want to protect your skin or look more appealing, you can first put on a muscle suit and tie the rope over the silicone body.
Here are the types of bondage ropes from strongest to weakest:
Nylon

 is robust, soft, dyeable, machine washable, stretchy and has little grip.

MFP/Polypropylene 

is more rigid and less flexible than nylon, floats in water, has little grip, is UV resistant, machine washable, but can be dyed.

Polyester 

is a synthetic solid rope, tougher than nylon and similar to MFP.

Synthetic 

is like a natural fiber but stronger, stiffer, lighter, and has a better grip than other synthetic ropes.

Hemp 

is soft, easier to knot and maintain, and has moderate strength.

Linen 

is almost like hemp but softer and machine washable.

Jute 

is lightweight, knots, and unties well but is weak and challenging to maintain.

Cotton 

is smooth and easy to knot but difficult to remove. Its straightness and durability depend on the quality.

Bamboo and Silk 

are perfect ropes for rope bondage, but they are expensive and unsuitable for suspension.

Sisal, Manila

's roughness is applicable for sadistic rope play.

Coconut 

is also suitable for sadistic bondage but is the weakest of all types and unsuitable for other rope play.
Beginner Bondage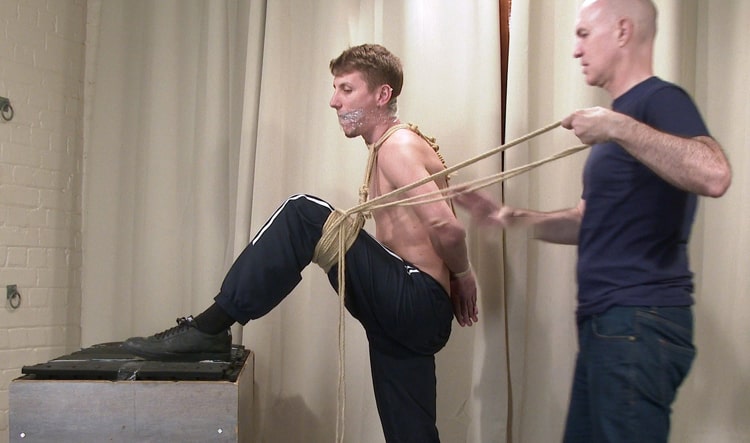 Bondage is perfect for individuals who want to feel helpless. It also elevates the anticipation for their partner's next move. This adrenaline rush makes bondage so alluring. However, you will only get the maximum pleasure out of bondage if you do it correctly. So, how can a beginner properly do rope bondage?
Here are bits of advice and steps in rope bondage for beginners, according to experts like Dr. Stephanie Hunter Jones, a certified sex therapist, and the bondage expert Jess Wilde.
Complete Trust Is A Must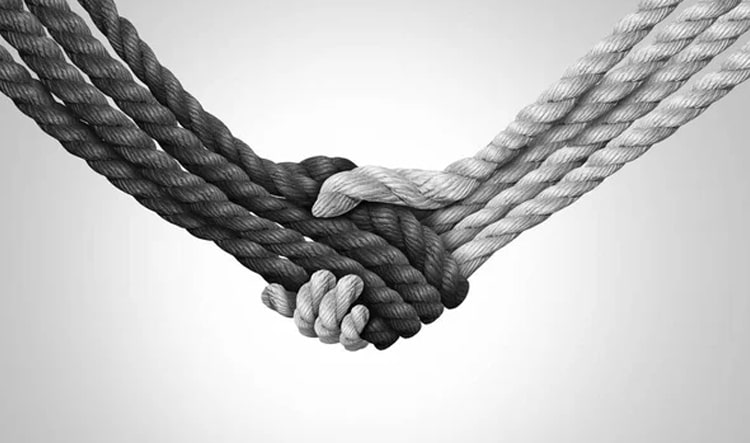 Like any other BDSM activity, bondage is about trust and consent. So you must never do it with anyone you just met. In bondage, you'll have to surrender control of your body to someone else. So you need to do it with someone you fully trust and have known for a long time.
If you collaborate with a stranger, since you don't know the person well, they may lie about their motive for approaching you. They can also hide their health status and can put you at risk for sexually transmitted infections.
Communication Is Crucial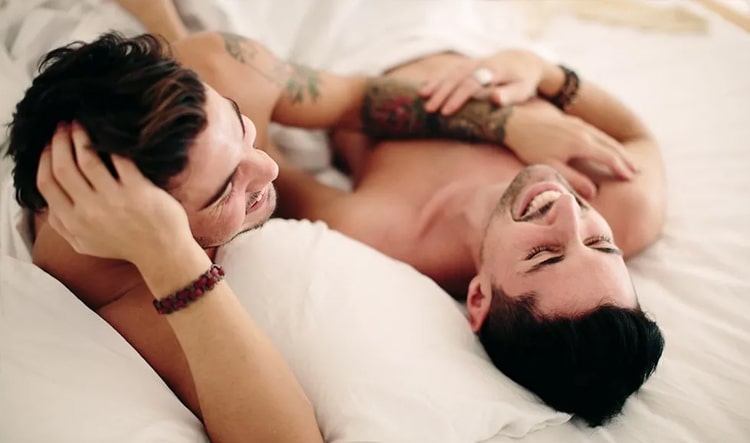 The participants in bondage should know how to express their desires and reservations to each other. 
Before the bondage, the dominant must know what the sub likes and dislikes. Couples must set rules and limits and discuss safe words in case the dominant becomes too much for the submissive to handle or vice versa. Remember that rope play must be consensual.
Drop Hints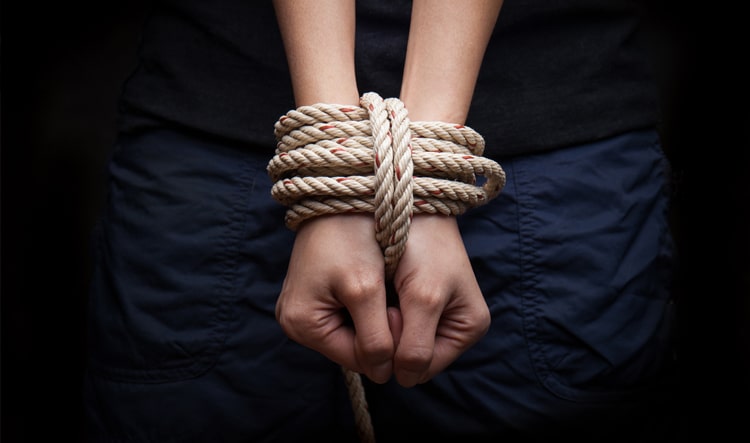 Being shy about telling your partners about your sexual desires, such as bondage, is entirely understandable. In this case, you can give your partner an idea of ​​what you want by slowly dropping hints. For example, you can watch an erotic movie with bondage scenes and casually relay your interest.
Only Trust Experts
There are many misconceptions about rope bondage. In reality, rope bondage promotes intimacy and is a romantic way of enhancing relationships. To get an unbiased view of rope bondage, only consume information from trusted experts.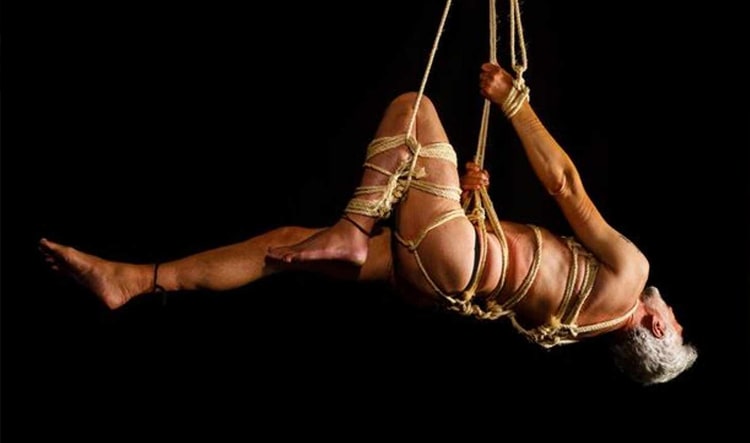 Know What Position You Want to Be
You can try many bondage positions, but as a beginner, it's not about the rope play position but who will have complete control. Unless you have established your sexual preferences, being a top, bottom, or switch is irrelevant as a first-timer to rope bondage.
Your preference can also change as you experiment.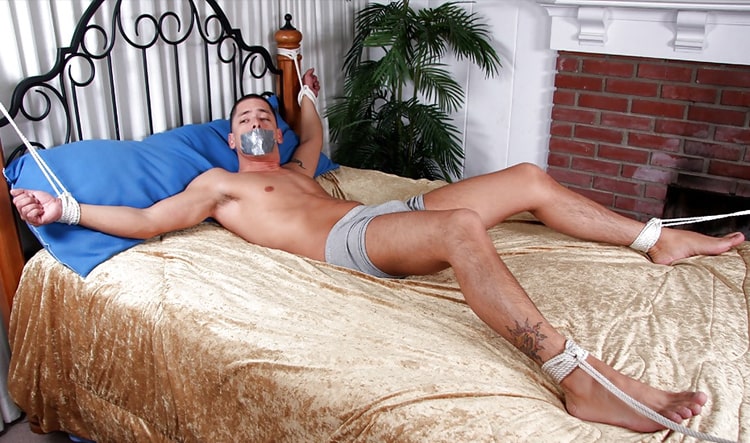 Simple Is the Best
It's a golden rule for beginners to keep bondage play simple. Forget about sex toys or other things that can scare, frighten, and confuse any participant. Start with a simple rope and blindfold. Using these devices in rope bondage is enough to amplify your partner's psychological and physiological responses so that they will be more sensitive to touches.
When you get more experience, you can slowly transition to other activities, like temperature play.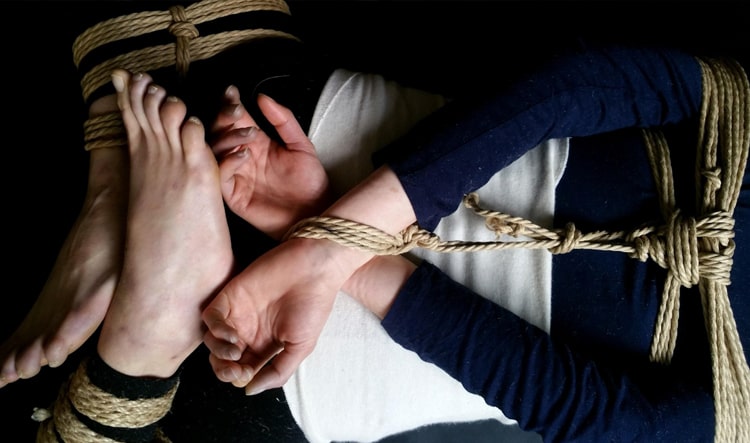 Rope Bondage Safety Tips for All Couples
Always be honest 

with your rope partner. Tell them about your limitations, concerns, level of experience, and health conditions.

Make sure you are entirely 

trusting and comfortable 

with your partner.

Don't drink and 

stay sober

.

Aftercare

 such as cuddles, comfort snacks, massage, hot bath, or even space 

is necessary.

Always 

be prepared 

and have a cutter or scissors near you.

Be wary of the hand's color and temperature. 

If you notice any changes during intercourse, immediately loosen or cut the cord to resume blood circulation.

Ask your partner how they feel 

but choose your words carefully to ensure you don't spoil the mood.

Learn basic anatomy. 

For safety, do not tie under the armpit, behind the knee, neck, inner wrist, thigh, or nerve bundle.