Do you want to try new pride clothing for this incoming June? Do you want to find new inspiration for your pride parade attire? You found the best place to get inspiration for your next gay pride parade look. Below is a list of more than ten eye-catching pride outfits that'll match all pride events.
We cover every style for everyone, whether you prefer a classy and subtle pride vibe or flashy, all-out, and colorful attire. Dive right into planning your next pride look with our tips below so you can proudly celebrate love!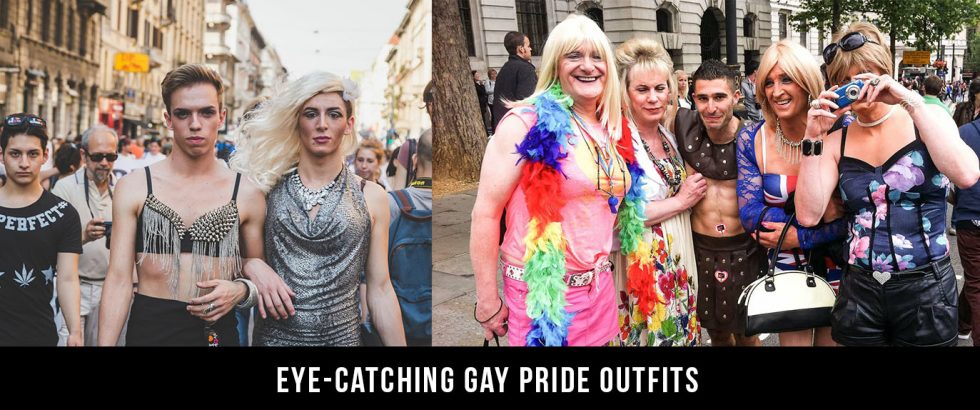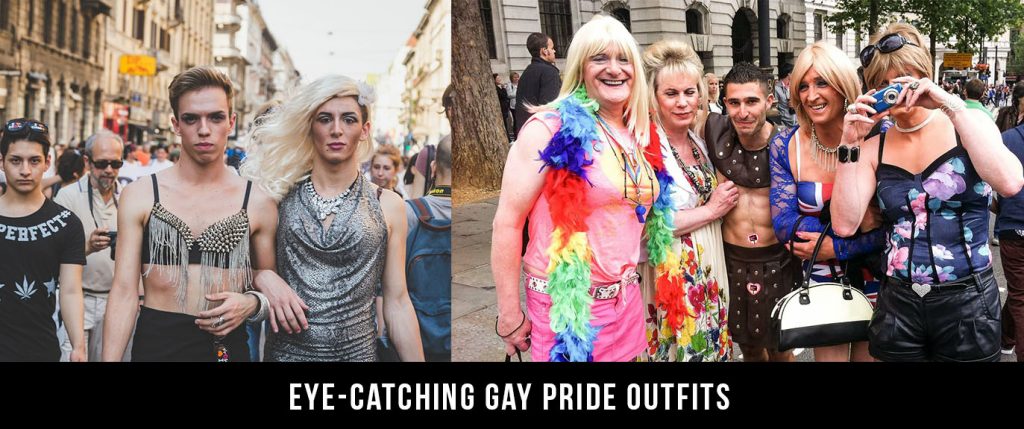 Gay Pride Outfits: The Hat
Let's start with the head and what we often wear on our heads. Hats provide a simple and easy way to show your support and belongingness in a pride parade. The perfect hat can bring together your whole look depending on your style and attire. They also add an extra fashion detail to the entire outfit that can make or break it.
The most straightforward hat idea for your gay pride outfit is to add rainbow colors. Your hat could be a beanie, a peaked cap, a baseball cap, a snapback, a bucket hat, or even a rainbow turban. You can turn any hat you can think of into a rainbow hat.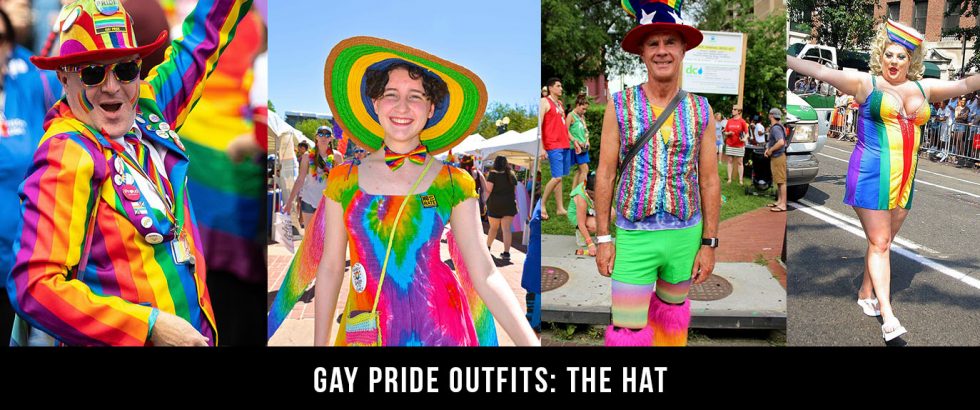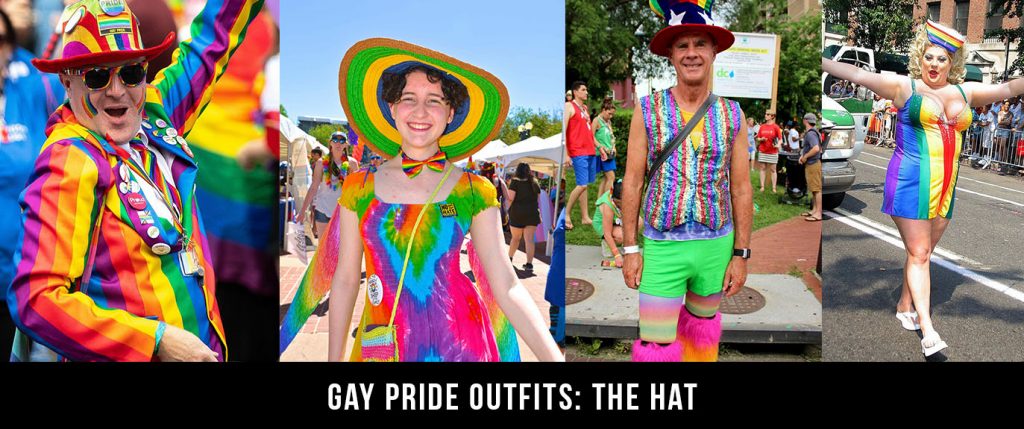 The same applies to hats designed with glitter. It's a great option if you prefer something with a little more bling and sparkle. If you want to be more specific with your sexual orientation, consider getting a hat with the same colors as your pride flag. Even if you're attending a gay parade, there's no stopping you from showing off your pride in clothing in your bright and bold flag colors.
Gay Pride Outfits: Pride Rompers
Have you always wanted to add something strange and new to your pride collection? If you don't have a romper yet, now is the time to get one. Rompers are one-piece garments that look like a shirt or tank and shorts sown together, similar to a jumpsuit. They've recently gained traction in the fashion world because rompers are adorable and easy to match.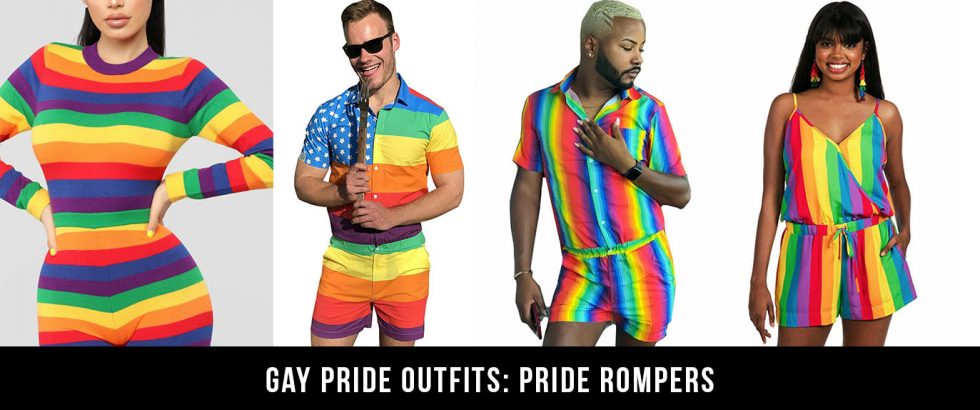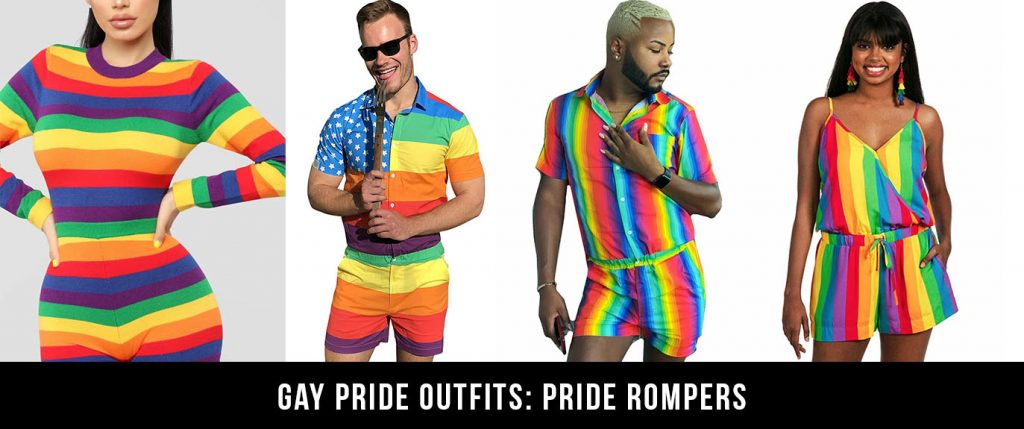 The next time you walk at a gay parade in hot weather, consider wearing a gay pride rainbow male romper. Females joining a gay parade to support their gay friends and family should also consider getting a pride romper made for them. Rainbow rompers can easily match any shoes, accessories, and even your favorite tote bag, thanks to their colorful nature.
Gay Pride Outfits: Pink Pajamas
Continue rocking your pride colors even as you head to bed with a set of pink pajamas. Why does it have to be pink? Pink stands for the universal love of others and oneself, after all. It's also the type of color that matches almost all skin tones, so no matter what your race, pink pajamas will suit you. Also, pink comes from the pink triangle, a sign taken by the modern gay community from the Nazi regime's oppressive identification, now used for celebrating pride month.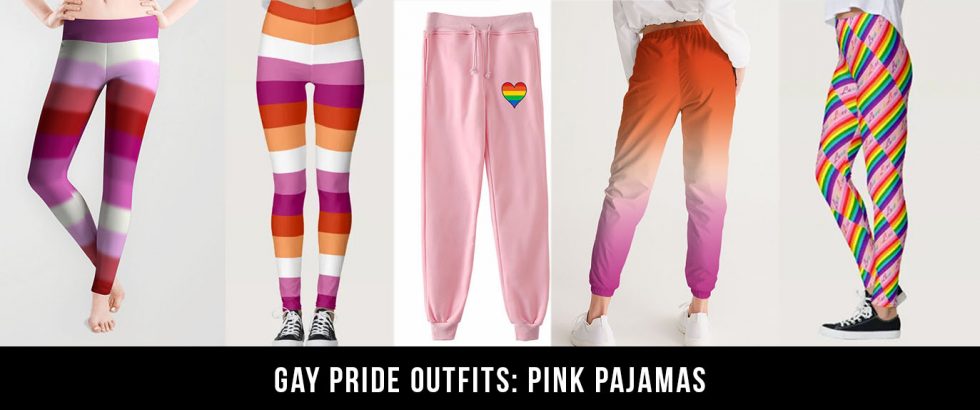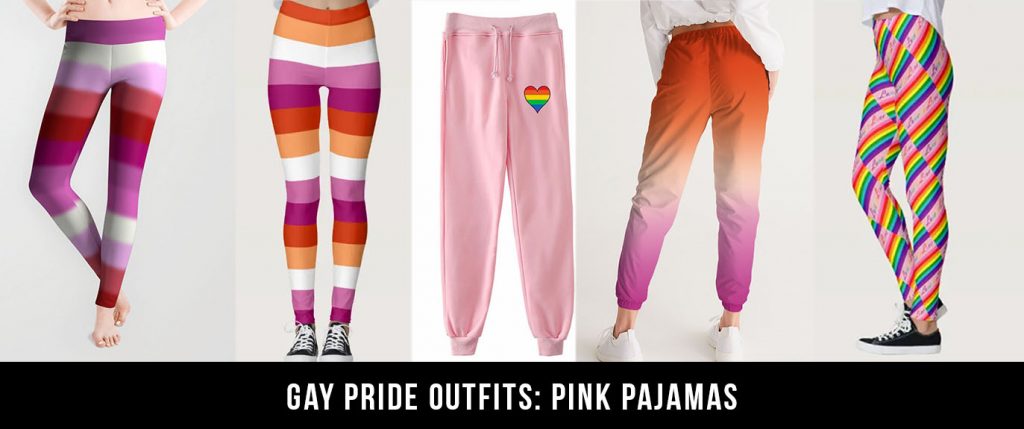 Your pink pajamas don't need to be restricted to nightwear or loungewear. This piece of pride clothing is also fun to wear outside as a complete outfit. You can even have the pajamas depicting various things, like the pride flag. You can also customize your pink pajamas to display words or phrases that you enjoy or advocate, whether your favorite sport, veganism, or awareness.
Gay Pride Outfits: The Superhero Costume
A fun addition to your pride clothing is a superhero costume. Even though most superheroes are canonically heterosexual, many others are part of the LGBTQ+ community. These superheroes (and supervillains) include Midnighter & Apollo, Batwoman, Wonder Woman, Harley Quinn & Poison Ivy, Jon Kent/Son of Superman, Mystique, and many more!
If you like sticking to the traditional costume and going out in character, go for it! You could also transform a favorite superhero costume from its conventional colors into pride colors. The change can be as little as wearing a rainbow pin or changing the character's color scheme into the pride colors. Don't hesitate to be as creative as you can be on this special human rights day.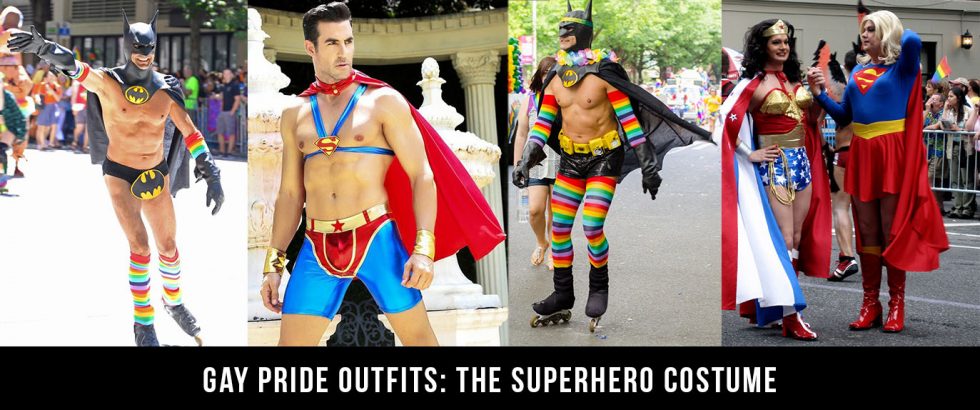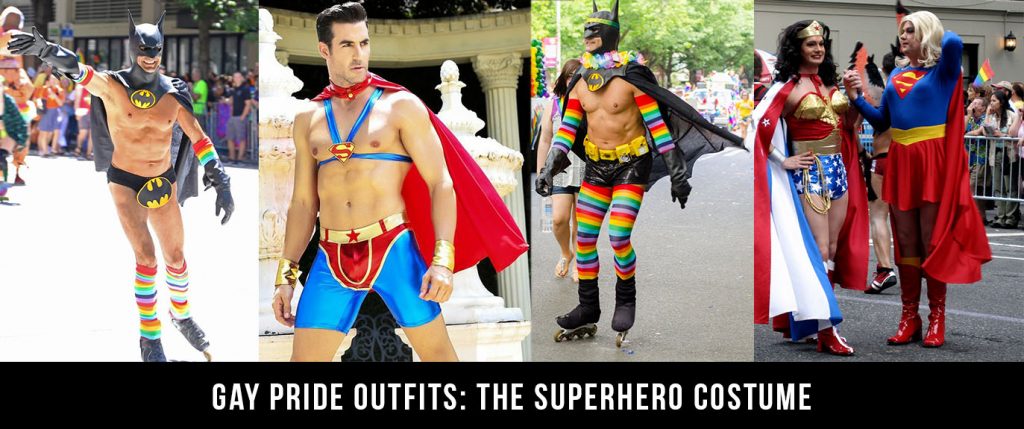 Go Beyond Superheroes and Supervillains
The costume shouldn't limit you to traditional comic book heroes and villains. Go as far as to get pride costumes depicting adorable LGBTQ+ characters in cartoons, anime, video games, and other media! Other examples of these characters include Sailor Uranus, Ymir (Attack on Titan), Shiro (Legend of Voltron), Alucard (Castlevania), and Ruby & Sapphire (Steven Universe).
Gay Pride Outfits: Socks
Do you want to add something small yet vital to your outfit? Are you looking for something you can wear even outside of pride month? A pair of rainbow socks could be the one thing you're looking for. Socks are great because you can wear them low-key or as a bright indicator to show that you proudly celebrate love in all its forms. They're great for the office, semi-formal wear, and casual clothing.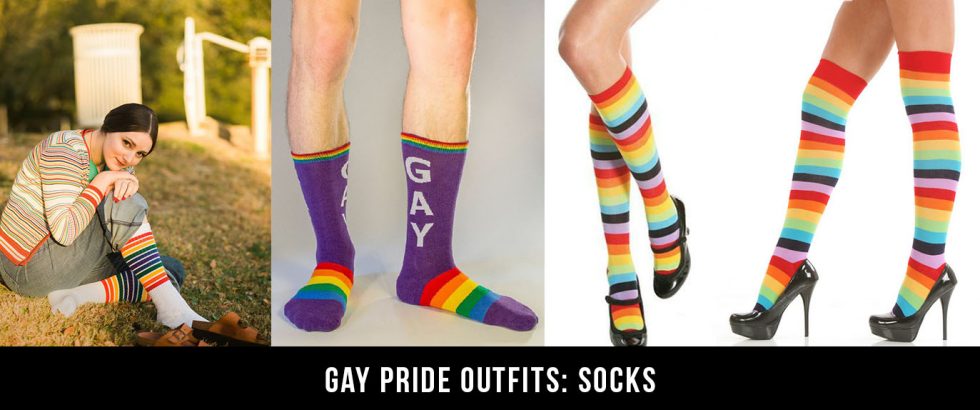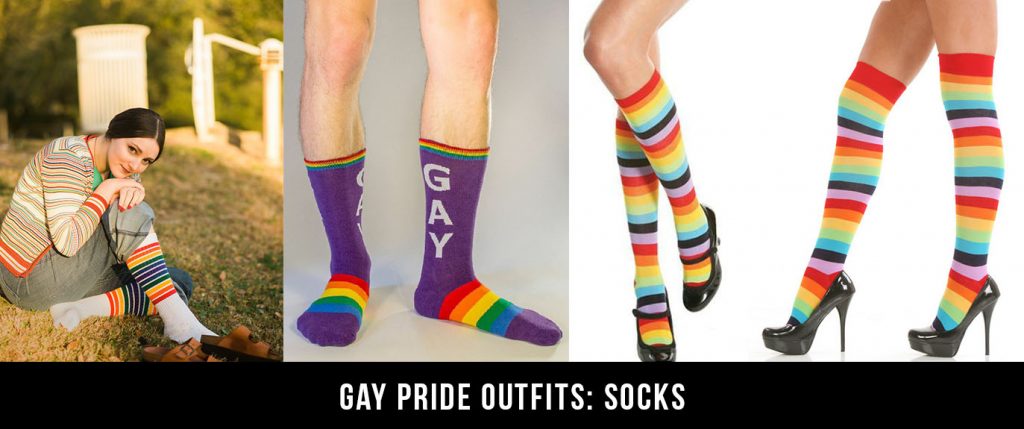 Pants Socks
Do you want to skip the trouble of wearing, washing, and storing pants and socks separately? The clothing you might be looking for is a pair of pant socks or a sock-and-pant garment. They're essentially pants with socks attached to them. We know the idea may sound strange, but this type of clothing is comfortable and convenient.
They don't come in a "one size fits all" sizing, unlike tights. Plus, they come in pride colors, like pink and rainbow. You can get them by shopping on or browsing online stores.
Gay Pride Outfits: The Hoods
If you're interested in wearing a spicier piece on the next pride parade, consider bringing your hoods into the light. In the sexual fetishistic definition, a hood is a headgear covering most of the head, face, and neck. Most people refer to it as a bondage hood, gimp mask, or bondage mask. Wearing a hood for a parade is fun to show off your wilder side and push for a broader acceptance of BDSM. They also make great matches for cute pride outfits.
Latex Hood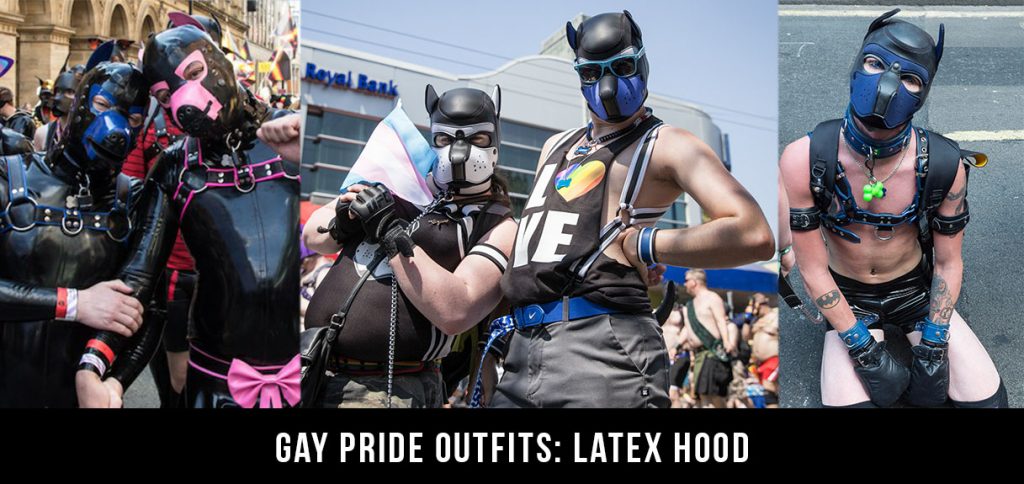 Hoods differ in the material used to create them. A common material used in bondage hoods is latex or rubber. This headgear is most popular with fetishists who enjoy sensory deprivation, bondage, and identity change. Are you undecided about joining your first pride parade? Latex hoods can also help you conceal your gender and identity, making it easier to gain self-confidence and feel a more profound acceptance in the community.
Silicone Hood
The other type of hood is the kind made with silicone material. The high-quality silicone used in these hoods can easily imitate the head of a person or animal. Thus, most silicone hoods come in animal hoods and human masks.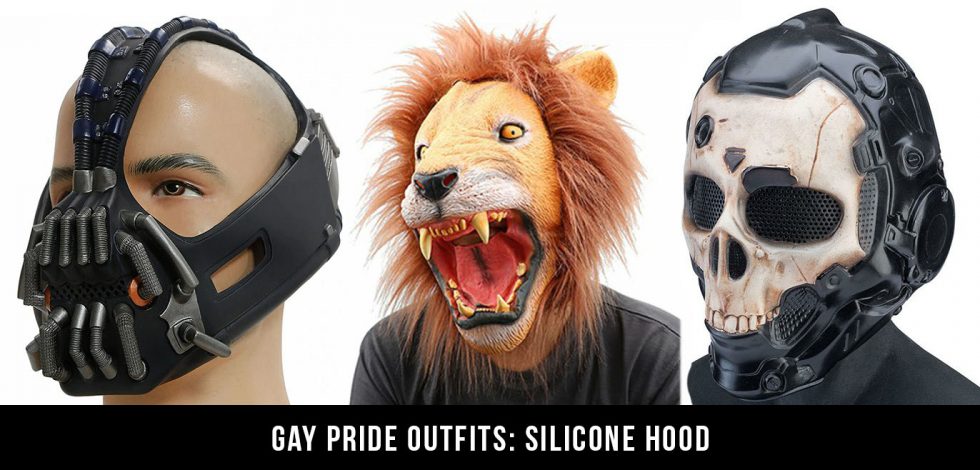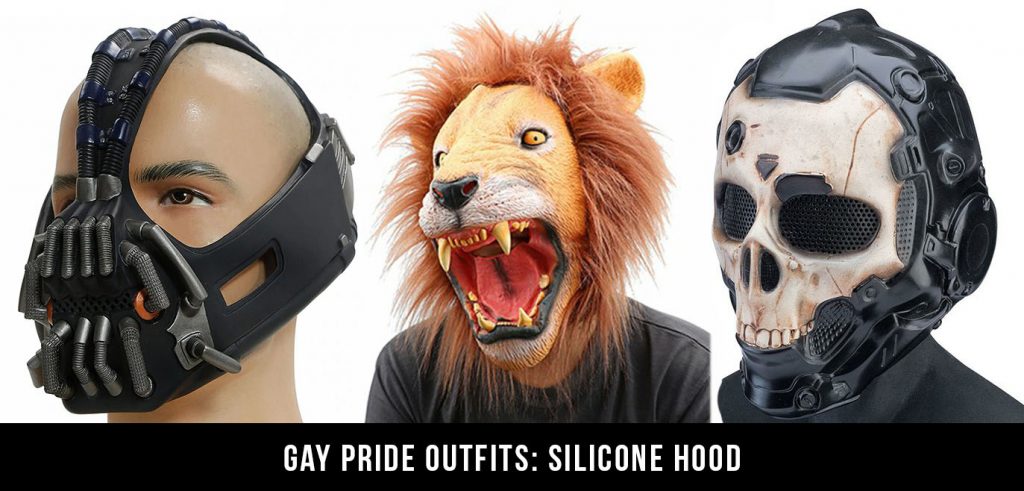 Human masks can completely change and conceal your identity. Because they look realistic, they can be tools for you to join a gay pride parade without fear of being identified. On top of that, they may even awaken your taste for gender change or identity play. For high-quality hoods, please search our site.
Animal hoods are silicone headgear with animal features on their designs. These features may include an animal's ears (usually a dog, cat, or rabbit) and an elongated snout (often of a pig or dog). They often indicate a person's focus on pet play.
Gay Pride Outfits: The Sticker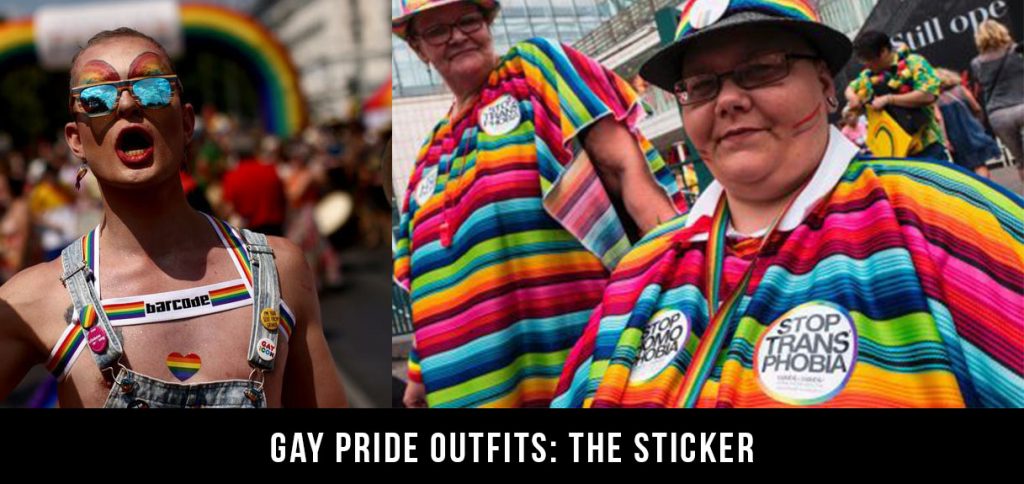 You've got a packed work schedule and can't risk losing money to attend a parade. Instead of purchasing pride clothing or a complete outfit to celebrate love, consider buying a pride sticker. You'll never go wrong with a sticker that proudly displays your rainbow spirit. You can stick it anywhere, like on your car, motorcycle helmet, work desk, journal pages, calendar page, tumbler, or even your jacket. Stickers last longer when placed on flat surfaces, but you can wear them on your parade clothing and keep them after the event. They may even last many months after the June pride parades.
The stickers provide an excellent way for you to express and identify yourself. The best part about using stickers is getting a print of any design, color, sign, or symbol you want. If you're an artist, this is your chance to let out your rainbow spirit and market your art. The same opportunity is open for any artist friends or family who want to show their support in June, the pride month.
Gay Pride Outfits: Harness
Will you walk the gay parade in hot weather and want something to keep you cool? The harness is a good alternative instead of a jacket or top. It's one of the best things to wear if you want to show off your toned body in the pride month parade. Harnesses usually go around your shoulders and frame your back and chest to add a sexy aesthetic to your pride outfit.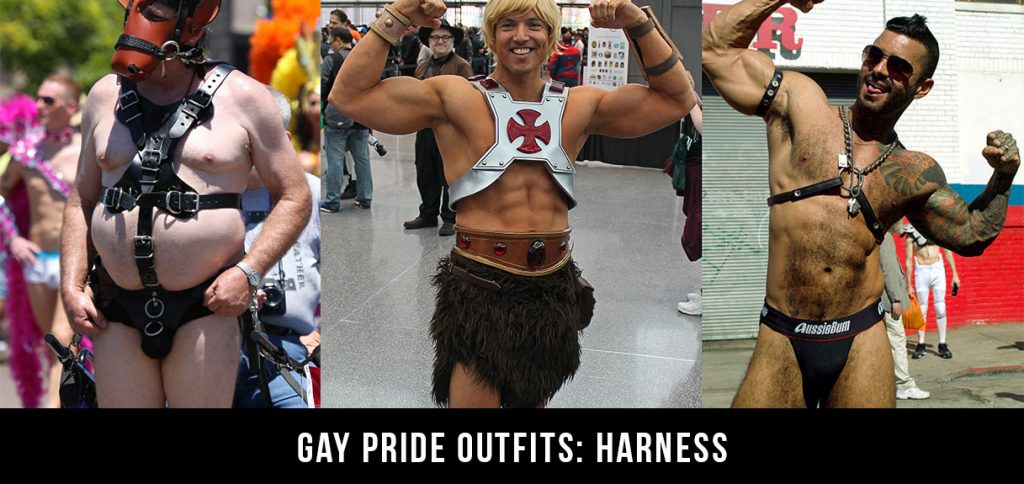 The most common harness used during pride parades is the leather harness. Many people match it to leather jeans, latex underwear, animal hoods, or simple black boxers. How you wear your harness will also depend on its design. Some harnesses cross over at the front of the chest, while others make an H-shape across the chest and shoulders.
The other harness type growing in popularity today is the rainbow harness. These harnesses increase the gay pride in them by adding more color. You can also shop for those that come in various materials, like beads, elastic bands, or chains.
Gay Pride Outfits: Mesh Clothing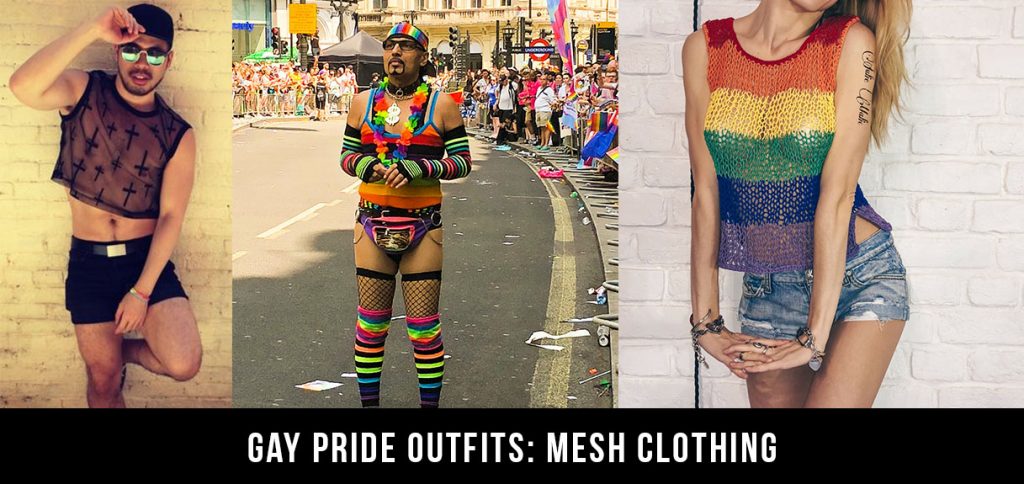 The next pride parade outfit idea that can keep you cool during a hot day is mesh clothing. Unlike your regular garments, mesh clothing is see-through because it consists of mesh material. It can be any clothing, ranging from a mesh tank top to mesh trousers. You can even find stockings made of colorful mesh to add to your rainbow pride collection.
Mesh isn't new to the gay pride scene. After all, it's a material that stands with a typically feminine feel, providing a level of femininity to one's style. Yet, many people have grown tired of the typical mesh tank tops, shirts, and blouses. A clever redesign of the mesh outfit is to embed bedazzling stones into the material. Others colored it in gay pride colors.
Gay Pride Outfits: The Muscle Suit
The next item you may want to consider adding to your collection is the muscle suit. It's a piece of clothing made of elastic silicone. Muscle suits imitate the muscular male body. The silicone material used to make suits is perfect for creating details like veins and muscle definition. A muscle suit can be a bodysuit, the torso, the upper half of the body, or the lower half of the body only.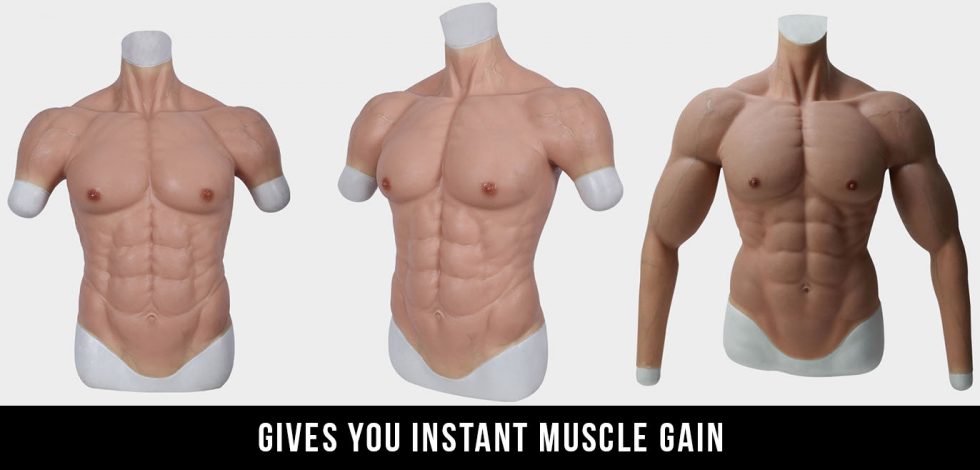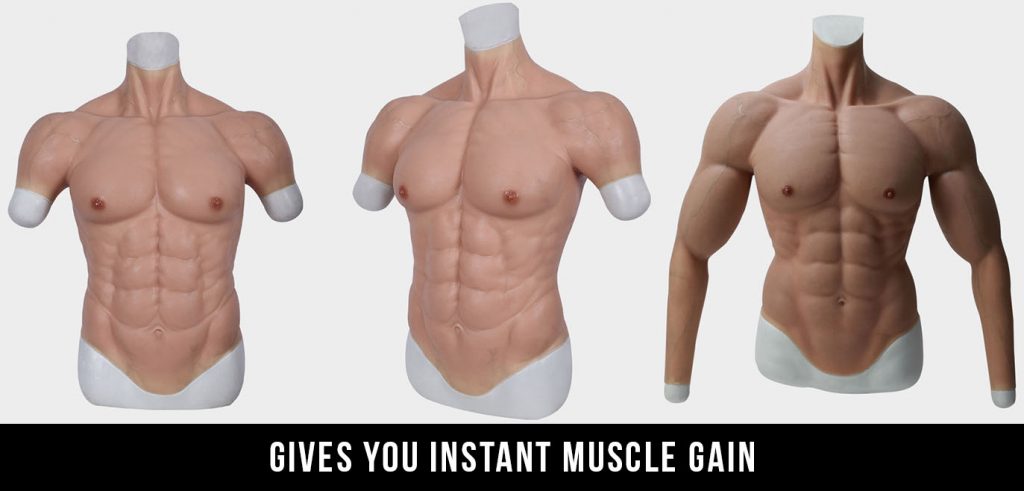 On top of that, a muscle suit is a perfect match for harnesses or mesh clothing. Remember that accessories like harnesses and mesh highlight your frame and muscles. If you feel conscious about your body, an excellent way to enhance it is to wear a muscle suit. It transforms you into a bodybuilder and dramatically boosts your confidence.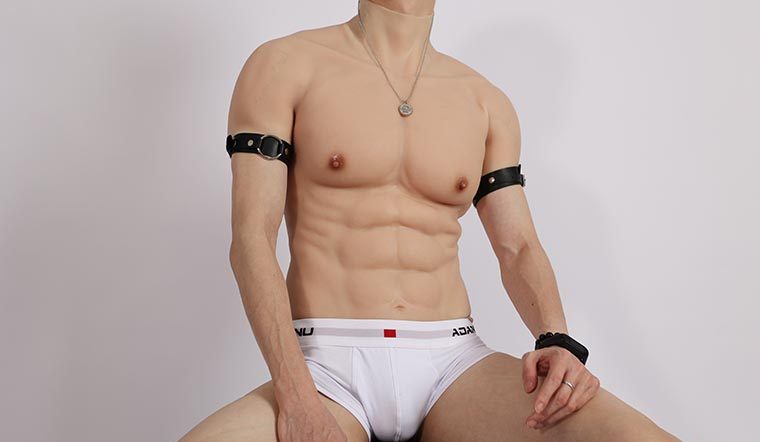 Muscle Shirt or Upper Body Muscle Suit
A unique way of celebrating pride month is to be half-naked without being half-naked. A muscle shirt is the upper half of a muscle bodysuit, featuring a muscular and well-defined male form from the neck to above the hips. It's a fun, and bold choice of pride clothing meant for those who want to look and feel confident and attractive on the day of the event.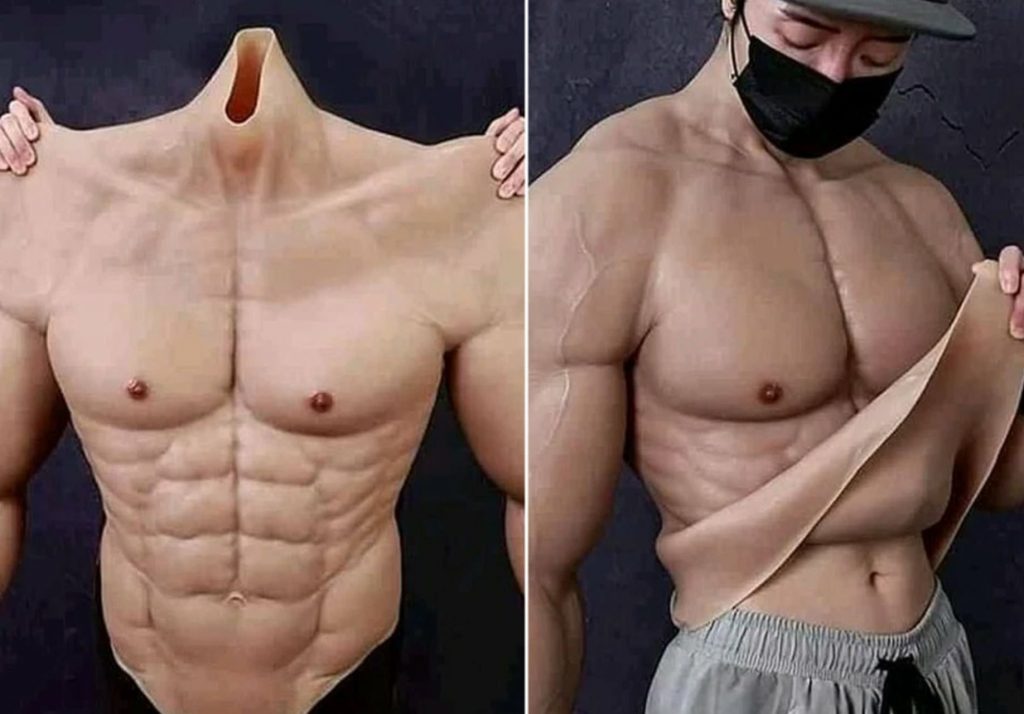 A muscle shirt gives you an enhanced, new, and natural-looking physique. It changes the shape of your torso from lanky and stick-like to V-shaped and lean. It grows your biceps, triceps, shoulders, and even forearms. On top of that, anything looks good when paired with a muscle shirt, whether it's a mesh tank top or a cool leather jacket. 
Muscle Bodysuit
The upgrade to a muscle shirt is the complete bodysuit, which includes a pair of muscular and toned legs. Like the rest of the suit, these legs also have a realistic feel, appearance, and movement. On top of giving you a perfectly V-shaped back, the muscle suit will also enhance your bum, quads, and calves. Even when you stand or walk silently during the parade, you'll feel powerful, charismatic, and confident. You could be wearing jeans, joggers, or boxers and still look irresistibly good.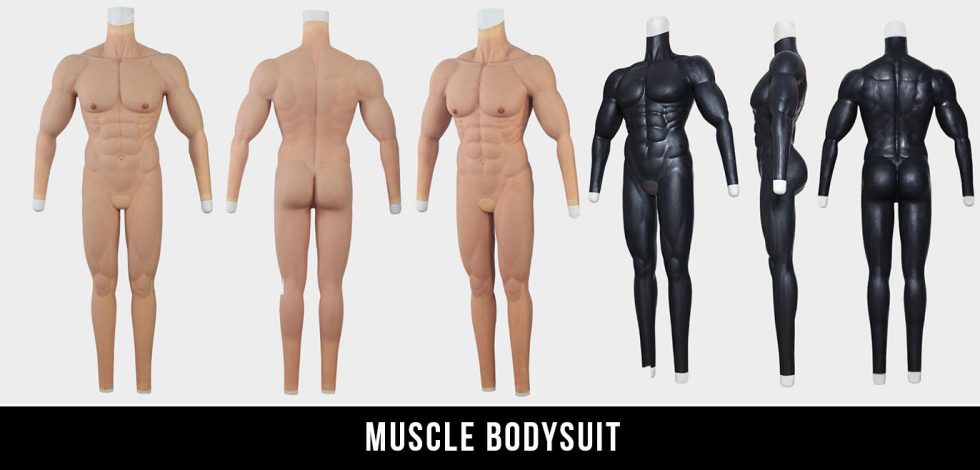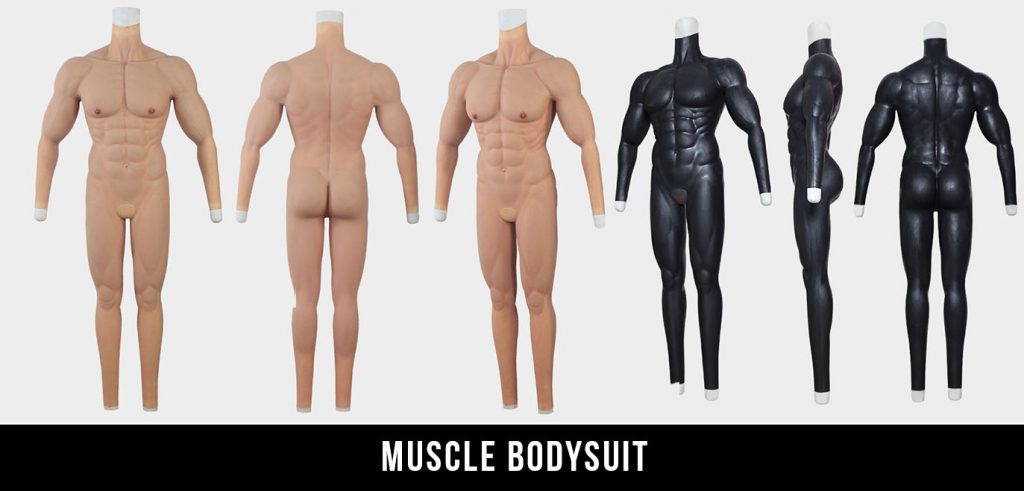 Visit the rest of our website for top-of-the-line muscle suits. We offer muscle bodysuits, pants, and shirts made with high-quality, durable material. They're the perfect piece to match any clothing, change your appearance, make you more confident, and give you an idea of how you look when you're buffed up.
How to Wear a Muscle Suit on a Pride Parade
Muscle suits are great for pride parades because they can easily make people notice you. After all, they enhance your physique and make you look good. Consider wearing the muscle suit alone with other standard articles of clothing. Consider adding pride elements to match this occasion of love. Examples include leather accessories, rainbow elements, and open shirts.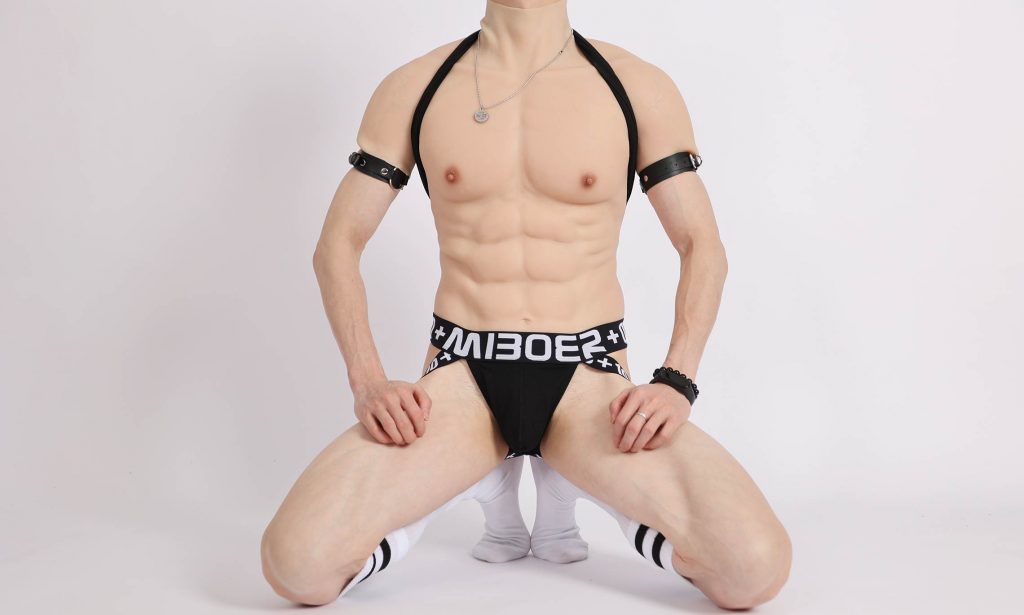 Gay Pride Outfits: Shorts
Finally, you don't want to miss out on getting the fitting shorts for the pride parade. Since pride month is a time of gender discovery and bold self-expression, it's only proper to honor the month of June by being in style. Forget about wearing jeans or trousers at the appropriate lengths. If you've never worn shorts out in public before, this occasion is your chance.
You can start with something simple and expressive, like a pair of pink shorts to match your pink hat. It's common enough to find a couple in almost any retail shop. The next level is sequin shorts, which dazzle and sparkle in their gay glory. Another way to stand out during the parade is to get rainbow shorts. Try looking for a pair of shorts that consist of both rainbow spirit colors and sequins. We can't think of any other way to let your rainbow spirit shine on a special occasion.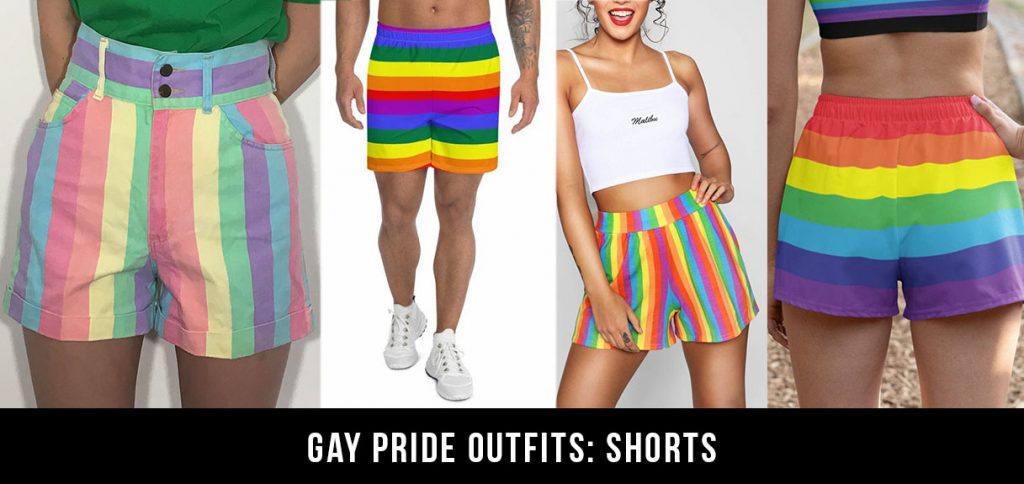 Conclusion
We hope that the cute pride outfits and shared ideas helped you complete your perfect pride clothing for the next gay pride parade. If you're ever on the search for the best pride clothing and accessories to celebrate the next march, remember these tips. Start from your hats going down, then factor in all the other forms of clothing and accessories that you could mix and match. You might not even know that the tank you're looking for is already in your collection. Finally, don't miss the opportunity to try something new, like a muscle suit or harness or both.