Leather pants for women and men are striking, polarizing, and timelessly fashionable. It's no wonder they're one of the more well-loved pieces of clothing out there, even if some people find them ridiculous. A demographic that most of the people who enjoy leather pants are gay men.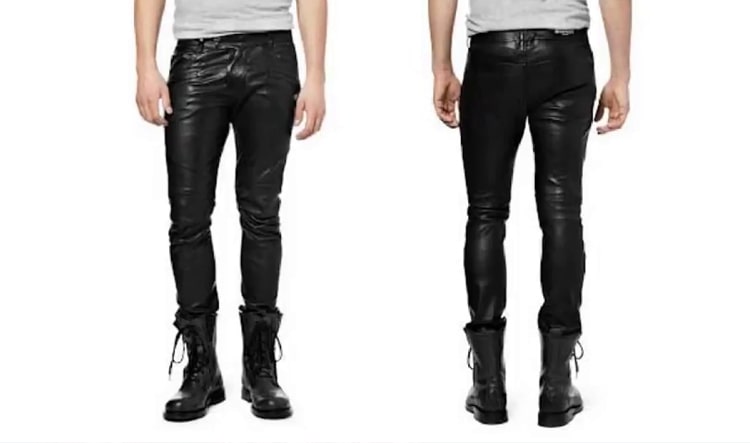 This leather pants guide will explore everything you need to know about classic leather pants. We'll learn their origin, best matches, and how to wear them. We'll also discover how to care for leather pants, so your treasured designer pair lasts long. Continue below to learn this information about leather pants and more. 
The Origin of Leather Pants
Leather is one of the earliest discoveries of man. Our ancestors have used different types of leather to protect from the elements. Primitive men have hunted wild animals for their meat. Animal hide, the by-product of hunting, became clothing, footwear, and tents. After many centuries, they also became tailored to fit as trousers. Native Americans also used leather for its many functions and protective features. The first "trendy" use of leather pants occurred in the 1940s when Hollywood westerns featured cowboys using these pants and chaps on the big screen.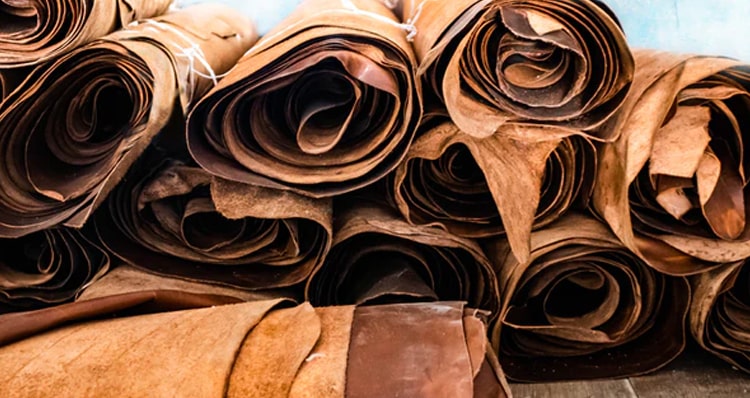 A decade later, icons like Elvis Presley, Marlon Brando, James Dean, and Gene Vincent came. Leather pants symbolized adolescent rebellion. It led to the use of the piece among American rock 'n' rollers like Eddie Cochran in the 1960s. As music evolved, so did the fashion of its musicians. From rock and roll in the 1960s, leather pants also became the trend in punk fashion in the 1980s. Today, it comes in many types, like vegan leather, it's a wardrobe must-have, and it's considered a seasonal fashion piece. It is now also synonymous with fetish fashion in many fetish circles. 
Why Are Gays Fascinated by Leather Pants?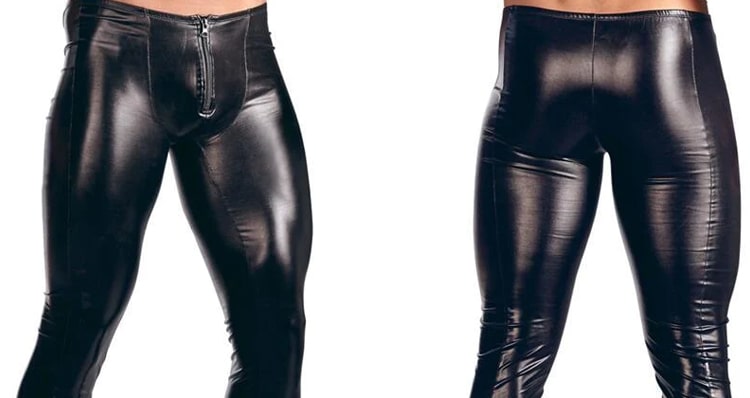 If you've witnessed or gone to a Pride event, you might have noticed that many gay men wear leather on these occasions. There are several reasons behind this. From the 1960s to the 1980s, gays weren't widely accepted and were misunderstood as feminine men. To fight the stereotype and prove they were as macho as the next guy, gay men wore macho menswear, specifically leather clothing.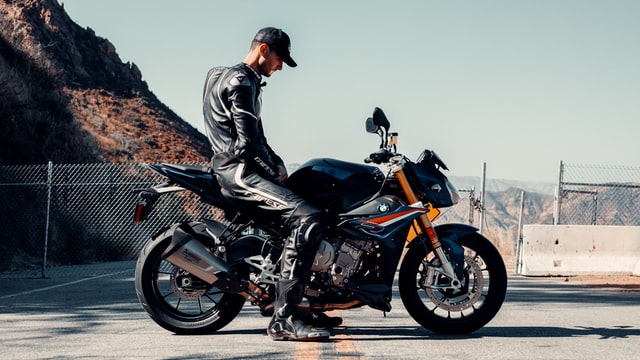 The other reason gay men like leather pants is that they can be form-fitting, allowing them to highlight and appreciate certain assets. Other gays enjoy leather for its distinctive texture and shiny appearance. Unlike plastic materials like latex, leather has a more natural shine and texture. The last reason for gay men's penchant for leather pants is that it can make them look more muscular and masculine. As we mentioned, not all gay men see themselves as "feminine" men. They are simply men who like and enjoy the company of other men. To get away from this femininity trope, many gay men have decided to wear a masculine and muscle-enhancing clothing type: leather pants. 
What Types of Men's Leather Pants Are Available?
Are you ready to start wearing leather pants but aren't sure which one suits you best? It's a good thing you found this guide. Below are the most common and popular types of leather pants that you should consider wearing.
High-Waisted Leather Pants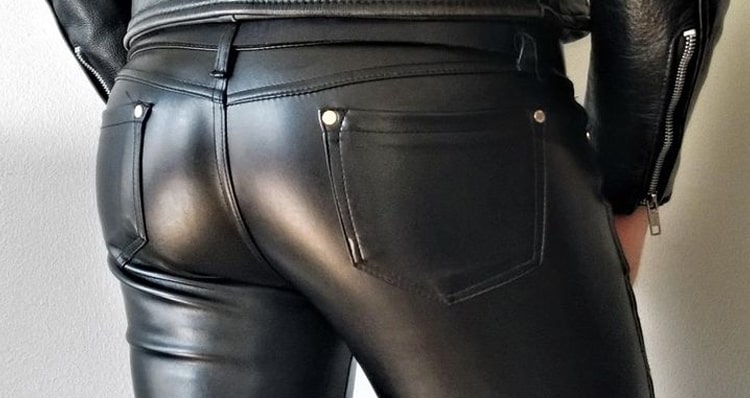 High-waisted trousers are great for making you taller and your legs longer and slimmer. In men, high-waist trousers can also reduce the appearance of bulging around the waistband. The best fit of high-waisted leather pants is form-fitting. This fit creates a smooth silhouette of your legs and overall appearance. Plus, you could use it for almost any occasion, whether casual or office use. 
Boot-Cut Leather Pants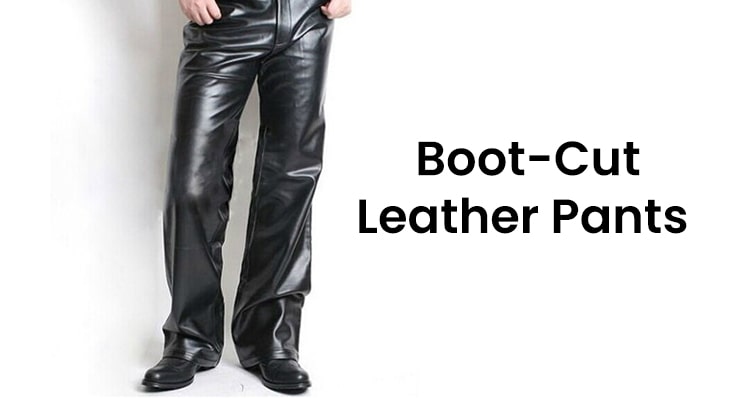 Like denim jeans, leather pants can also have a boot-cut style. In other words, this pair of trousers has a broader opening around the ankle and a form-fitting thigh area. The wider cut allows you to wear the pants over boots or other footwear. They're also perfect for cold seasons like winter, when many men exchange their sneakers for ankle boots. 
Leather Joggers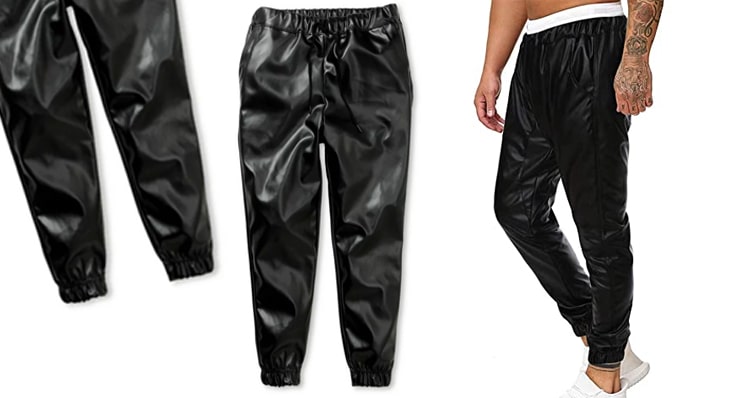 Have you been looking for an athletic pair of leather pants? If yes, a pair of leather joggers is the answer. Like regular joggers, this piece of leather clothing has an athletic cut and uses more stretchable material, material as elastic leather. The flexible area is often at the waist. Most joggers have a loose fit that tapers toward the ankle, and a leather pair shares this feature.
Traditional Cowboy Western Leather Pants with Side Fringes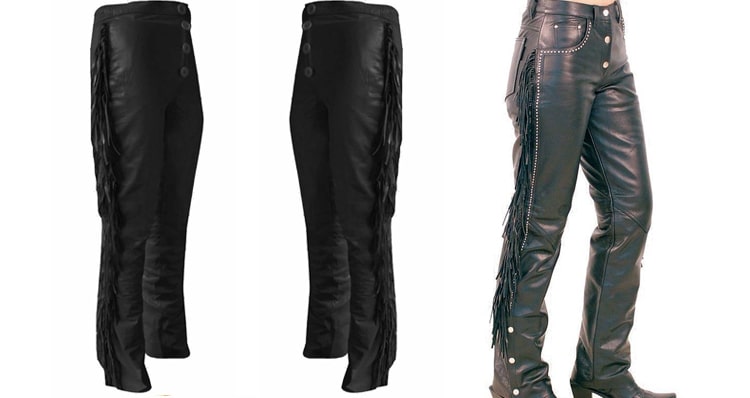 If you've seen old western movies or western-themed costumes, you'll notice that cowboys wear wide leather pants or chaps with fringes at the sides. You'll also see this clothing feature in Native American garments. Traditionally, the fringes guide raindrops into rolling off the wearer's leg instead of collecting on the leather. Today, these fringes are kept more for aesthetic purposes. 
Faux Leather Pants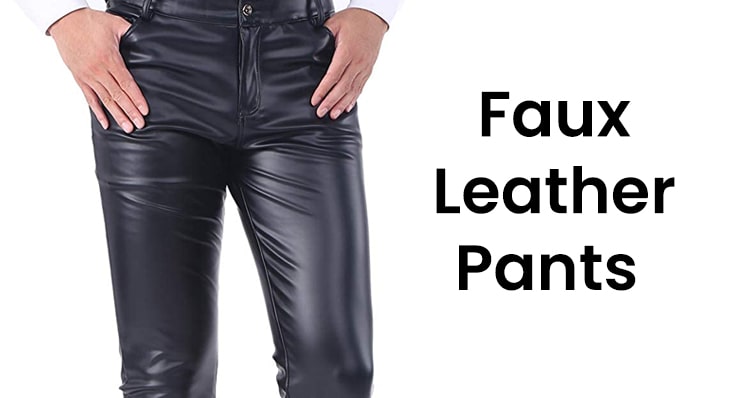 Faux leather, vegan leather, or leatherette is an alternative material to replace authentic leather. Faux leather pants are created from a plastic base that was given a treatment for color and texture, while genuine leather comes from animal hide. Because it is easier to make, faux leather is more affordable. Getting a pair of faux leather pants is a good option if you can't afford a pair with genuine leather. Faux leather trousers come in all other types and styles that real leather pants have. 
Leather Leggings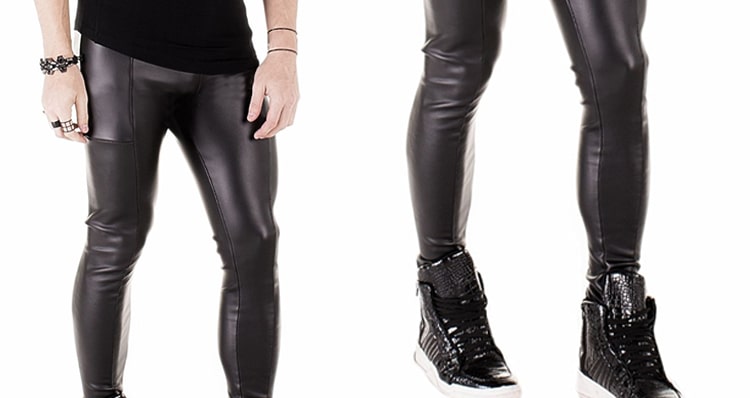 Yes, leather leggings aren't exclusive to women! For men who like showing off the shape of their assets, consider getting leather leggings. This pair of leggings is softer and more comfortable than denim jeans. It uses stretchable leather that could be faux or stretch leather. It's very similar to the classic skinny leather pants, but its material is more elastic and tight-fitting. 
What Clothes Go with Leather Pants?
The next question is: how do you style your leather pants with accessories, footwear, jewelry, or designer tops? Continue reading to discover details on the right way to match your best leather pants to make a striking outfit, whether for casual, office or particular use.
Boots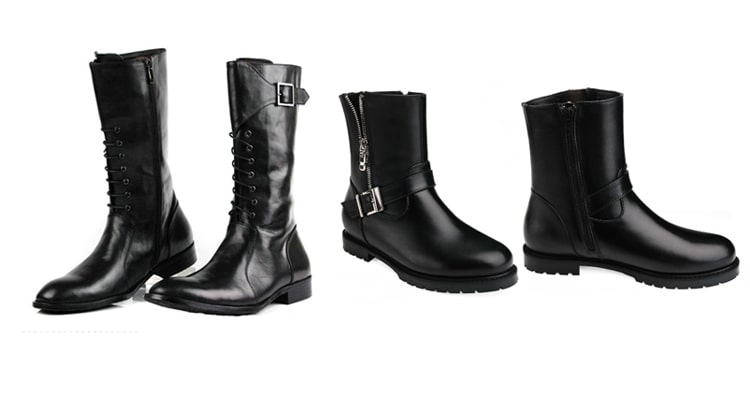 You don't need to search further for footwear that works well with leather jeans. Boots are the answer that often enters the minds of women and men when asked that question. Almost any type of boots would look chic and sleek, whether cowboy boots, military boots, or others. You might even discover how you like using boots with heels when you try this pair out.
Harness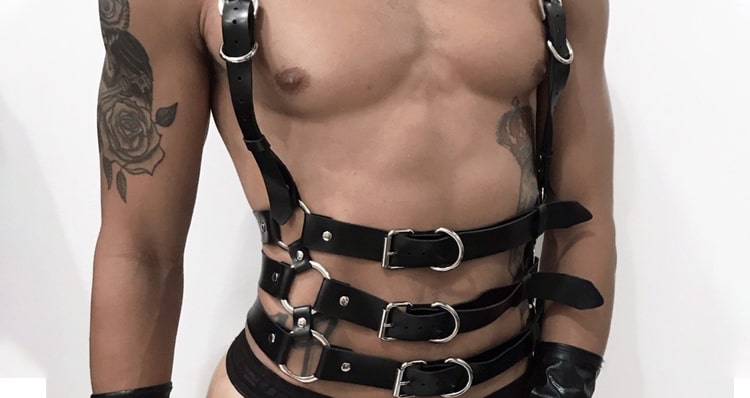 Toe the kink line by wearing a leather harness with your pants. Throw shirts aside and use these leather straps with various belt loops and hoops to create a hot look. It's excellent for Pride parades, summer wear, and more.
Muscle Suit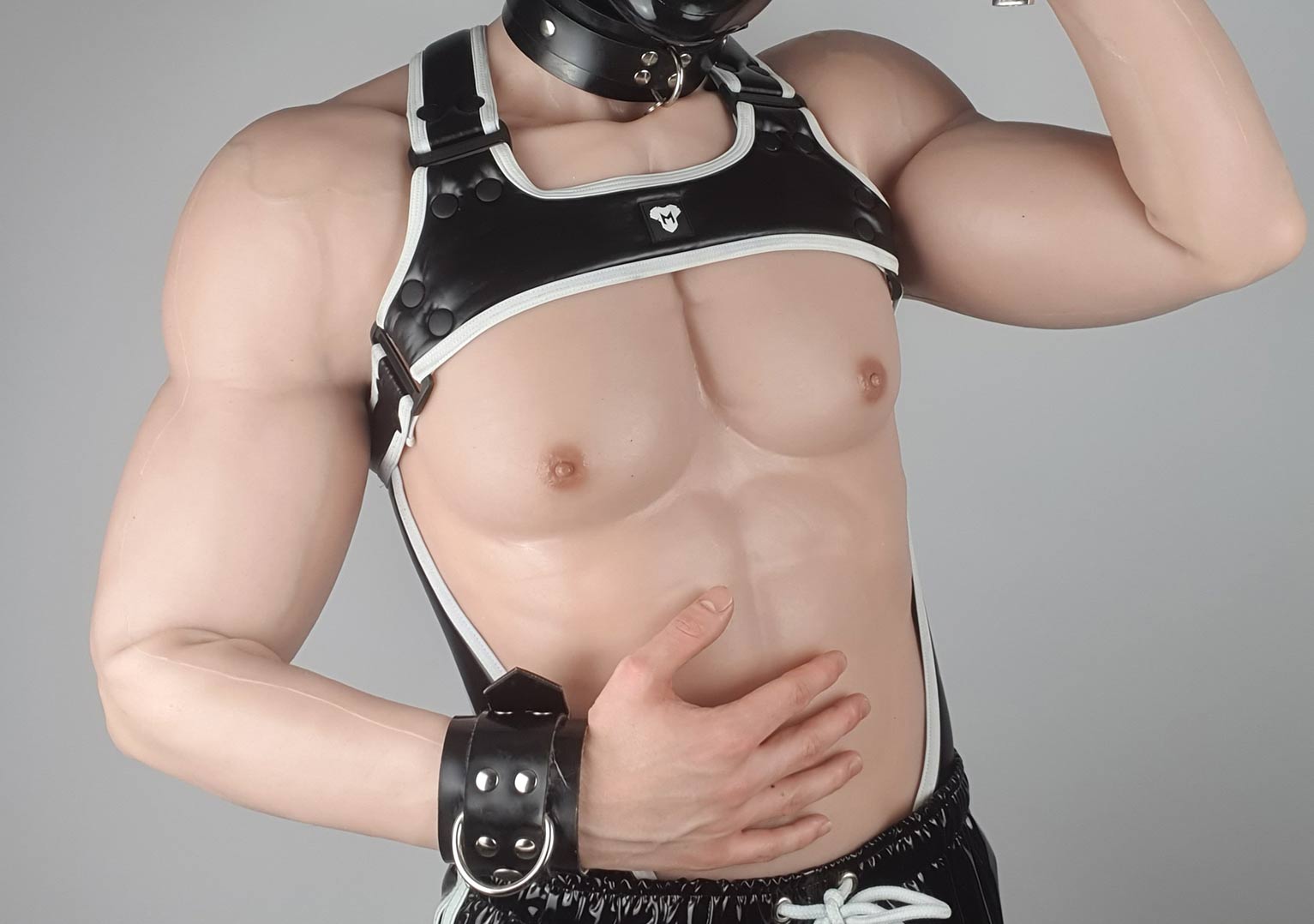 Using a bodysuit gives you a fresh take on wearing leather pants. If you want to give your partner a unique experience as a gift, you might be interested in using this pair. The muscle suit will make you look more muscular and more significant than you are. Accessories like harnesses will also look great when paired with muscle suits. For quality bodysuits, shop through our site.
Sneakers
Sneakers are a good option if you prefer footwear in which you can move around quickly. Paired with leather pants, they give off a rock star and casual vibe.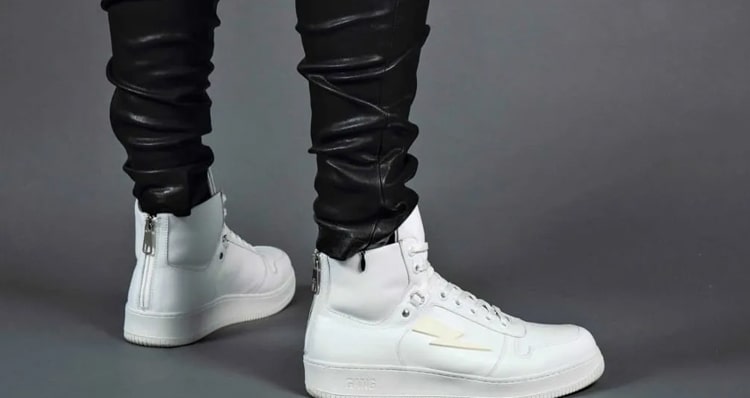 White Print Shirt
We can't leave out the white shirt on account of being one of the easiest things to pair with these pants. The white plain or print is versatile and always an excellent addition to your closet.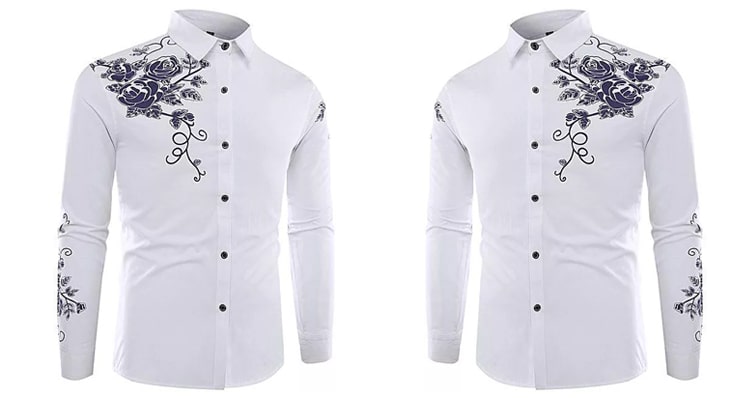 Jacket
Match the material of your jacket with your pants or use a different complementary material to make a perfect outfit. Consider shopping for a cropped jacket and matching it with your pants. It's a style that suits both men and women. Bomber jackets and sweaters also look good with them.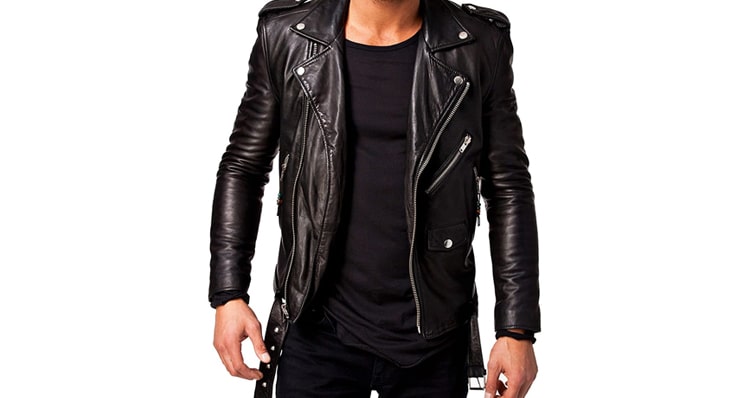 How to Care for Leather Pants
You don't need to be a leather specialist to know how to maintain your best leather leggings. All you need to know is that leather:
● needs to breathe;
● can't be stored under direct sunlight or heat;
● needs a leather polish or conditioner; and
● needs to get wiped down with a damp cloth 1-2 times per week.
This applies to all leather pants, whether a brown designer pair or a vegan leather stock from a clothing shop.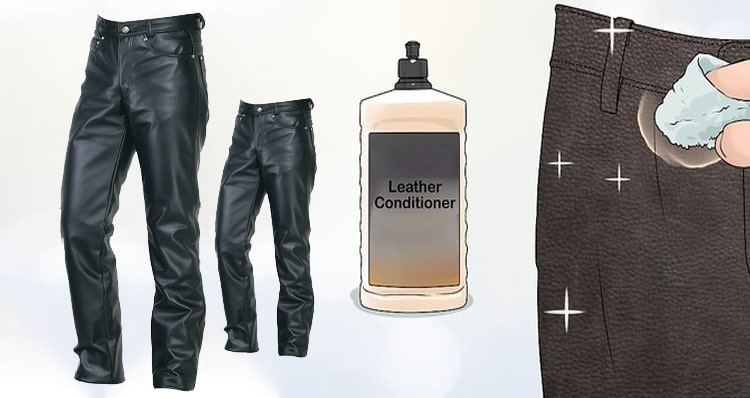 Conclusion
Men's leather pants are much like pants for women. They still need proper maintenance and care. Some great matches for them are cropped tops, boots, and white shirts. Genuine leather costs more money, but they make significant and lasting gifts. Leather is a beloved must-have wardrobe piece because it's versatile and makes the wearer look sleek and chic.