Must-Watch

Gay Anime
Take your pick from our list:
22.

Gakuen Heaven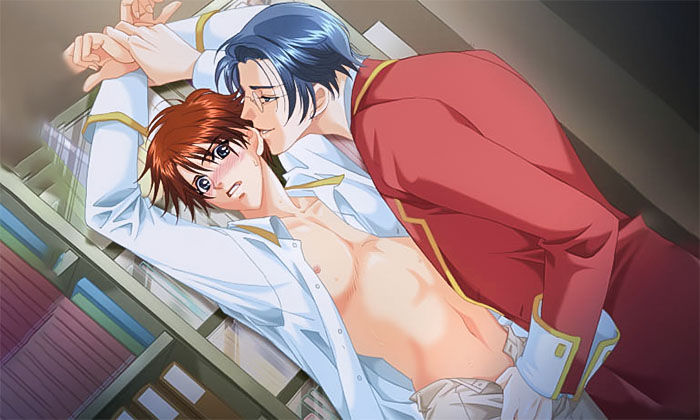 Take a trip to Bell Liberty Academy in "Gakuen Heaven," where Keita, an ordinary student, is invited to join the school's elite program.
Amidst the handsome and talented boys, Keita Itō finds himself forming deep connections and unraveling the mysteries of his past. 
21. Wandering Son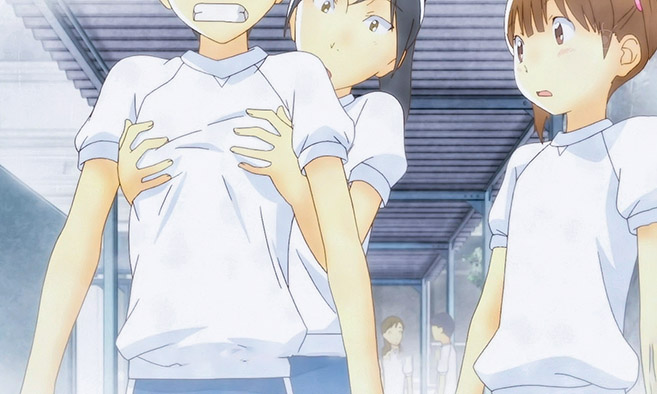 "Wandering Son" is one of the bravest anime series that discusses gender identity.
It's also one that stayed with honest portrayals of gay anime characters.
It centers around transgender protagonists Shuichi Nitori and Yoshino Takatsuki.
Watch how they navigate their realities through adolescence and friendship.
This anime is peak media for showcasing the challenges of self-discovery and acceptance.
20. Antique Bakery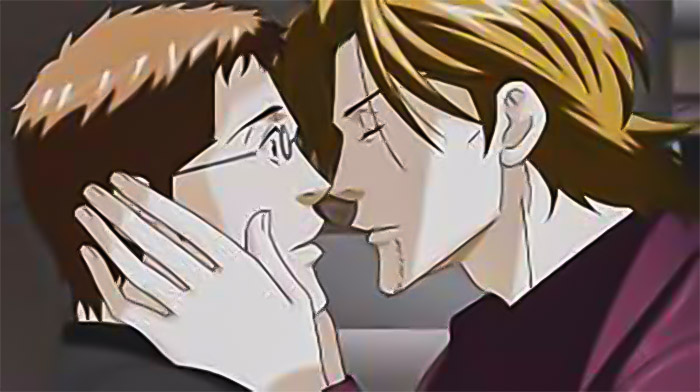 Delectable sweets and cute guys?
Yes, please.
Step into  "Antique Bakery," where the charming and talented pâtissier, Ono, opens a pastry shop with his friends. Aside from running a bakery, Ono becomes entangled in a love story that will leave you with a sweet aftertaste.
Note that this anime is not an official BL series, as Ono is the only sure gay man.
19. K Project
"K Project" offers an intriguing world where reality and the supernatural blur.
It's set in Japan, where psychic clans with extraordinary abilities rule.
The primary contention is between the Red and Blue kings.
Although they are from battling clans, their rivalry hints at their desire for something else.
If you're up for fantasy, action, and pining, this one's perfect.
18. Twittering Birds Never Fly: The Clouds Gather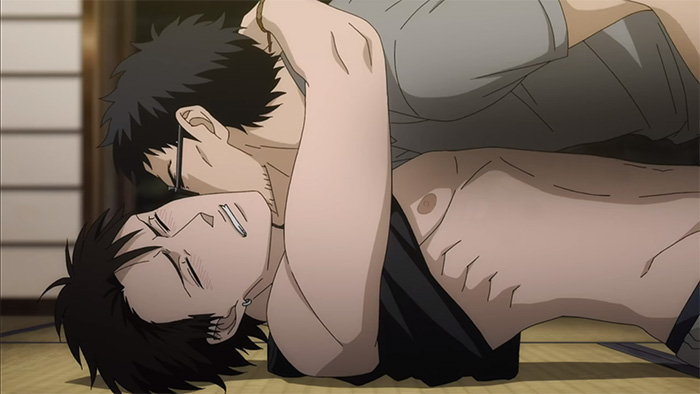 This intense yaoi anime delves deep into the underground world of the yakuza, where Yashiro, a charismatic and complex yakuza boss, reigns supreme.
But his stoic bodyguard, Doumeki, has a secret affection for him beyond mere loyalty.
As they get closer, the boundaries between love and duty blur, and a forbidden romance blooms.
This anime isn't afraid of displaying raw emotions and the darker side of romance.
17. Sarazanmai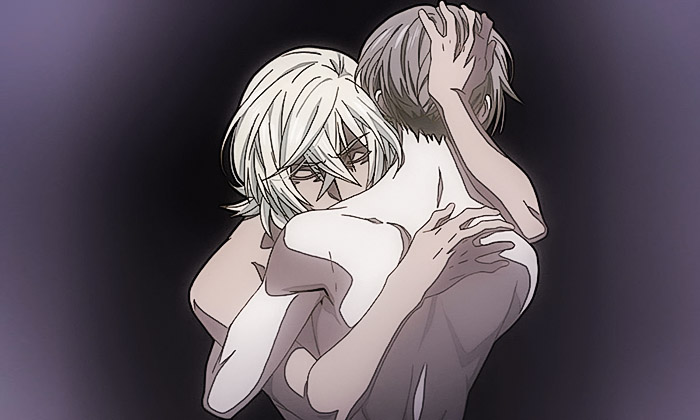 "Sarazanmai" is an anime that blends supernatural elements with a quirky premise.
Meet Kazuki, Tooi, and Enta, three middle school students who stumble upon Keppi.
This Kappa prince desperately needs their help.
As the boys need to connect via their bodies, minds, and secrets, they are bound to delve into their identities and desires.
This creates a unique perspective on LGBTQ+ representation. 
16. Gravitation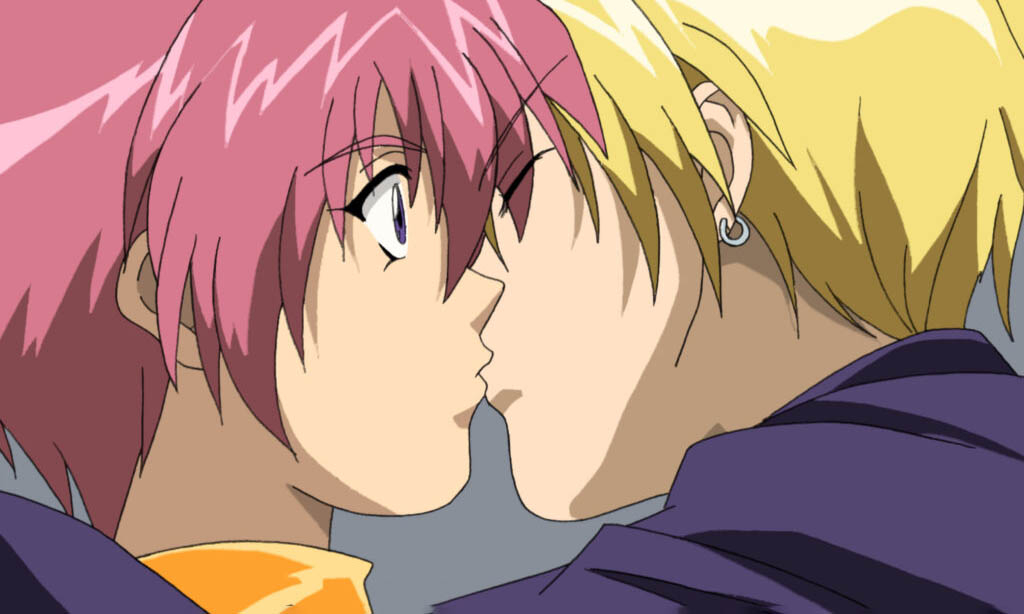 Follow Shuichi Shindo, a passionate young singer, and his journey toward stardom.
Along the way, he meets the enigmatic and aloof famous novelist Eiri Yuki.
It's a classic BL series that showcases how love can go against anything.
In this anime, it's Eiki's family and many else.
15. Sekai Ichi Hatsukoi (The World's Greatest First Love)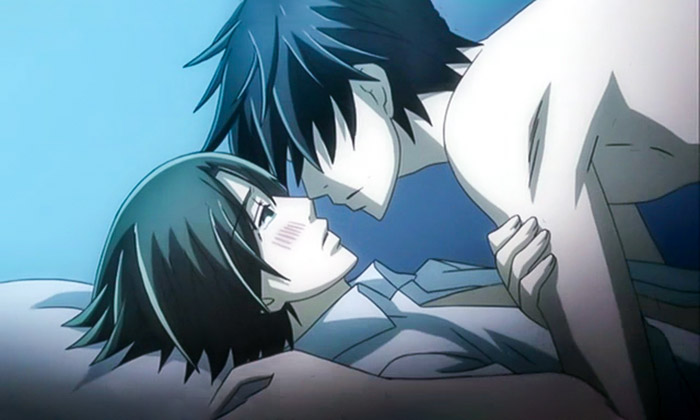 A young editor, Ritsu Onodera, is assigned to the Marukawa Shoten publishing company.
Little does he know that his new boss is none other than his first love from high school, Masamune Takano.
Working through the dizzying editorial world is stress-inducing enough for Ritsu.
But Masamune's insistent wooing makes him crazier.
14. Junjou Romantica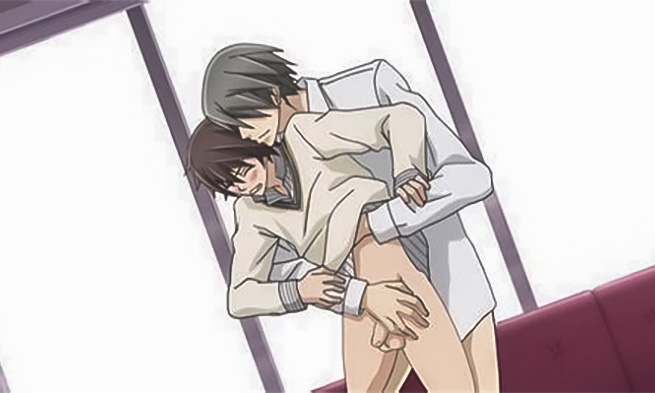 "Junjou Romantica" weaves three interconnected love stories that will leave you breathless.
Starting with the passionate May/December romance of Misaki and Usagi.
Then to the adorable tale of Hiroki and Nowaki.
Finally, the comedic journey of Miyagi and Shinobu.
This anime captures the essence of love in all its forms.
It's also one of the most popular gay anime porn.
13. Love Stage!!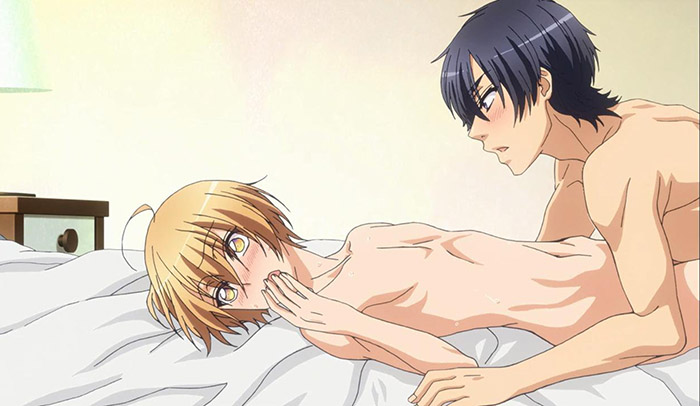 Get ready for some showbiz magic in "Love Stage!!" Izumi, born into a family of celebrities, dreams of becoming a manga artist.
But fate has other plans when he is roped into acting alongside the handsome and popular Ryouma.
Watch as their on-screen romance becomes something more profound and real.
12. Tiger and Bunny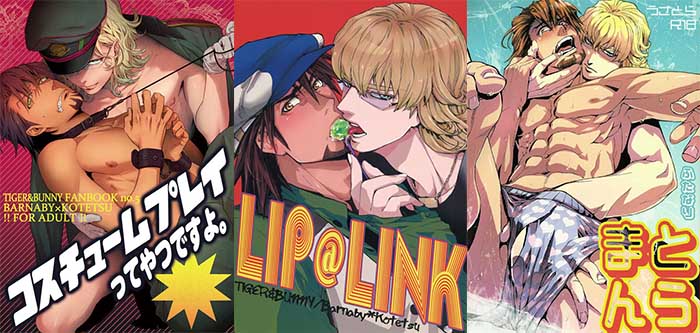 Suit up for a thrilling adventure with "Tiger and Bunny."
It's a fascinating anime that blends the world of superheroes with fervent relationships.
In a futuristic city, people with superpowers called NEXT protect the citizens and compete in a reality show. 
Kotetsu is a hero with traditional views who cares more about justice than popularity.
Meanwhile, there's Barnaby, one of the most popular heroes.
They are men with contrasting personalities and abilities.
Still, they work well together.
Over time, their dynamic partnership evolves into something deeper.
11. Tight-Rope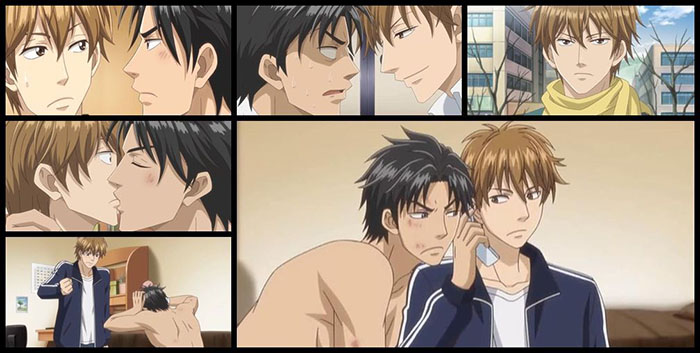 Although Eiri and Shuichi lead different lives, it seems like fate is determined to intertwine them one way or another.
This couple faces many difficulties; the most obvious is Eiri's position as the heir of a distinguished yakuza family.
As they grapple with their feelings, they must also maneuver the expectations and duties of their respective backgrounds.
This anime beautifully explores the complexities of love and family loyalty.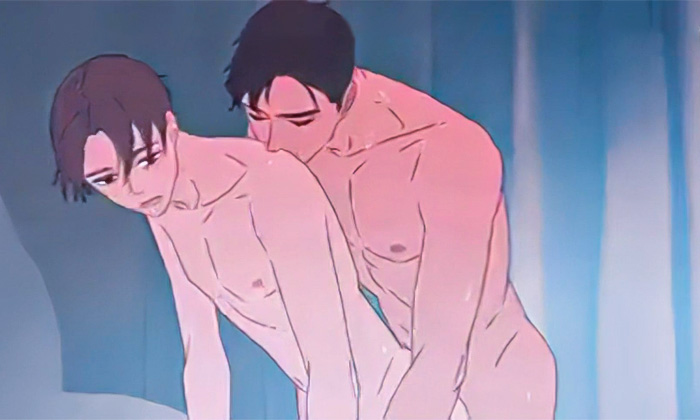 "Hyperventilation" is a webtoon adaptation that perhaps has one of the most breathtaking art styles for gay anime sex scenes.
Aside from its captivating art style is the plot's emotional depth.
This short-form Korean animation highlights Myongi and Sunho's connection.
These two men met when they were kids and reconnected during a class reunion.
They share a night together that made them realized they had eyes for each other even when they were students.
9. Doukyuusei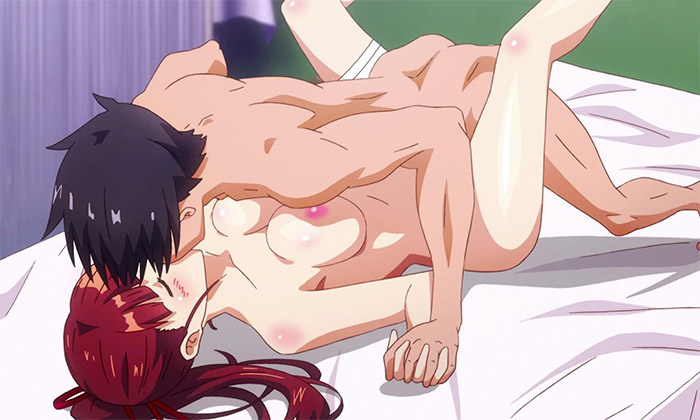 Experience the beauty of first love with "Doukyuusei."
It's a tale of two boys, Hikaru Kusakabe and Rihito Sajou, who attend the same school but lead different lives.
When they find themselves in the same music class, their worlds collide.
This leads to an unexpected bond that ends up with them being married.
The butterflies in your belly won't stop when you're watching this anime!
8. Semantic Error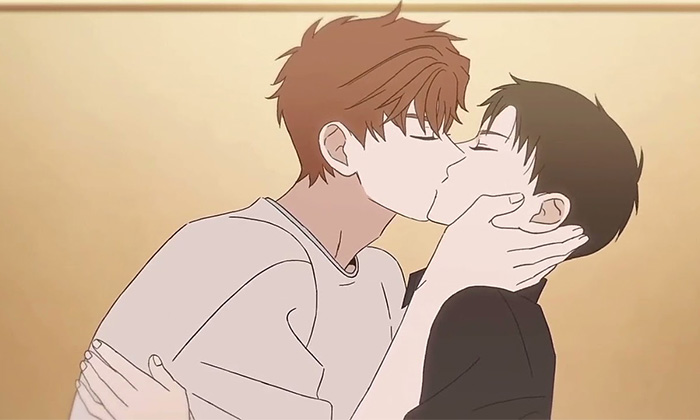 "Semantic Error" is a fun anime with an unusual pairing you would never expect to work.
Meet Cho Sangwoo, an introverted, strictly rule-abiding computer engineering student.
And then there's Jang Jaeyoung, a loud, charismatic design department student.
Chaos ensues when these two opposites meet, and their initial plans get thrown out the window.
As the story unfolds, Sangwoo undergoes a heart-stirring transformation with Jaeyoung's help.
7. Yuri!! on ICE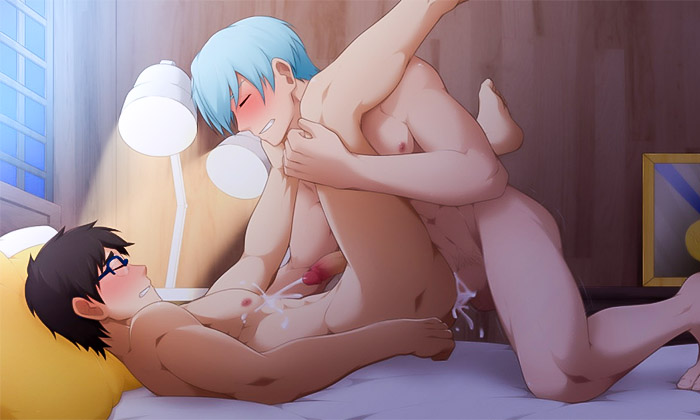 You must have heard of Yuri on Ice in one way or another.
It took the world by storm with a barrage of gifs and memes dedicated to this series.
And for a good reason! 
This anime glides into the lives of figure skaters Yuri Katsuki and Victor Nikiforov.
What begins as a professional relationship soon transforms into a whirlwind romance that will leave you cheering for their love on and off the ice rink.
To this day, many fans are waiting for the anime's second season.
6. No. 6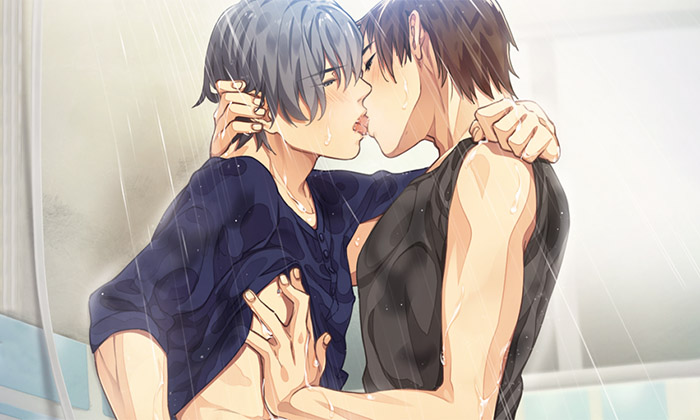 In the dystopian world of "No. 6,"
Sion, a bright young boy living in the city's luxurious utopia, encounters Nezumi, a fugitive on the run.
Come with them as they discover the city's dark secrets while realizing their feelings for one another.
You'll be on an intense expedition of action, suspense, and love that blossoms despite this anime's premise.
5. Given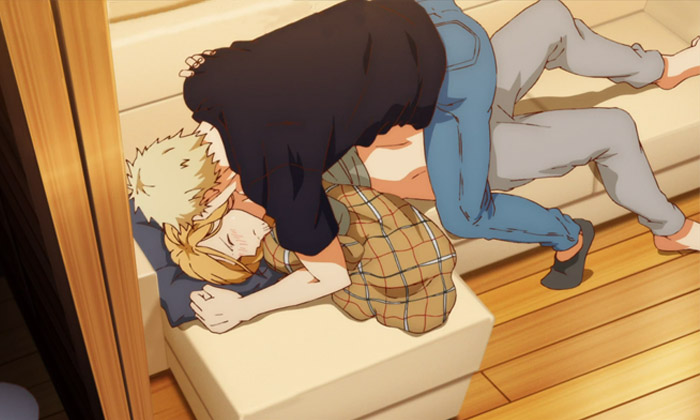 In "Given," music binds the hearts of two souls, Ritsuka and Mafuyu.
Ritsuka, a skilled guitarist, stumbles upon Mafuyu, a gifted singer with a troubled past he can't forget.
They found each other and healed at their own pace, finding solace in music and love.
Prepared to be serenaded by their heartrending melodies as they navigate the complexities of their newfound feelings.
4. Umibe no Étranger (Stranger by the Shore)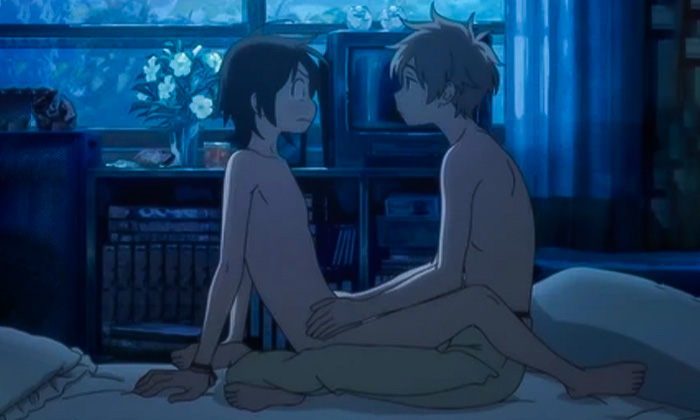 "Umibe no Étranger" is a film that encapsulates the beauty of love and acceptance.
Novelist Shun escapes to an island to forget his fast and meets Mio, a young man struggling with his identity.
They bond and learn to heal together.
This animation is more than just loving another person but also reconciling with losses and finding oneself.
3. Mo Dao Zu Shi (The Founder of Diabolism)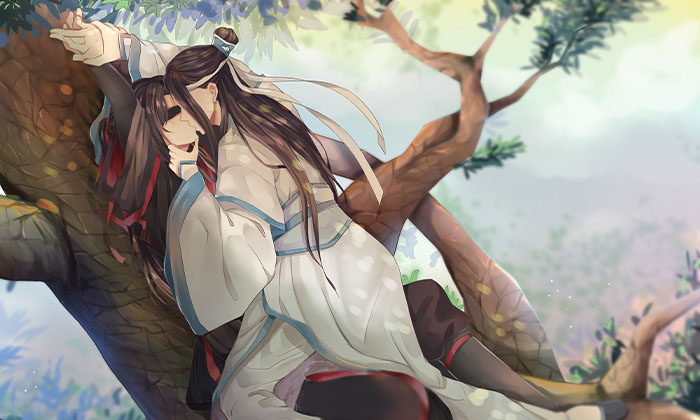 Take off on a spellbinding journey with "Mo Dao Zu Shi," where magic, friendship, and love intertwine.
Wei Wuxian, a talented cultivator, returns to the world of the living after his death.
He forms a connection with Lan Wangji, a stoic and disciplined co-cultivator.
Together, they unravel the mysteries of the past and confront the forces threatening their world.
This anime blends action, adventure, and heartwarming relationships.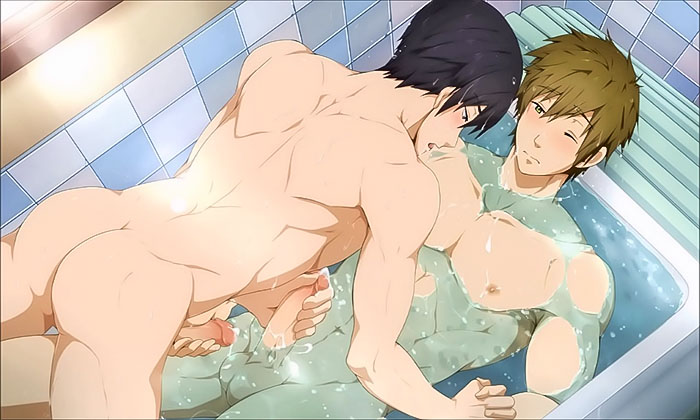 Follow the journey of Haruka Nanase and his friends as they chase their dreams in the water.
More than the splashy competition, pay attention to the subtle yet heartwarming bonds between the characters.
"Free" is not blatantly BL. Rather, it's a gentle exploration of love and friendship.
This is especially true for its main protagonist, Haruka.
Haruka's feelings become clearer to the audience and him as the anime progresses.
Particularly for his childhood friend and inspiration, Rin.
The gradual realization of his emotions adds depth and authenticity to the narrative.
1.

Hetalia Axis Powers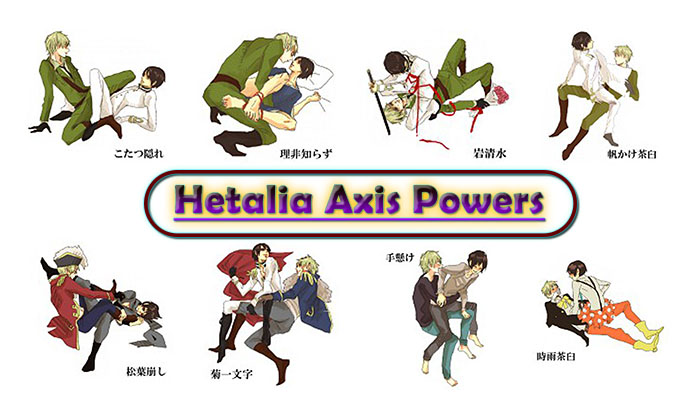 Prepare to laugh and learn with "Hetalia Axis Powers." It's an anime that personifies countries and brings history to life comically and endearingly.
Follow Italy, Germany, Japan, and various other countries as they navigate through historical events with humor and charm.
Amidst the laughter, this anime subtly weaves in heartwarming relationships that transcend borders and time.
Why LGBTQ+ Representation Matters in Anime
Popular media like movies and animations are important channels of information.
Through them, society is better educated about various characters' struggles and triumphs.
These characters are close depictions of how real people live within the community.
For years and years, the gay population has had scarce media representation.
And so many yearn for authentic and relatable stories.
Luckily, the tides are turning, and creators are stepping up.
They bring the audience heartwarming tales that mirror every group's experiences. 
This includes the gay community.
Genuine gay representation in media, particularly anime, offers viewers a broader perception.
This lets them understand LGBTQ+ individuals deeper.
Authentic portrayals urge others to extend empathy and promote acceptance among the audience. No matter how diverse.
Learn more>>
The Best Anime with Male Nudity: A Comprehensive List
The Comprehensive Guide on How to Get Washboard Abs in Record Time!