Halloween is like Christmas, Thanksgiving, Hanukkah, and Easter combined into one giant holiday with loads of fun activities and extravagant costumes to make you feel alive.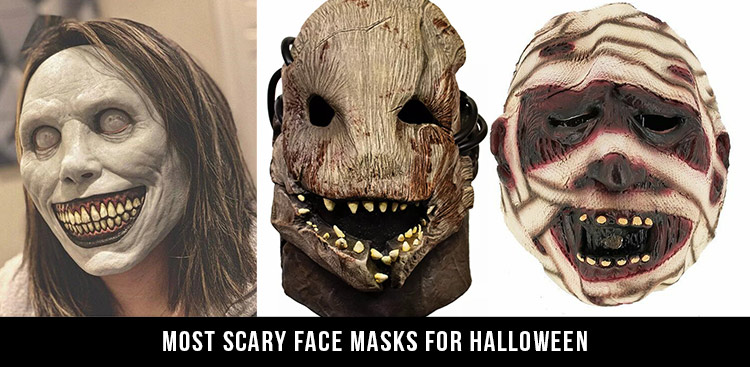 From rocking disfigured faces and transforming into ghostly ghouls to frolicking around the neighborhood wearing the faces of the most brutal killers of our time, Halloween masks provide the perfect opportunity for revelers to scare the hell out of people. In this article, we will discuss the scariest Halloween costumes and give you tips on where to buy them.
Top 10 masks for Halloween
Halloween is just around the corner, and you will need an incredible Halloween mask to make your costume stand out. From spine-chilling, ghostly, and creepy to horrendous costumes, we have prepared a comprehensive list of Halloween masks you can wear.
Some of the terrifying masks include:
Zombie mask
If you are looking for the perfect scary face mask to frighten your loved ones, consider getting a zombie. The zombie mask can scare little kids and even some grown-ups with hideous blood eyes, rotting flesh, and exposed bone structure to the ugly protruding teeth.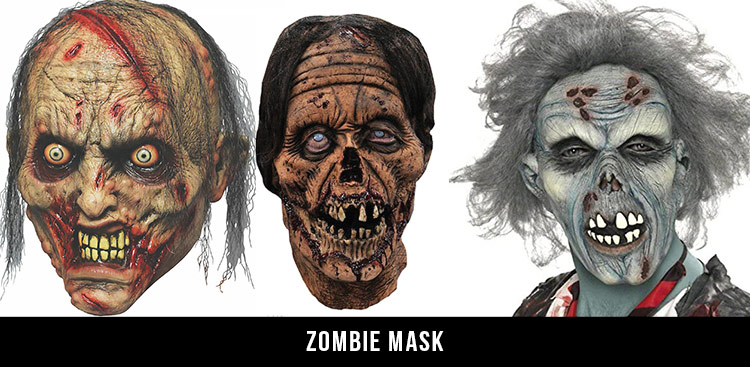 If you want to increase the fear factor, you can drip rotten brain to slide down the side of your mask, giving you a horror ambiance that will leave even the most hardened Halloween lovers shaking in fear. Pair the zombie mask with a hideous Halloween costume, and you will be the season's star.
Masks of Michael Myers
If you Google scary face stock photos on the web, the Michael Myers masks are likely on the first page because of their chilling and terrifying effect. With more than 10 films dedicated to this psychotic killer, you have a wide selection of frightening masks you can wear for Halloween. You can start with the classic masks from the first Michael Myers movie Halloween and work your way through the sinister masks that came with the subsequent film in the franchise. If you are looking for a scary face mask that reminds people of the cruel acts people can do, look no further than the Michael Myers mask.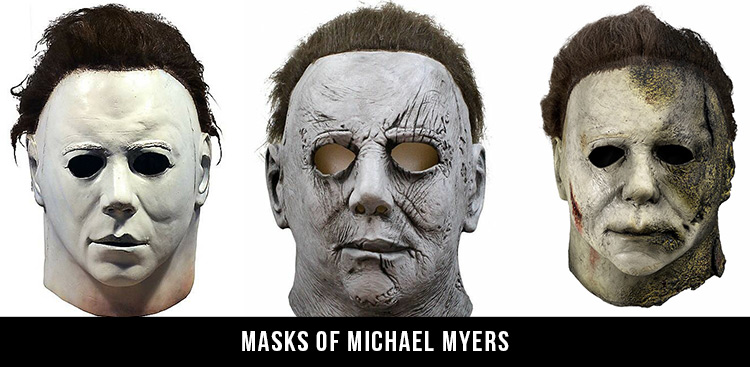 Stalkerlial Silicone Mask
Wearing the stalkerlial silicone mask on Halloween might be the closest you will ever come to looking like a red devil. The scary face mask contains huge, protruding teeth, dark eyes, and menacing horns that will send little kids and some adults scattering when you show up at a Halloween party or trick or treating. The stalkerlial silicone mask is made of silicone material, so it can give you a realistic devil effect that will turn you into the star of the Halloween season. You can match the scary face mask with a devil costume to pull off a look that leaves a great impression among Halloween revelers.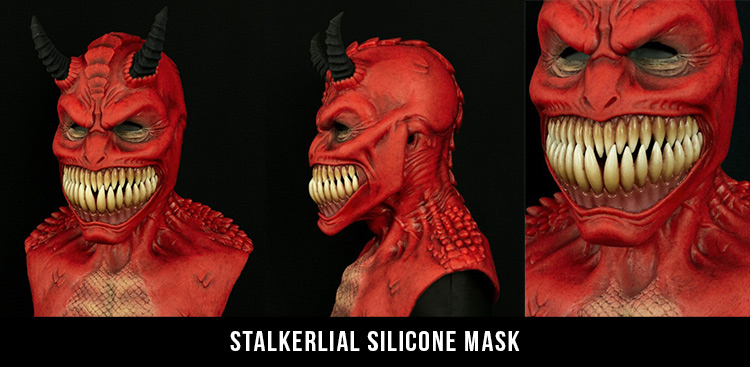 Vecna Mask
If you have watched Stranger Things, you have probably experienced a nightmare or two courtesy of the Lord of the Upside Down, Vecna. The Vecna mask is the perfect Halloween mask to scare people because it's horrendous and scary and reminds people of dark and cruel things that go bumping into the night. With eyes that look like they were gauged out of an alien villain, a missing nose, exposed veins, and a creepy meaty appearance, the Venca mask is the perfect costume to wear to experience a happy Halloween.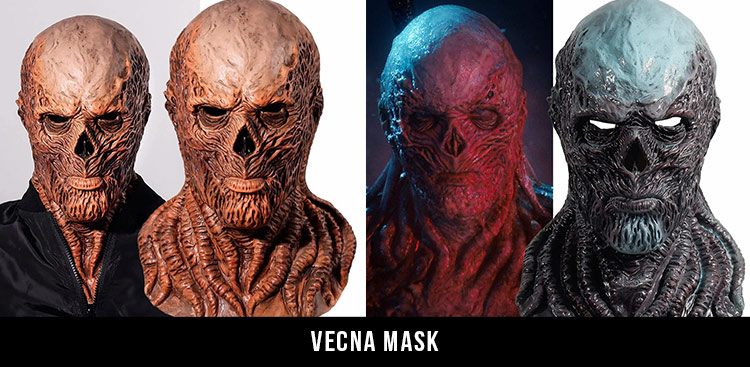 Smiling Demon Masks
Get a smiling demon mask if you are looking for a mask that inspires nightmares and admiration from fellow Halloween fans. The smiling demon mask has an impressive fear factor that will make you stand out whether you are out trick or treating, attending costume pasties, or painting a carved pumpkin. The mask has a creepy smiling mouth with bloodied jaws, gigantic sharp teeth, and scary milk-cored eyes that enhance your Halloween experience.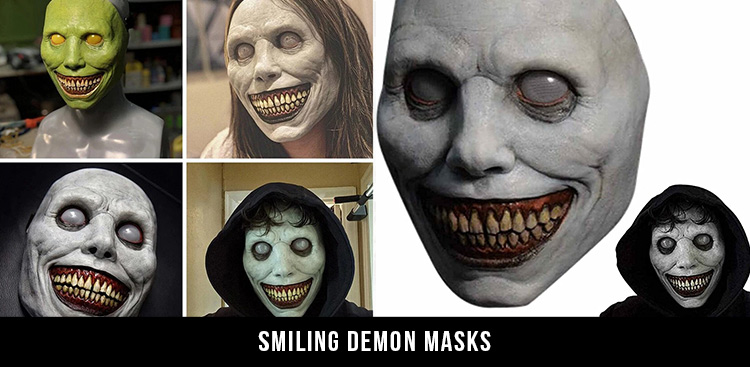 Terror Ghost
Whether you are looking for a Halloween mask to scare your loved ones or inspire terror in the hearts of neighborhood kids, the Terror Ghost mask will not let you down. The terror mask is usually made of latex that gives you realistic Halloween features, transforming you into a believable ghost. With this mask, you can effortlessly gain an authentic, terrifying ghost effect with excellent features.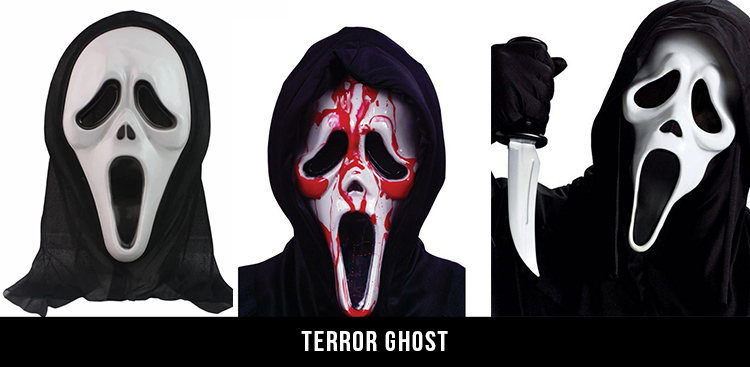 Scary Jack faces mask

.
The classic Jack O Halloween mask traces its origin to ancient times of the Celtics, who used scary costumes to ward off evil spirits. While the Halloween concept has morphed into a celebratory holiday over time, it had religious and cultural significance in ancient times. During the Samhain festival, which occurred between October and November, the Celts believed that the veil separating the world of the living and dead was weak, and ghosts could pass over to the living world. They painted their faces with frightening images to ward off evil spirits and wore scary costumes.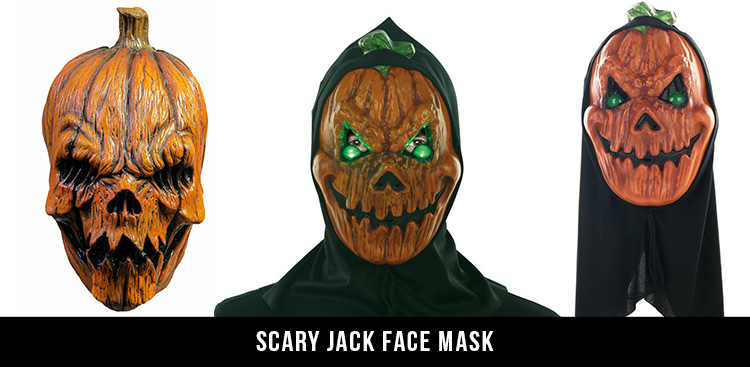 Over time, people started leaving metal lanterns in front of their porches to ward off evil spirits, eventually replacing them with fruit lanterns when metal became too expensive. This concept inspired modern carved pumpkin lanterns that are popular with Halloween lovers. If you Google Jack o lantern costumes on the web, you will find thousands of stock images on the web, which you can use as inspiration for an incredible Halloween mask.
Horror bloody pig masks
Let's be honest. Pigs are just gross, and wearing a bloody pig mask won't endear you to anyone. The horror bloody pig mask is ideal for Halloween because it's hideous and scary and helps you pull off a creepy Halloween vibe that will keep you entertained throughout the holiday. From the blood leaking from the eyes, piggy snort, and bloody ears to the meaty visual of the entire pig mask, this mask is truly a terrifying masterpiece. If you want to increase your mask's creepy factor, wear a pig mask that produces a rotten odor and watch as people speed walk to get away from you when they spot you.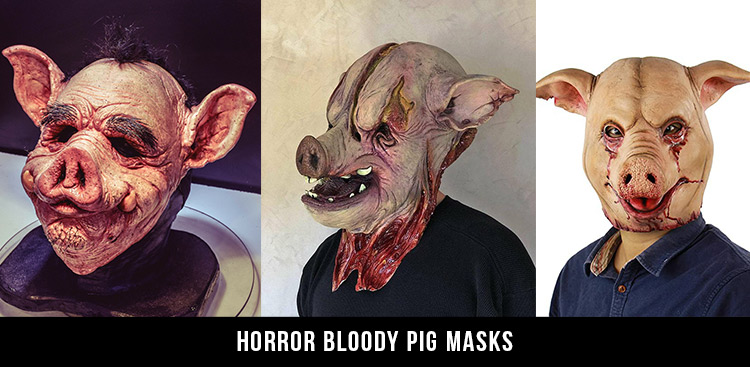 Clown masks
Unless you have a wicked sense of humor or a lack of a sense of self-preservation, you don't look at clown masks and think, "Ooh, they are so cute!". Have you seen the horrors masks can do? Granted, masks didn't wake up one day and decide to terrorize the world, but still…clown masks are scary. Nothing good ever comes from someone wearing a mask that looks like it was made to lure small children to their doom. If you want to frighten a woman or man with a child at a Halloween event, wear a clown mask to a Halloween party with kids.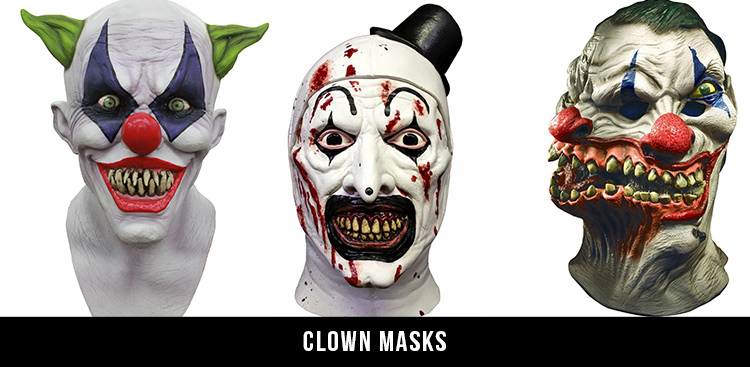 Fang predator mask
The fang predator mask contains an attached hoody, slithery tongue, and exposed fangs, giving you a cool monster look that makes you attract the proper attention at a Halloween event. The predator mask is made of silicone materials, so it's light, comfortable, and safe to wear for an extended period. Depending on your preferences, you can get a predator mask in various colors, including black, purple, or any other color that makes this mask more terrifying.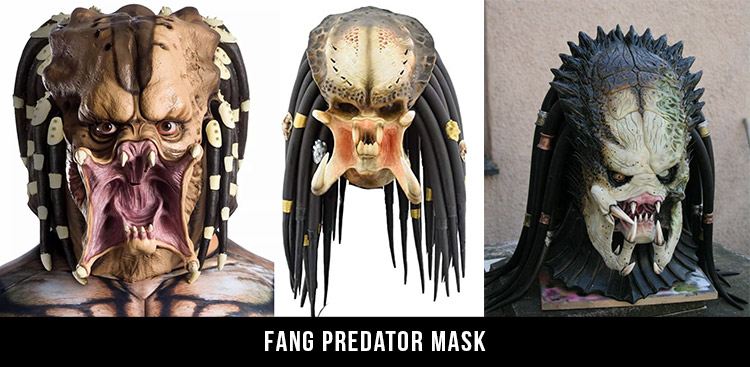 Where to buy a scary face mask?
It's disappointing when you have a unique Halloween concept but can't actualize it because you don't know where to shop for Halloween costumes. Fortunately, as more merchants set up online shops, it's becoming easier for costume lovers to access quality and pocket-friendly products.
Here are some places you can purchase your Halloween costumes: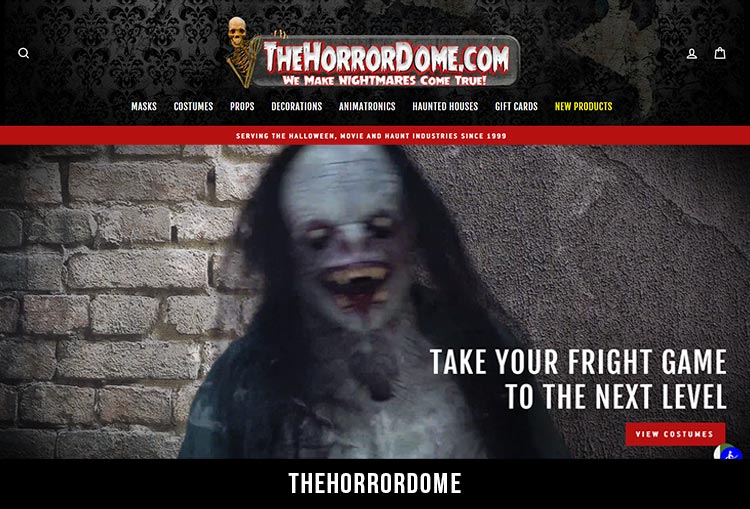 As the name suggests, The Horror Dome is a one-stop shop for scary face masks. From zombies, ghostly ghouls, and bloody faces to masks that any horror film director would sell a kidney to gain, The Horror Dome website has it all. The website has a fantastic collection of classic monster masks, demon masks, vampire masks, creepy masks, and clown masks. The Horror Dome website is professionally designed with a black background that provides a beautiful contrast to the colorful scary masks.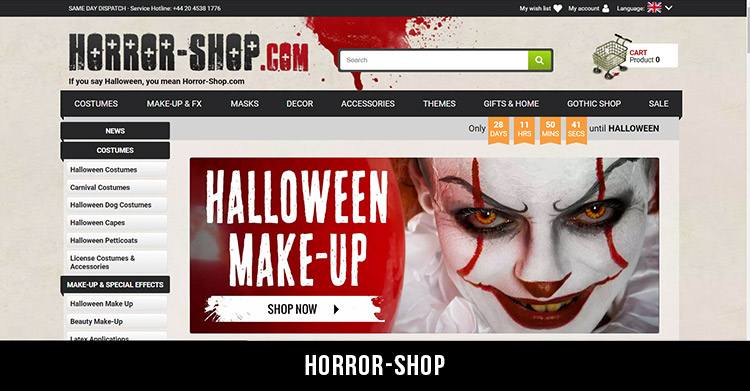 The horror shop is one of the best online sites selling scary masks. The horror-shop website has many popular scary masks, including clowns, ghosts, zombies, and serial killer masks. The site also has an informative newsletter you can subscribe to keep you up-t0-date with the world of terrifying masks. If you sign up on the company website, you may receive a $5 discount.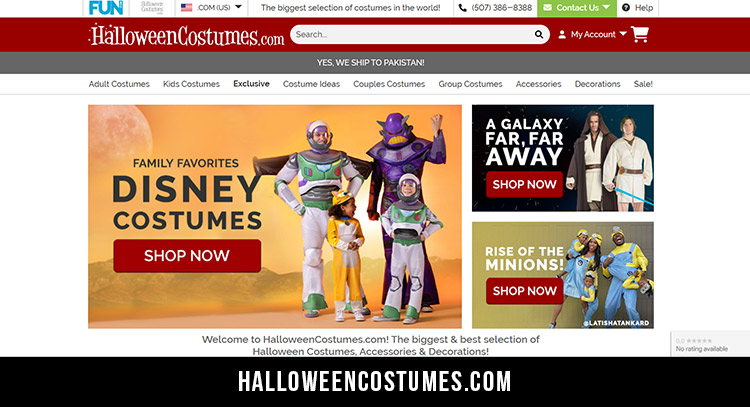 Halloween costume has it all, whether you are looking for costumes for couples, pets, or groups. The website is easy to navigate and contains an eye-catching white background that is friendly to visitors. If you feel overwhelmed when shopping, you can filter the items you want by price, popularity, or newness.
Conclusion
Scary face masks are perfect for Halloween, especially when you want to pull off a creepy vibe at parties or Halloween events. If you wish to impress people with a creative costume and innovative design or frighten them with a realistic-looking terrifying mask, you can quickly get what you are looking for. From zombie, horror, and serial killers to clown masks, there is a comprehensive collection of incredible masks you can wear for Halloween.