Flirting is supposed to come naturally for most people. However, to avoid awkwardness, a tip or two may help you break the ice. Have you heard that the primary purpose of flirting is to establish an intimate relationship between individuals to increase sexual attraction?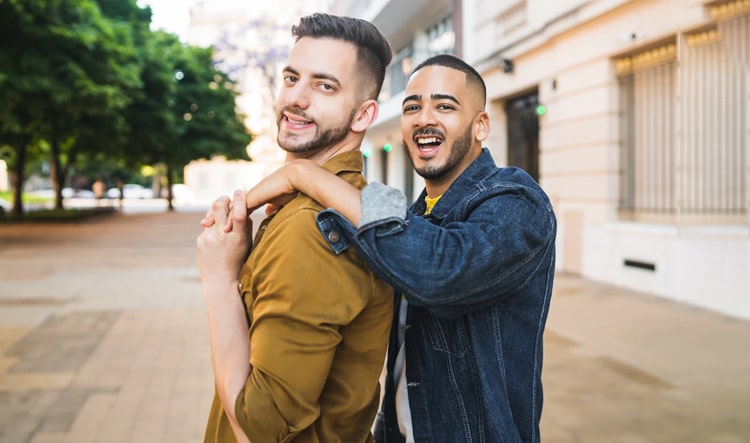 People flirt to boost their interest in each other. However, it's not just about stealing glances, pick-up lines, or teasing. Flirting also shows off your confidence and conveys that you want someone enough to display your intention openly.
Why Flirting Is Essential
Flirting indicates your willingness to get someone's attention. When you're already in a relationship, flirting is critical to keep your partner invested in knowing you.
The primary key to successful flirting is to be honest about your feelings. When you approach someone with genuine interest, the other person will have an idea of your personality and can gauge if you vibe with them.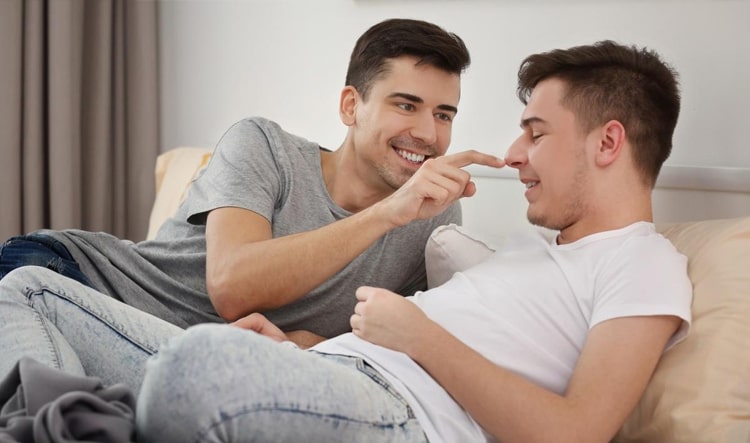 Flirting is the same even in same-sex relationships, and there are various ways to behave amorously to lure someone to you. You'll know someone is flirting with you when they mingle around, throw compliments, or directly ask you out.
The Art of Gay Flirting: It's All About the Other Person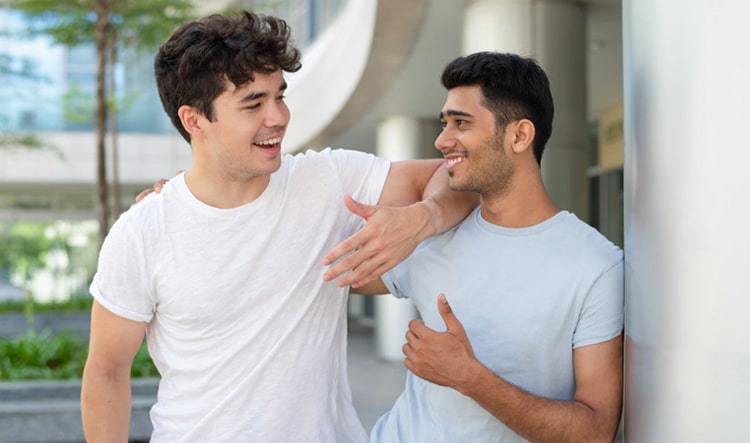 It may seem complicated to attract people through flirting as most people fear rejection and tend to compare themselves to others thinking they're not confident enough to face the person they like. Always remember that flirting is about making the other person feel wanted. The idea of flirting is about concentrating on making the other person feel good about themselves.
Your flirting can be good, but you need to upgrade it if you want your partner to show the same enthusiasm you have for them. Although thrilling, flirting the right way can also put you under pressure. It can be overwhelming to check out tons of flirting advice on the web. So, here's a list to ensure you bring home the bacon!
Have An Engaging Conversation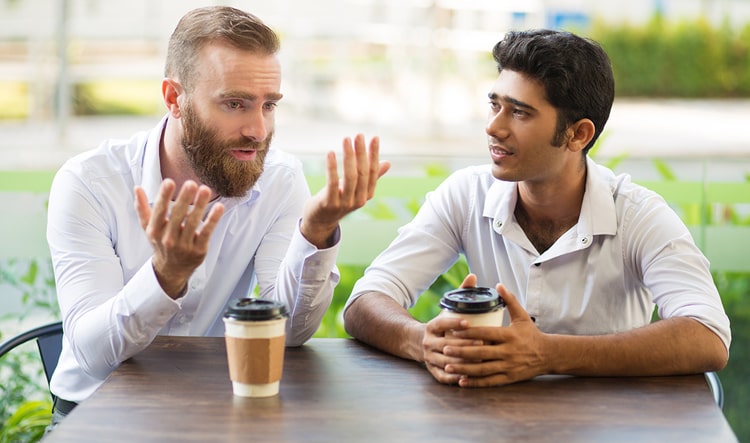 For starters, engage in a fun conversation; this will help you build yourself and make the chat run smoothly. Asking someone's pronouns will help you gauge if they're interested. Then, drop your pick-up lines but don't be rude. Gay guys wants fast talks, but asking them for many things all at once will make them feel uncomfortable.
As you go through the conversation, check to see he's also interested in the subject you are discussing. Is he talkative? Does he run his fingers over his bangs and try to catch your gaze? Does he make subtle moves that show intent? If he is, you're making great progress.
Contrary to this, it's time to bounce off if he's being apathetic during your talk and offer short answers. Always remember that flirting is not about making yourself feel awesome but letting the other person have a great time.
Recognize His Body Language (Flirt)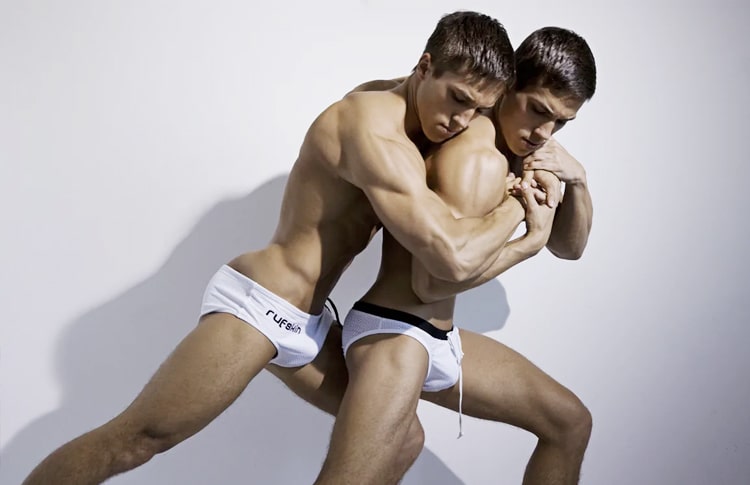 Your body language conveys what words can't. If you are interested, you'll be more conscious about yourself, such as looking elsewhere not to get caught staring, getting nervous when he's near, or unconsciously leaning forward to listen to what he's saying.
Understanding body language will help you in all of your relationships. Whether you're flirting for fun or something serious, recognizing a gay guy's body language will tell you what's on his mind. In fact, most people react with their whole body — from head to toe; if they are talking to someone they like.
Here are a few examples you need to look out for to know if he has casual or serious intentions:
(a). He intently looks at and often glance at your lips.
(b). He listens attentively.
(c). He gives you a big smile whenever you see each other.
(d). When the both of you walk side by side, he unconsciously make subtle hand brushing.
(e). His body is always facing your direction.
Do the Butterflies Flirting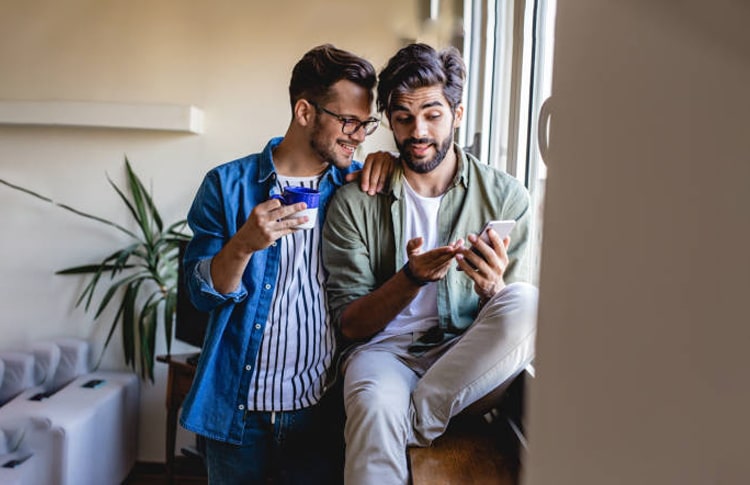 In the early stages of trying to flirt, you will be overloaded with strong emotions that make you behave amorously. Humans' pleasure regions are activated when they are attracted to someone. Sweaty, cold hands, heart racing, and an overwhelming feeling in your belly are some indicators that it is activated.
To succeed in flirting, you have to make him feel like there are butterflies in his stomach. Here are a couple of things you need to keep in mind:
To increase attraction, make sure to create tension. Learning to build some sexual tension plays a significant role in teasing and making his imagination wild.
Offer a smile he will never forget. A smile can indicate that you're a positive bright person and signal that you are fun to be with.
Note the Sudden Jerking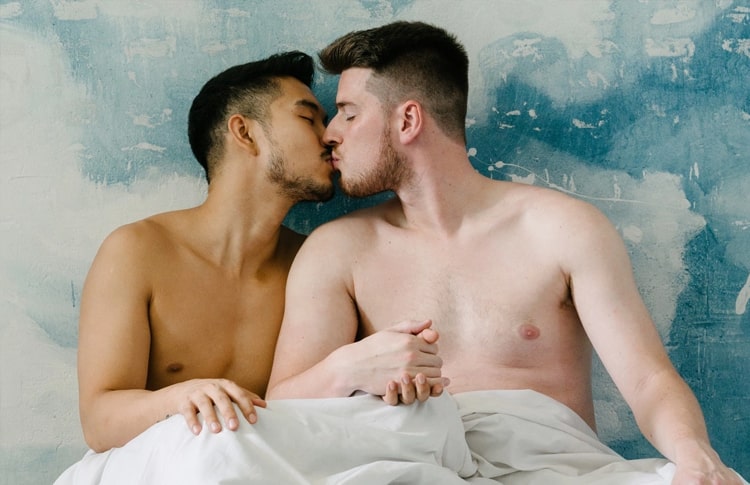 Flirtatious relationships can be confusing and tiresome at some point, especially if it's one sided. Jolting or moving away can mean he's startled, so proceed with caution.
Sometimes playing hard to get or not reciprocating at all with his flirting pushes him away. Try to lead and drop obvious hints here and there so he can confirm that you're still willing to flirt.
Make Eye Contact (Flirt)
The power of eye contact is unquestionable. However, awkwardness when making eye contact is typical, especially for shy men and women. It can be uncomfortable and make them nervous, especially if you lack practice.
A little push for assertiveness comes a long way once you grasp it. The difficulty in maintaining eye contact is temporary; to avoid difficult circumstances, you need to recognize the message behind their gaze.
There are various levels of eye contact people can make. Here are some instances to recognize: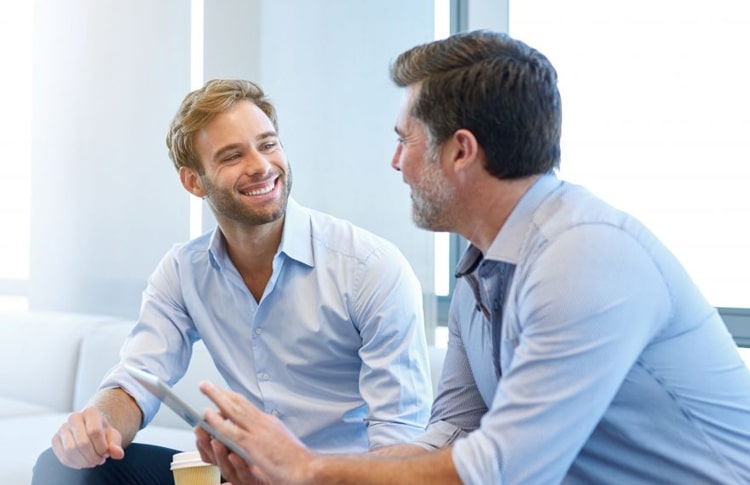 Some people intentionally avoid eye contact. Well, it's not because you don't look your best; instead, they are shy around you. It's also a way for them to tell you that they're still in the progress of testing you, and maintaining eye contact will make them lose their cool.
You may have experienced accidental glances with a stranger a couple of times. It might be a one-time thing if you don't catch them staring at you. However, if they keep their eyes on you and you try to play up your movements, expect them to get close to you in a few minutes to strike up a conversation.
Eye contact that lasts longer than a few more seconds is a sure sign of flirting. When both people are interested in each other, they tend to hold gazes for quite a while. An indicator of a strong attraction and sense of desire between individuals to make the first move is by making intense eye contact.
Allowing yourself to explore the power of eye contact is a step away from understanding the other person's feelings. Aside from it being a sign of attraction, it's also a way to increase trust in each other.
Try to cruise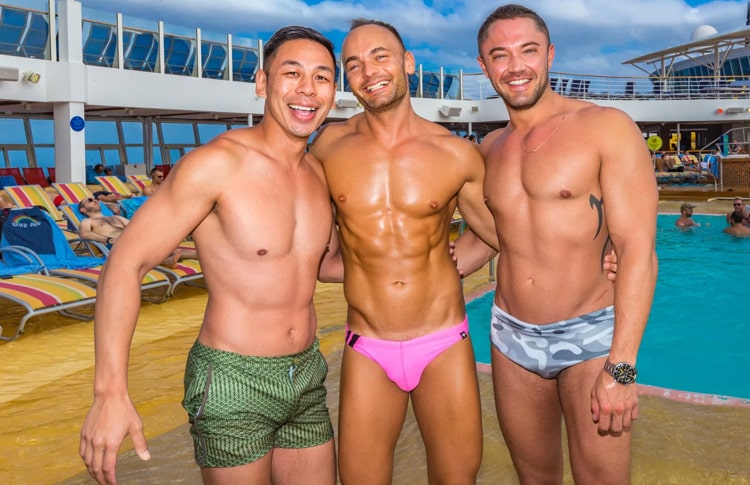 Cruising is a nonverbal way for gay men of saying they want to take someone to bed. It's important to note the environment you're in if you want to cruise, as if it's other situations, you'll be considered tacky. Some appropriate places for cruising are gay-heavy gyms, sex clubs, and gay neighborhoods.
Surprise Him
From the evolutionary perspective, people flirt to establish a connection, but if you've been together for a long time, it's perfectly normal to feel comfortable doing repetitive things and maybe get bored of this routine.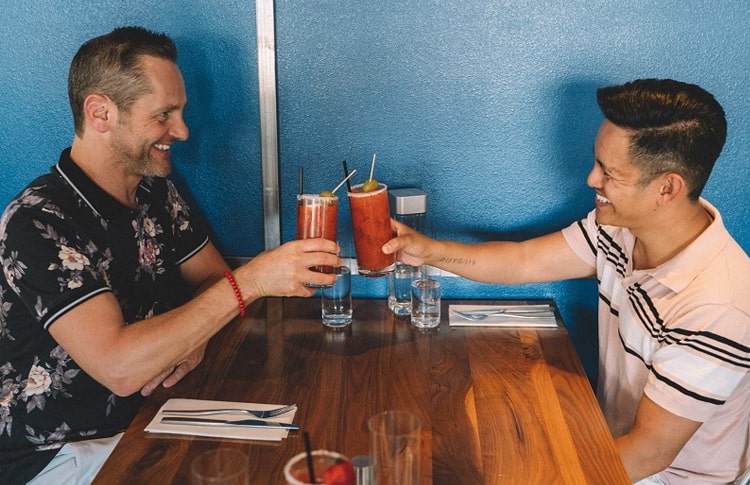 If you're in a relationship and want your spark to be brighter, a fun way to rekindle your intense feelings is to organize a surprise both of you will enjoy. Simple surprises include sending him sweet messages out of the blue and organizing dinner or movie dates at home. You can also ask him for a long weekend away to a place where both of you can experience a different culture or anything to your amusement.
Here are some of the most inclusive destinations you can check out so you don't feel like you have to hide being a part of the LGBTQ community:
Long Beach, California
Oahu, Hawaii
Provincetown, Massachusetts
Viejo San Juan, Puerto Rico
Phuket, Thailand
Discover New Hobbies Together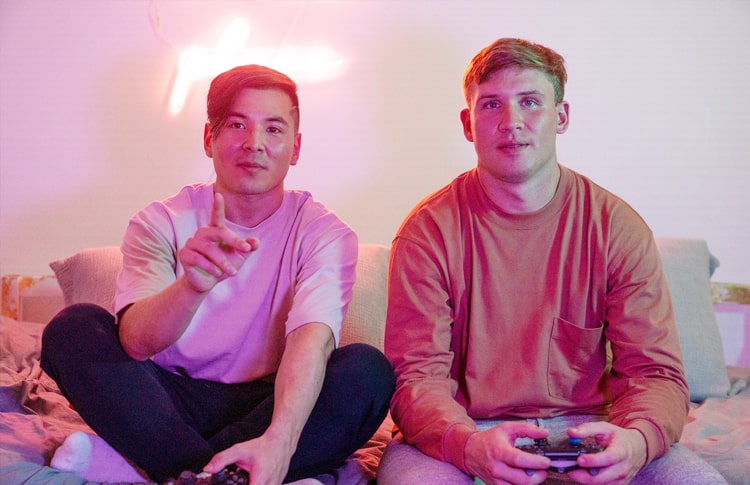 The sense of familiarity you have with your partner can make your relationship dull. To keep your desire for each other, just kissing and chatting won't suffice. Strengthen your bond by discovering new hobbies you can do together to keep the fire burning. Plus, doing something together will give you a new topic to talk about.
Doing a few new things is always fun; it will improve your intimate connection and keep you healthy. Sharing a new interest or hobby and spending time together will also be an opportunity to discover new things about your partner and yourself.
Some activities gay couples enjoy are:
Cooking and Baking
Painting
Gardening
Attending Drag Shows
Building Projects or Carpentry
Playing a Board or Videogame
Explore Bedroom Flirt Shenanigans with Your Partner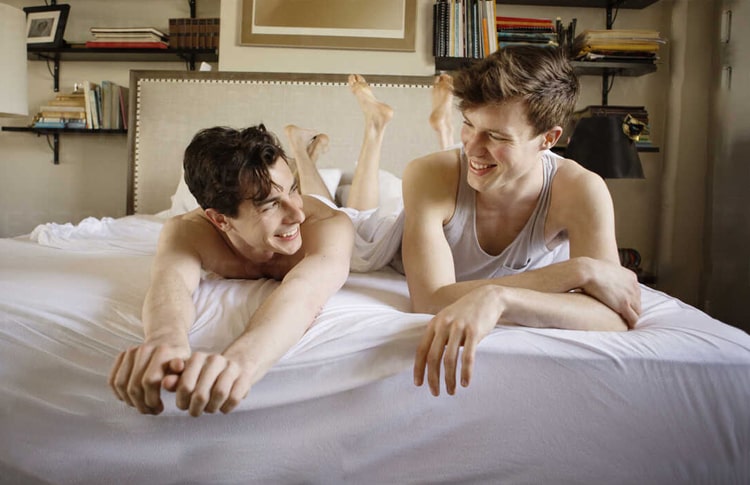 Another way to spice things up with your flirting is to explore your intimate interests in bed. A boring sex life may lead to a dreary relationship.
Try these:
wear sexy lingeries and accessories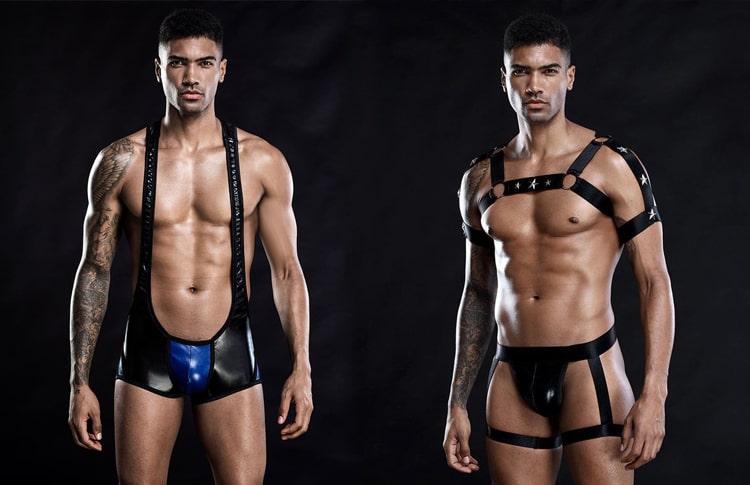 To make him flirt with you more, order some kinky whips and cuffs and pair it with lace thongs. You can also put an anal plug attached to a devil tail to make him want to jump you.
Reenact a scene in a movie you both like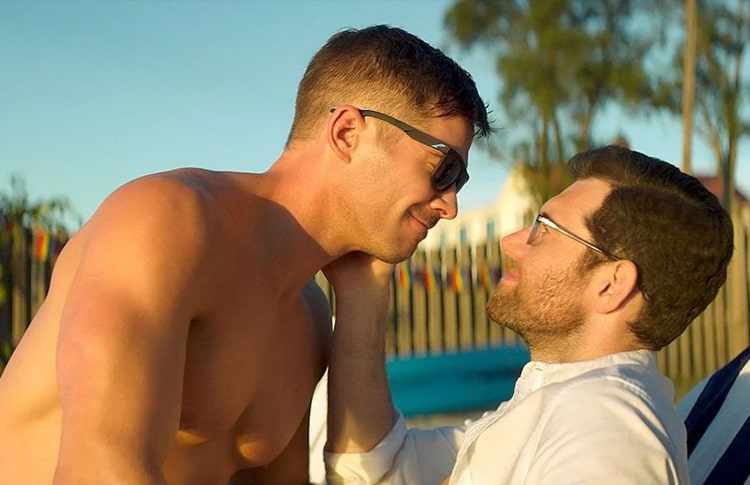 Dress up like the character, improvise, and flirt with your partner to see where the night will lead you.
Do roleplay
It's best to discuss your plan with your partner first to ensure that they are also interested in what you want to try. Role-playing is a great way to expand the possibilities of your relationship. You won't regret investing your money in various costumes for unforgettable nights with your lover.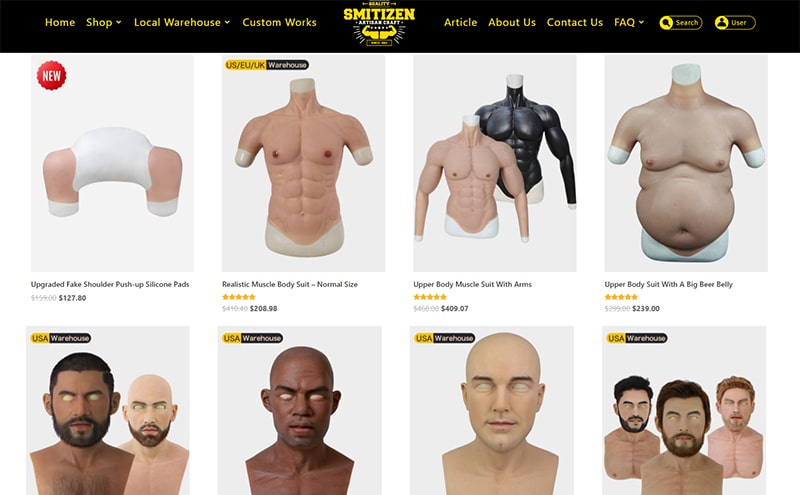 Aside from a few bedroom techniques, you'll need some weapons for the exploration. Smitizen is here to provide you with high-quality muscle suits, masks, and other stuff you can take advantage of in the bedroom. Stimulating pleasure is essential in bed; these products will make your imagination come true. Go on and flirt like a pro!